ANNA AGAPOVA'S GUIDE TO DECORATING FOR CHRISTMAS
15 Nov 2022
We all love Christmas for the fairytale atmosphere and for inspiring us to believe in miracles. Christmas interior decoration is not aimed solely at creating a sensation of cosiness but also to provide positive feeling and inspiration for the holiday season.
It is best to leave the creation of the Christmas decor of the home to the professionals but if one has the inspiration, time and energy to take it on, it could also work quite well. Anna Agapova, creative director of O&A London, prepared a few simple but at the same time versatile tips that will help create a magical feeling at your home.
CHRISTMAS TABLE
Let the table be full of light! Place the candles in the middle of the dining table to create a warm family atmosphere during Christmas dinner. Create a contrast by mixing different levels of candles with a composition of thuja tree branches combined with pine cones. It would help you incorporate the decor without taking up too much space on the table.
Avior Chandelier,  Art Collector's Apartment
The sitting room of this apartment has a very light space featuring a bay window, columns and a classic fire place. This space is traditionally used for the family's festive dining. The table with a layered setting featuring candles, linen napkins, and crystal vases and glasses, looks solemn and light at the same time. A white freesia bouquet compliments the wintery festive table. Metal napkin rings, white pearls on the pine branches and tall candle holders create a fascinating setting resembling an ice sculpture.
Living Room Decoration, Art Collector's Apartment
FIREPLACE
Traditionally fireplace decorations are made from fir tree branches, but in this case we used fresh magnolia combined with variations of thuja as well as pine cones and candles. The asymmetric composition goes really well with the classic interior.
Classic Fireplace, Discover an Art Collector's apartment
In recent years fresh flowers and branches have been very popular for fireplace decorations. The branches can be fresh or dry, silver or gold dusted or with a frosting effect. They can also have stabilised berries or even corals. They are a very suitable decoration for a traditional fireplace decor.
Fireplace decoration, Living room in a Modern Constructivism House
ENTRANCE HALL
A dark hall with a brutal character needs a bright and traditional Christmas composition. Forage evergreens such as spruce, fir, pine, and holly with winter berries to create a beautiful festive décor for a console table.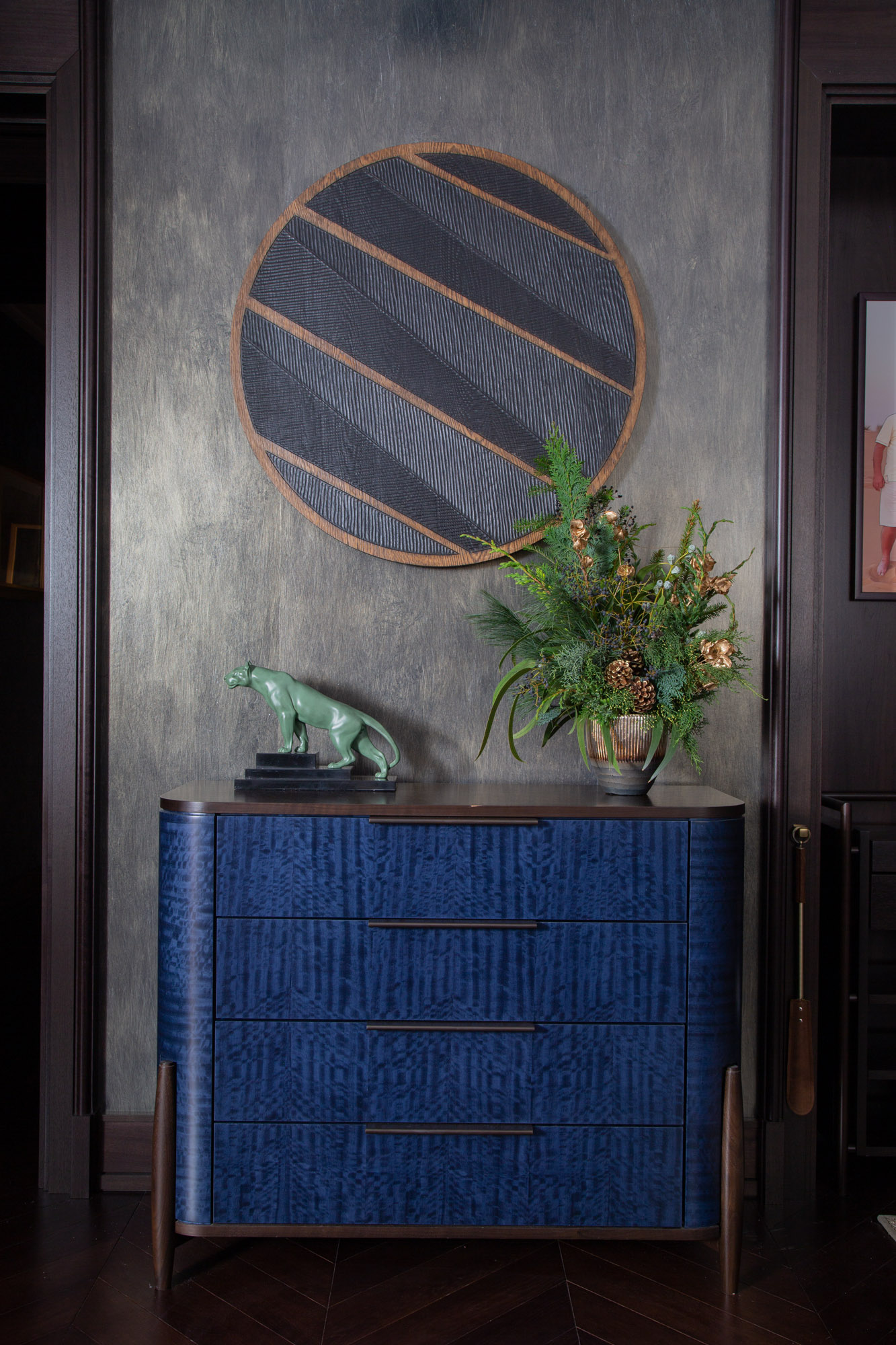 In order to create harmony the decor needs to match the style of the interior colour palette. To liven up the wintery landscape outside try putting together a composition of pine, ferns and myrtle. A gold colour metal vase will reflect the sun and naturally illuminate the composition.
A composition of thuja tree branches combined with golden berries of ligustrum and pine cones looks great on top of the console. Your guests immediately find themselves in the magical atmosphere of Christmas upon entering the house.
Entrance Hall in a Modern Constructivism House
COFFEE TABLE
A scented candle with natural wood aroma in a ceramic candle holder will add warmth and mystery. It is very easy to create a fairytale atmosphere with candles – you just need to chose the scent.
Entrance Hall in a Modern Constructivism House
LIVING ROOM
I love traditional Christmas decor. For me flowers play an important role in Christmas decorations. It is good to understand what would go well with the interior. For this country house I assembled a set of winter bouquets in green and gold shades which compliment a very traditional Christmas tree in the sitting room.  Try combining holly berries and green branches of thuja and pine. You could also add some pinecones – they would look lovely together.
CHRISTMAS TREE
Just like design, decorations must have one idea, one image bringing together various parts of the space being decorated. It can be one colour palette, pastel and light colours, traditional red and gold, vintage style decor with vintage tree decorations, cards and grandma's table cloth.
CHRISTMAS TREE DECORATIONS
A big Christmas trend this year is a return to the traditional. After the last year, we are looking for comfort in our home decor. Nostalgia has shaped the trends this year – retro Christmas decorations are making a comeback.
ENTRANCE AREA
If you are decorating a country house do not forget about the entrance as it is the frontispiece of your house. Usually the porch and front doors are decorated with a Christmas wreath. One could also use a more original approach, creating a composition with miniature houses and tree branches dusted with snow. Your house's architecture can be the starting point for our ideas.
Christmas Decoration for 11 Cadogan Gardens Hotel
Read more on Seasonal decoration
Photos: O&A London archive
Text: Anna Agapova, O&A London Creative Director