Design Highlights from London Design Week 2022
18 Mar 2022
London Design Week is the best place to find new design directions every spring. It is great that the format of this year's  event follows traditions, bringing visitors and designers energy and  promises  of renewal.
Anna Agapova, O&A London's Creative Director, always finds something new and inspiring at the Design Centre. This year playful prints, dreamy pastels and softer silhouettes represent a fresh approach to design. See the latest offerings from LDW'22 showrooms and brands that will get you buzzing with bold ideas and inspiration for this season.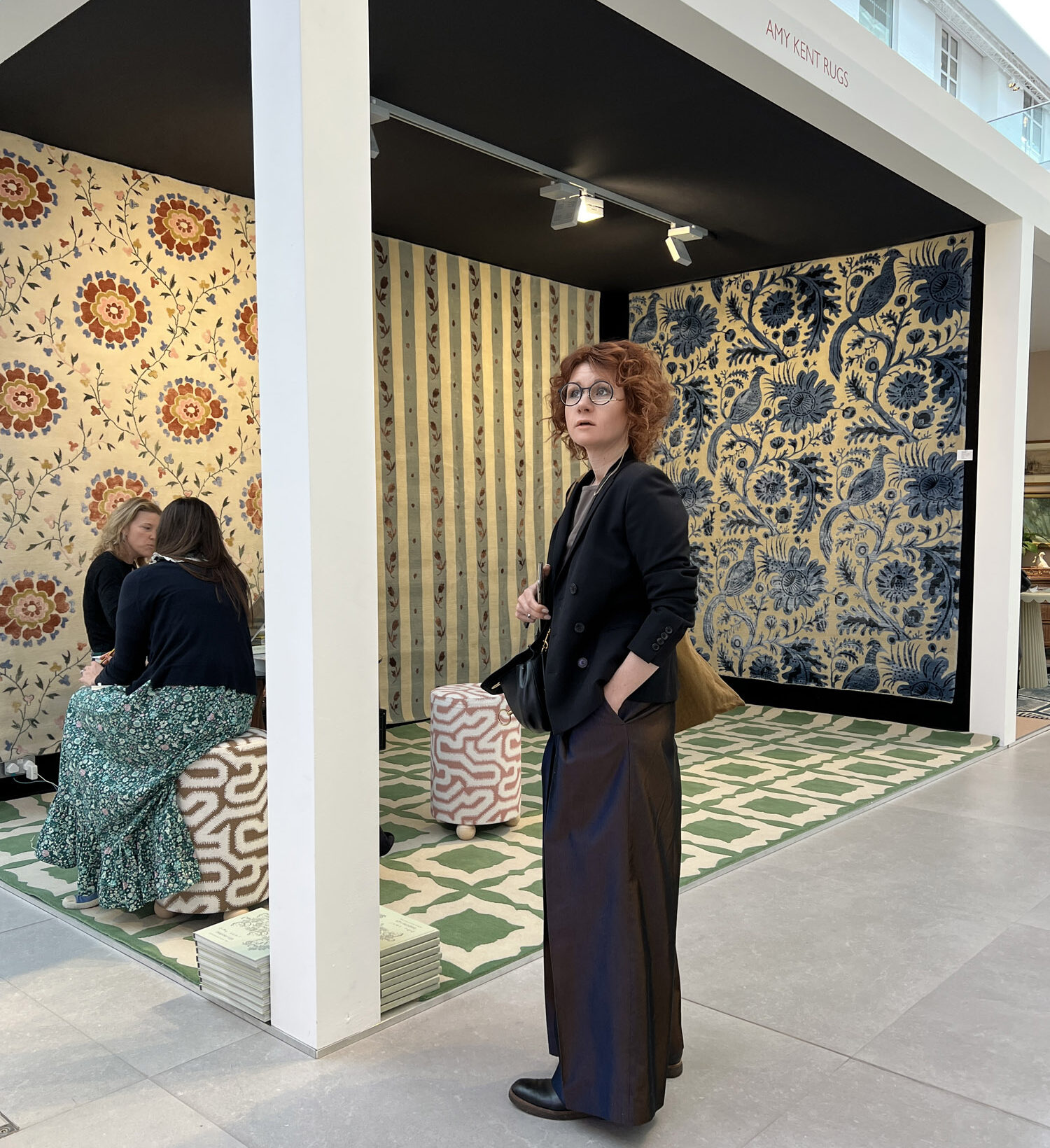 "London Design Week 2022 is a remarkable celebration of creativity and innovation and also a source of inspiration, knowledge and energy. Take a voyage of discovery around the showrooms and Design Avenue and connect with an expanding creative community", – Anna Agapova.
Roaring Twenties
De Le Cuona launched the new Golden Age collection at this years London Design Week. The Golden Age is a time for reflection. A collection to greet a new dawn of modern glamour that whispers but never shouts. It's a seductive synergy of opposites, an understated opulence envisioned by Bernie de Le Cuona.⁠
Golden Age collection by @delecuona
Visionnaire has added two new capsule ranges to its Beauty collection, a constantly evolving project. Beauty springs from experimentation with materials, the juxtaposition of elements and the skill of master artisans.
Beauty Tales Collection by @visionnairehomephilosophy
Distinctive colour palette
Manuel Canovas represents the exuberant side of French design at its most chic, where colour, pattern and artistic detail come together with decades of manufacturing know-how. New collections for 2022  depicting colourful clematis and figs on a bright, plain ground, and embroidered ferns based on a watercolour by Manuel Canovas himself, recently rediscovered in the archives.
Anastasia fabric & wallcovering by @manuelcanovasparis, Colefax and Fowler showroom
Founded in the 1940s, George Spencer Designs is one of Britain's long-established fabric houses. With an emphasis on bold colours, exuberant patterns and luxurious textures, the new collection offers both style and substance, evoking a strong sense of relaxation and escapism.
Ditsy Collection 2022 by @gsdltd
Jacaranda introduces real silk to the collection with 'Mandalay Silk'. Hand-woven into beautifully opulent, smooth velvet carpet and rugs. 'Mandalay Silk' spans ten sophisticated shades.
Bold rugs by @jacarandacarpets in Honky Interior Design projects
Thoughtful craftsmanship
This season, Elitis' new wallcoverings are made with not one but several ultra-innovative techniques. With lacquered 3D printing and laser engraving, these astonishing works turn walls into a contemporary art gallery. For a more crafted feel, a new coated canvas to soothe the atmosphere, while carved wood displays its exquisite relief on walls.
La Caravan collection originates from the discovery of the Korean fabric, Pojagi. These textiles used to wrap gifts and are composed of several fabrics. They are reinterpreted here in pattern layouts of coated canvas, reflecting a raffia or abaca effect in serene colours: terracotta, powdery pinks, lake greens and blues, natural whites.
La Caravane collection 2022 by @elitisfrance
The latest collection from Julian Chichester includes exciting new designs: the striking 'Tiffany' and 'Moose' dining tables reimagined in African walnut, and an expansion of the Bobbin collection to include a wall-hung bookcase. There are also two new bar stools, as well as a number of pieces that feature rare red travertine.
New designs in Red Travertine finish, the Bobbin wall-hung bookcase and Carmaux Cabinet by @julianchichesterltd
Arteriors has rooted its vision in art, architecture and design throughout the globe and pursued the world's finest artisans and makers. Its latest collection is a collaboration with US designer Celerie Kemble. She has been inspired by nature, with playful textures, rattan, natural hues and luxe materials that lend a traditional-meets-tropical allure. Pieces incorporate muted hues, pale woods and shell motifs to mimic sandy beaches and pastel skylines.
Celerie Kemble designs for @arteriorshome
London Basin Company is a new brand in DCCH. The company creates richly decorated porcelain basins, designed to form the centrepiece of bathrooms and cloakrooms. Handmade using traditional and contemporary craft processes, the basins have a bold, distinctive style. Vanity units, taps and other bathroom accessories complete the look.
Austin Mirror and Angelica basin, @londonbasincompany collection 2022
African spirit
Pierre Frey, a family-owned company founded in 1935, designs, creates and manufactures fabrics, wallpapers, carpets, furniture and home accessories for luxury interiors in the purest French tradition. Inventive, eclectic and daring, its new collections draw inspiration from the past as well as from around the world. Pierre Frey presented five new collections, the most stunning one is Merveilles d'Égypte. Working in partnership with the Louvre to celebrate, in particular, the bicentenary of the discovery of hieroglyphs by Champollion in 1822, these new textiles, wallpapers and rugs collections display a wide range of motifs and drawings, between faithful reproductions and free inspirations, with a respectful view of the preserved works but also a contemporary and graphic reading.
Merveilles d'Égypte collection by @lamaisonpierrefrey
Boon & Up, a new name at Tissus d'Hélène, whose fabrics are hand-made in Ghana. Hand-grown African cotton is woven on handlooms by women of the Dagaare tribe, and the patterns are all based on a traditional template that mimics the feathers of the Guinea fowl. Boon & Up have dyed the cotton a range of colours that reference the hues that the local Dagaare people paint their huts and houses.
Tissus d'Helene, Boutique showroom specialising in artisanal fabrics and wallpapers @tissusdhelenelondon
Justin Van Breda London offers an Africa collection. Its pieces reflect a continent brimming with independent craft and creative endeavour, bringing together a diverse collective of immensely skilled craftspeople in a story of both old and new. The enchanting African spirit is revealed in each design across the collection.
Safari collection by @justinvanbreda
Fresh air in Design Avenue
Hidden Gems Design makes timeless, hand made wood decor and furniture that harness nature's organic forms and textures and, at the same time, highlights their sustainable and balanced approach. Urban trees are reclaimed and turned into beautifully crafted one of-a-kind statement pieces.
@hiddengemsdesign have been named 'Handmade Furniture Designer of the Year 2022'
DKT Artworks is a unique multidisciplinary team of imaginative and highly skilled artists, with studios in London and Prague, specialising in handcrafted, high-end bespoke decorative finishes and site-specific artworks. A wide range of bas-reliefs, sculptures, murals, trompe l'oeil, paint finishes, decorative designs, gilding, verre églomisé, antiqued mirrors, hand-crafted mosaics, stucco and polished plaster attract designers.
A gorgeous maple tree bas-relief by @dkt_artworks
Juliet Travers is renowned for her hand-drawn wallpapers and fabrics, inspired by life here in the UK and in Africa. Her signature designs and latest Essentials fabrics, upholstered on to beautiful furniture and accessories.
Essential fabrics by @juliettraverswallpapers
___
Text: Anna Agapova