Inspiring ideas for creative kids rooms
25 May 2022
The O&A London studio always pays special attention to the kids room design for every project. If you want to create a gorgeous space far from the clichés, we have gathered ideas from our studio archive to inspire a child-friendly makeover. Here are O&A London's top trends 2022 for children's bedrooms.
BRING THE OUTDOORS IN
We love creating a link between the interior and landscape. Centuries-old trees outside this country house inspired us to use wallpaper with owls by Abigail Edwards for this bright and engaging kids room.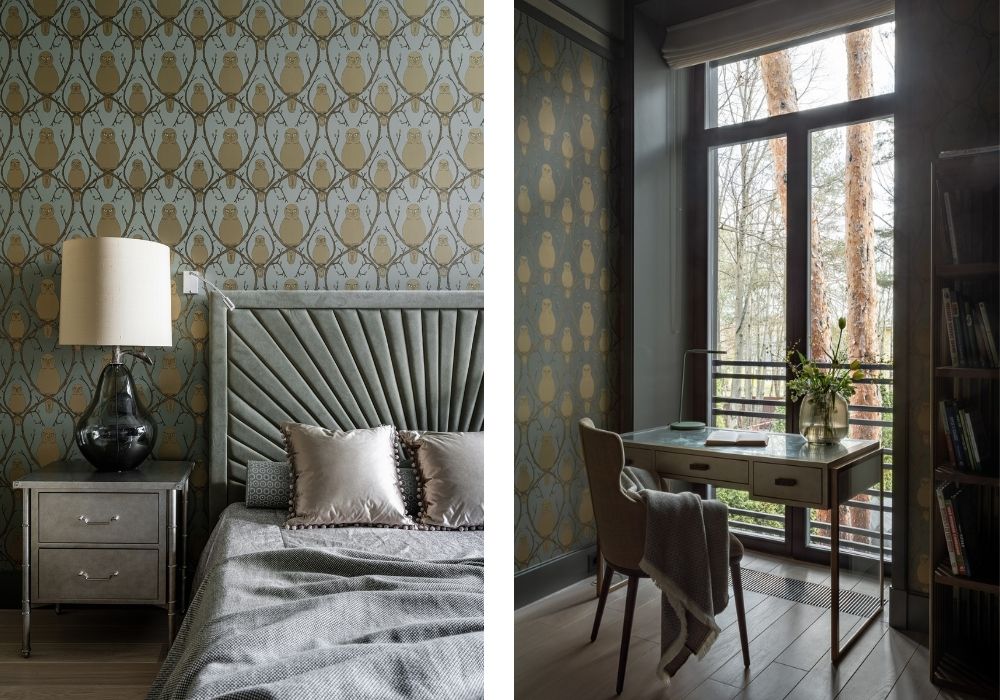 Modern Constructivism, country house by O&A London
INTERACTIVE FUN LEARN ZONE
Rooms for children should be a magical universe inspiring imagination. Interactive interiors, where design is a part of a game, are trending in 2022.
When kids are forced to spend endless hours indoors, it can become quite difficult for them to keep themselves occupied. The best alternative is to create a more interactive room that encourages physical and mental activity. Add a climbing wall to the mix or even create a small stage in the room which allows children to showcase their talent!
Kids room with Chalkboard, playful wallpaper by Hygge and West
ECO-FRIENDLY 
We use only natural materials, plants and organic shapes to imbue a space with a warm and relaxed atmosphere. When choosing finishing materials it is important to pay attention to certification to ensure compliance with quality standards. Integration into nature-inspired design is known to have a beneficial effect on childrens' well-being.
The Family House where 70% of the space is dedicated to kids
MAKE THE DREAMS COME TRUE 
This bedroom was specially designed for an American young woman who loves everything British. We designed individual lighting, which has inscriptions from the London Underground network. The opposite wall was decorated with photo-wallpaper showing views of Westminster Abbey, which enhances the perspective of the room's proportions, giving it a broader feel. The door to the bedroom imitates the doors of London's famous double-decker buses, a well-loved symbol of London and a British design legend.
Interestingly, after graduating from school in the US the young lady moved to London and is now studying at one of theUK's leading universities.
ANIMAL PRINTS ARE ON A TREND
Animal print wallpapers can be fun, chic and sophisticated. With zebra stripes, monkey patterns or bird inspired designs, these wallpapers are a nod to the animal kingdom. As an additional bonus animal motifs in nursery decor are educational! Animal wallpaper is an ideal feature for the wall behind the bed. In this bedroom we used wallpaper with a zebra motif to create a fun, unique and vibrant atmosphere.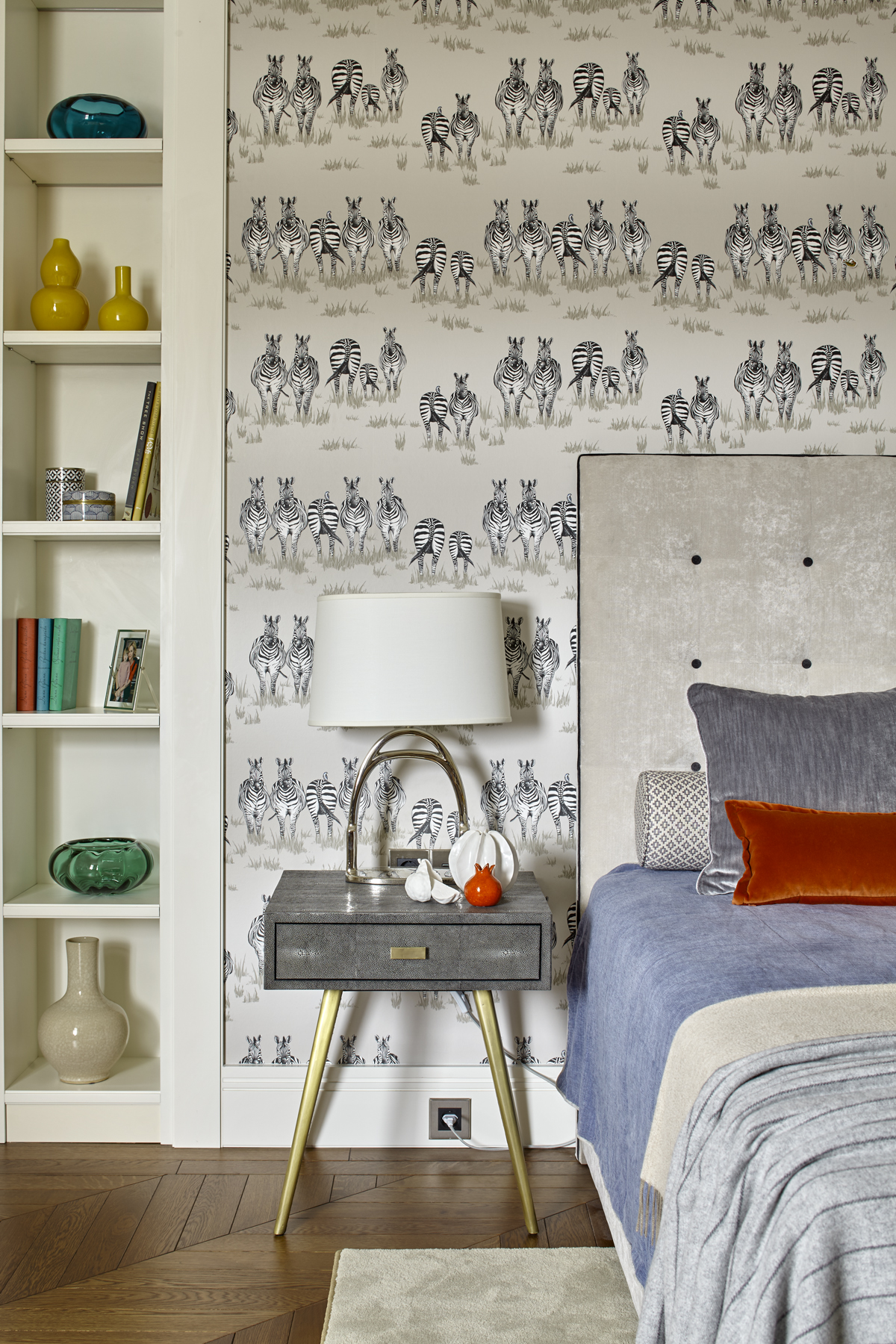 Dazzle wallpaper by Juliete Travers, Safari Collection
WALLPAPER VS PAINT 
Any interior can be transformed into something unique with the use of quirky yet sophisticated wallpaper. The world of childrens wallpapers is huge and colourful, but unlike with toys, there are no age recommendations helping parents to decide which type to choose.
However, we believe that kids bedroom design should encourage young people to dream. This room was designed for a young aspiring ornithologist. We complimented the interior with framed artwork to add extra depth to the wall space and to bring the bird theme of the room to life.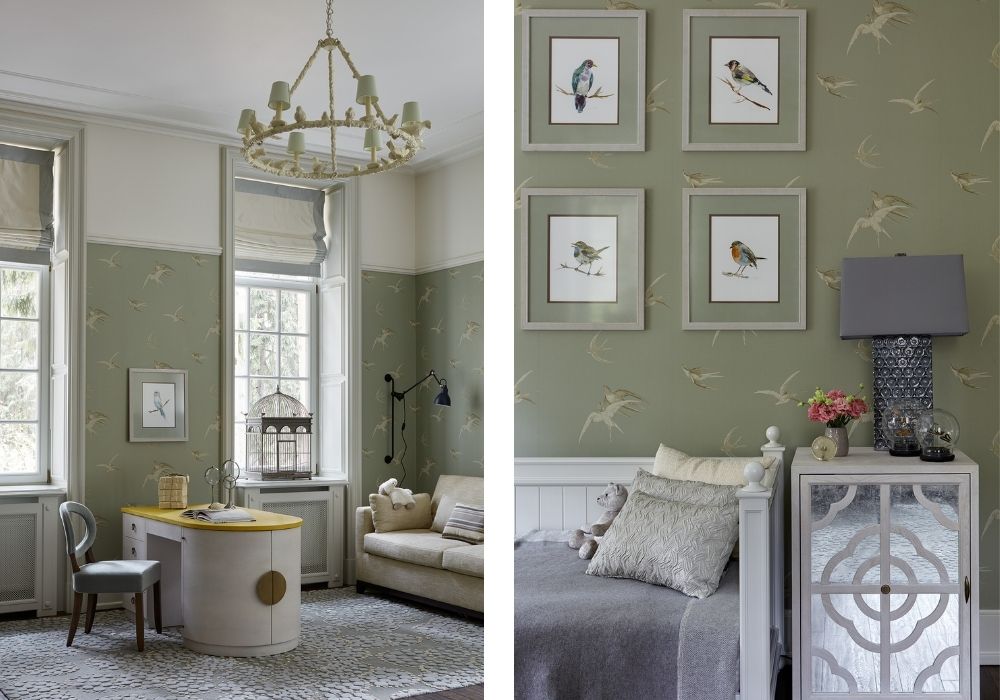 Vintage Swallows Wallpaper by Sanderson, Country House in English Style
HOME LIBRARY FOR CHILDREN 
You can never overestimate the importance of books in young peoples' lives and the role of home libraries. A home library is very likely to increase productivity and motivation to learn in children and young adults.
Research indicates that growing up in a home with books increases literacy and math prowess. Here are some highlights from a study led by Dr. Joanna Sikora of the Australian National University: – a child growing up in a home with at least 80 books will have greater literacy and numeracy in adulthood – a home library can promote reading and math skills more than college alone – growing up in a pro-learning home leads to a lifetime of knowledge-seeking.
We encourage our clients to support their children's education with a home library. In one of our projects the client designated more than 70% of the space in the house to be focused on the children. The mother started a fabulous book collection, for which we designed a large bespoke bookcase, which will allow the collection to grow with the children. The library case is taking up a considerable part of the creative zone, so we allowed for toys and decor items to be displayed as well.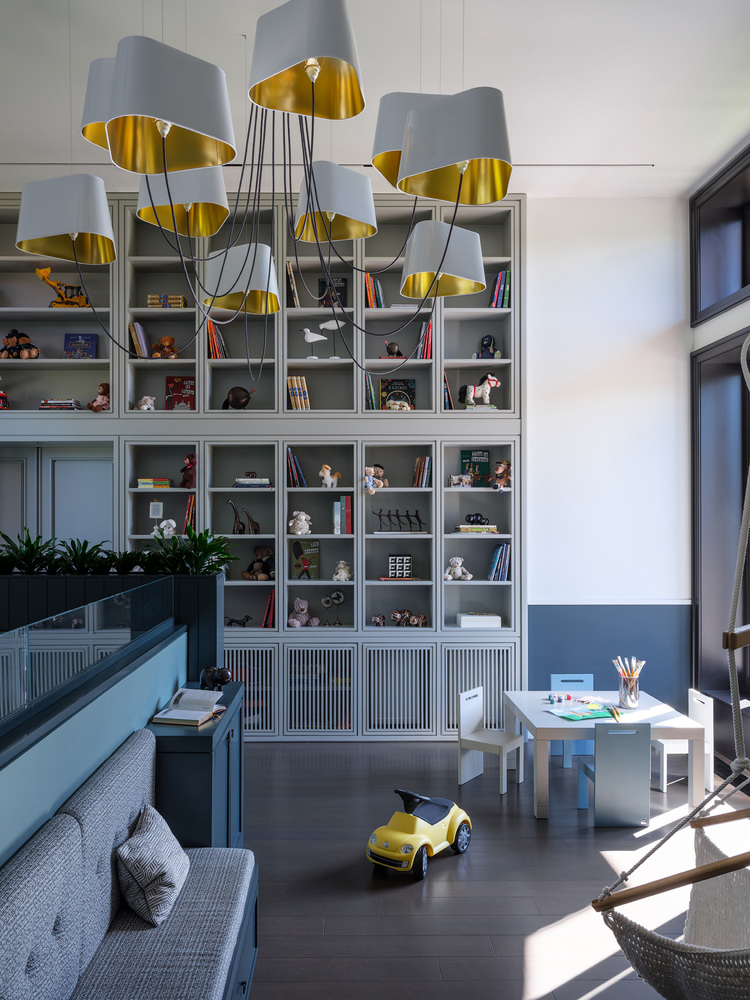 The Family House where 70% of space is dedicated to kids
ART 
Art has a unique power in the life of young people growing up! Art cultivates perception, kindles imagination, evokes creative energy and harmonises the space around us. Be bold in choosing art objects and let your imagination run wild. Commission your kids! Properly matted and framed art made by kids could pass for something you would see in a modern art gallery.
BRING THE CLASSROOM INTO THE HOME
Interiors should stimulate creative thinking, memory and associativity. In interiors for children this is reflected by creating spaces where learning and playing are combined.
Often the limited space of a kids room has to fulfil several functions: it is a bedroom, a playroom, and a study. We love to create custom high-quality furniture, which supports this multi-functional character and at the same time saves valuable space.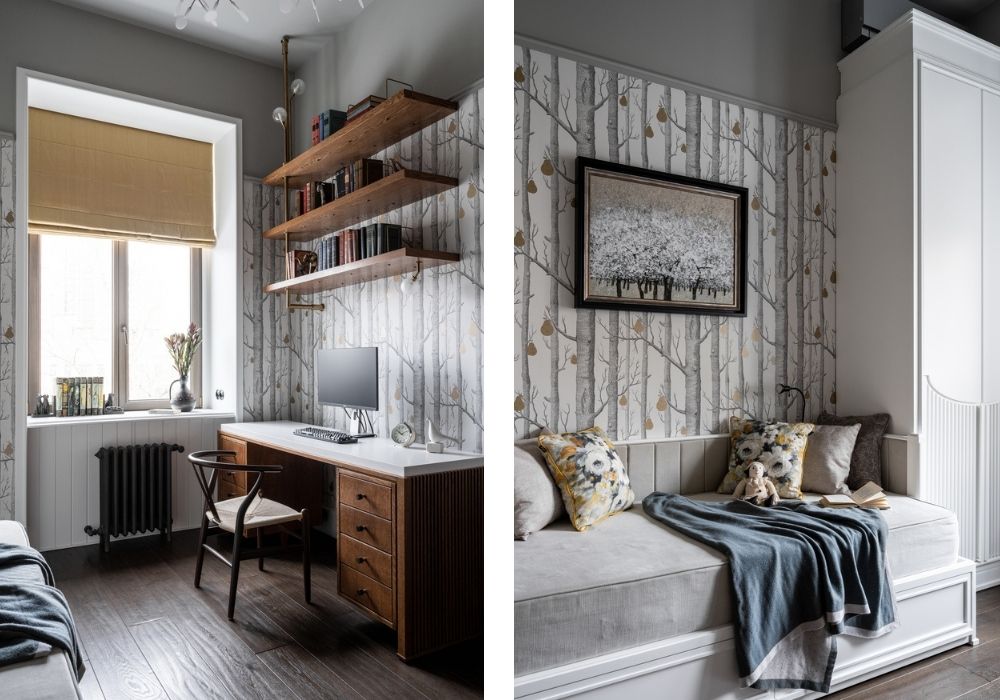 Apartment of architect Oleg Klodt, bespoke furniture by O&A London
For his daughter's room, Oleg Klodt recreated the romantic atmosphere of an enchanted forrest. He chose wallpaper by Cole and Son. The central theme is seamlessly continued throughout the artwork and room textiles. In contrast, for his son's room the architect designed a space-saving study corner and featured a black & white image of New York City, using the effect of the inverted perspective to enhance the room's dimensions.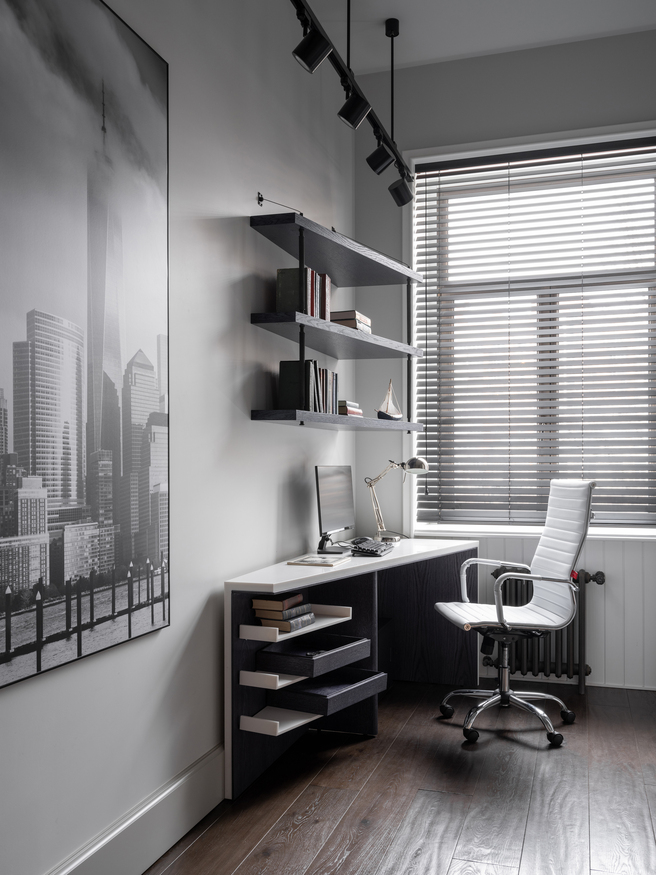 Apartment of architect Oleg Klodt
CUTE BATHROOMS
Functionality is important when designing a children's bathroom, but it should also be about fun and creativity. We have several tips! First of all, keep the hard surfaces more neutral. Also, use colours and patterns on wallpaper or wall decor that can be upgraded easily in the future, depending on the children's changing age and taste. Finally, design an ergonomic space and make sure that your child can reach all shelves and utilities. We prefer creating the bathroom for children in a similar style to their bedroom.
Discover O&A London kids room archive on Pinterest!