O&A London unveils the Patagonia Rug Сollection | Fall23
19 Sep 2023
The creative duo of designer Anna Agapova and architect Oleg Klodt are delighted to reveal O&A London's new rug collection, Patagonia. The title, Patagonia, reflects yet again the creators' deep connection to nature and the artistic inspiration drawn from the unique beauty of Patagonian landscapes.
Visit Riviere Rugs stand at DECOREX | C38 from Sunday 8th – Wednesday 11th to discover our Patagonia rug collection.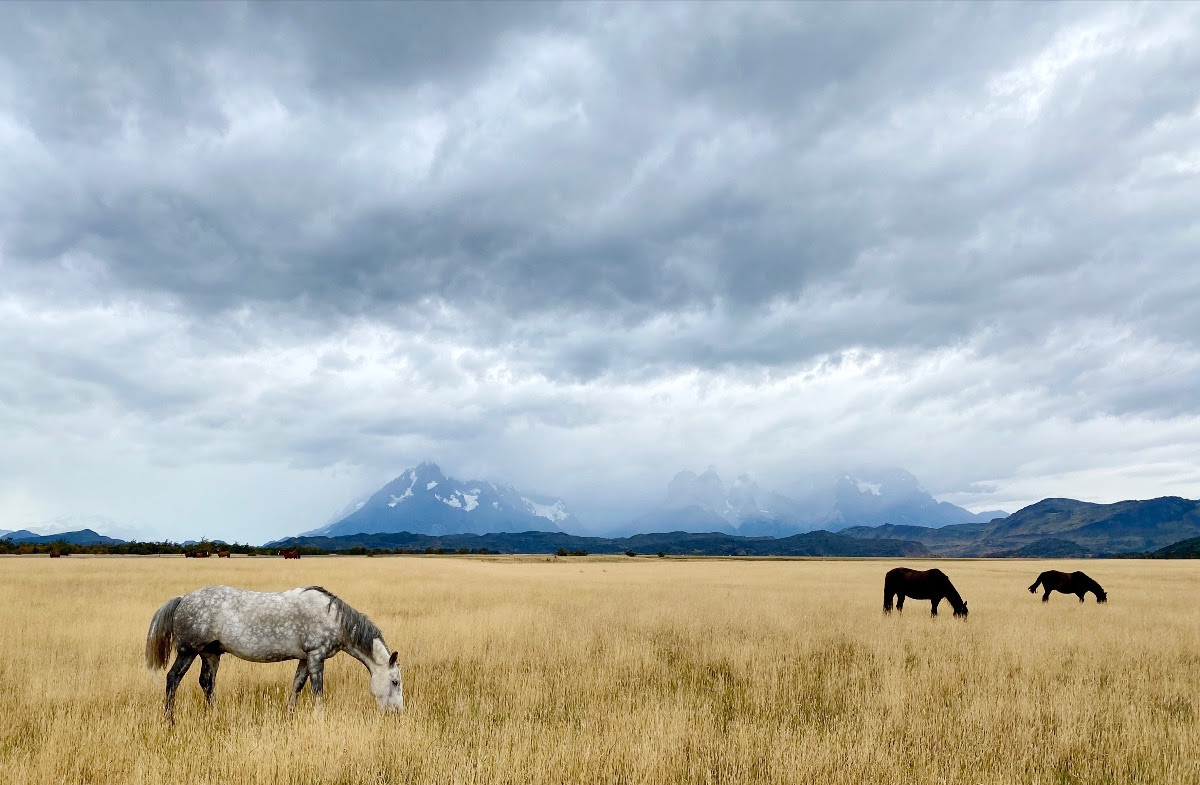 After the successful launch of O&A London's first textile and rug collection, Caledonia, Oleg and Anna further explored the idea of creating a series of patterns reflecting the serene tranquility and mesmerising beauty of nature. The Patagonia rug collection is produced in collaboration with the renowned British company Riviere Rugs. Every piece is sustainably handcrafted in Riviere's own workshop in the Kathmandu Valley of Nepal. The Patagonia rug collection features four designs: Serenity, Eternity, Infinity and Fragility.
/frəˈʤɪlɪtɪ/
– the quality of being delicate, easily broken or damaged
'Fragility' is inspired by the melting glaciers of Patagonia, one of the places on Earth most adversely affected by climate change. We create unique designs inspired by nature in an attempt to capture and save a moment in time before it disappears forever. The pattern of this rug showcases the beauty, the magnificence and, at the same time, the fragility of glaciers. The designers concentrated on the glacier's intense blueness and the way light is gathered and reflected. When you look at this rug from different angles it appears to create new forms, just as a melting and calving glacier would.

/sɪˈrenɪtɪ/
– a state of being calm, peaceful and untroubled
'Serenity' is about finding inner peace. It allows you to elevate your senses to a level of calmness where the stress, the anxiety and the relentless temptations of everyday life cannot touch you. Our busy world can momentarily  hamper our ability to be at one with ourselves, to allow our true feelings, to achieve clarity of thought and to recognise our future aspirations. Whenever you feel that negatives might be taking over your live, the magic power of this rug can help you to experience serenity – it can become the respite helping you to gather your strength and to remember the positives before you keep pushing on.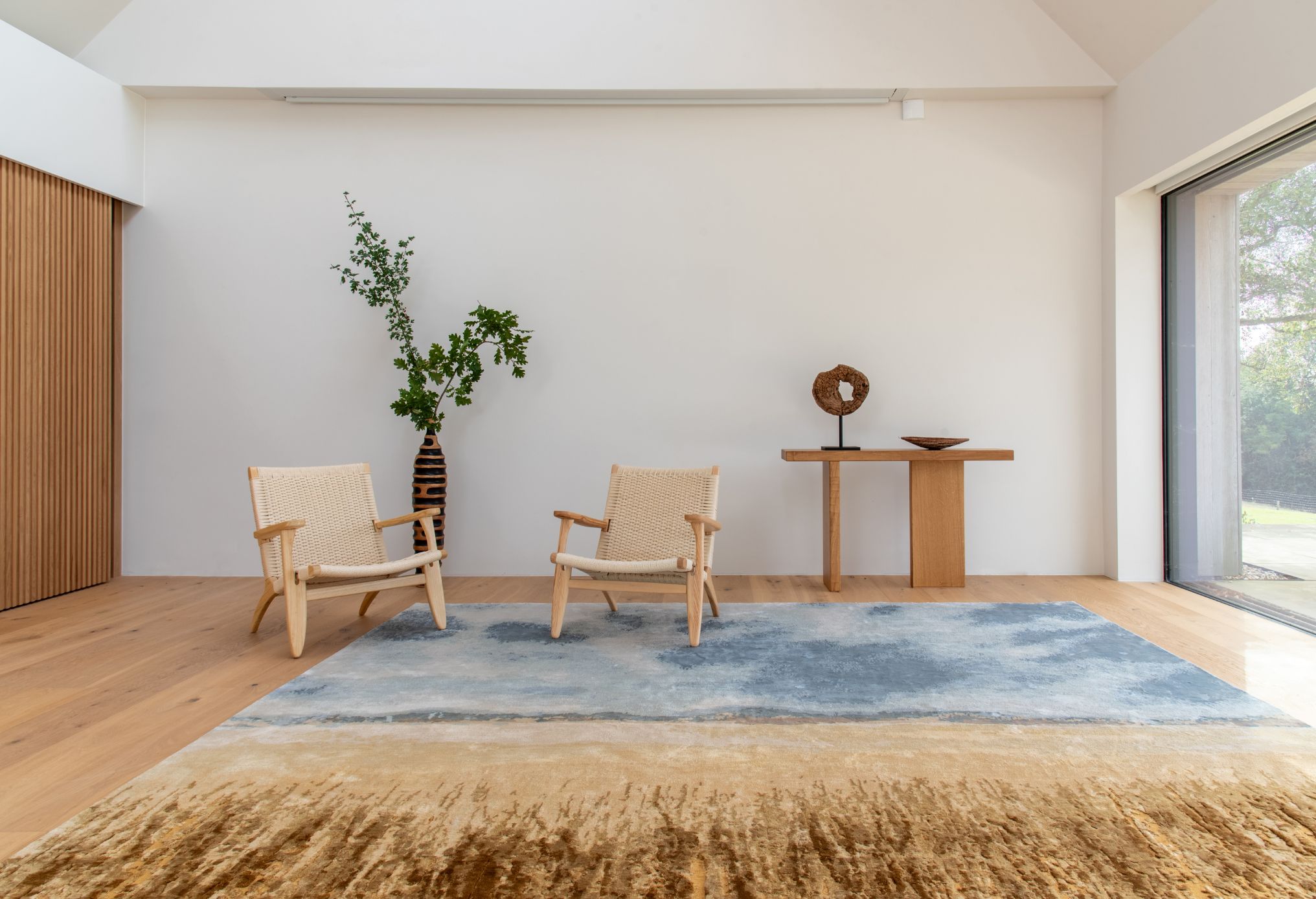 /ɪnˈfɪnɪtɪ/
– an unlimited extent of time, space, or quantity; endless
'Infinity' is inspired by the endless horizon where the sky meets mountains and fields. The very delicate airy pattern of this rug brings harmony and a spacious feel to your home. When living in crowded cities the soul might search for infinity but the eye meets a skyline dictated by tall buildings. This design defies these limitations. Cool sky coloured tones blend harmoniously with the blue palette of mountains and the sandy tones of fields. The visual effect evokes deep emotions of wonder – it reminds us that natural beauty is infinite.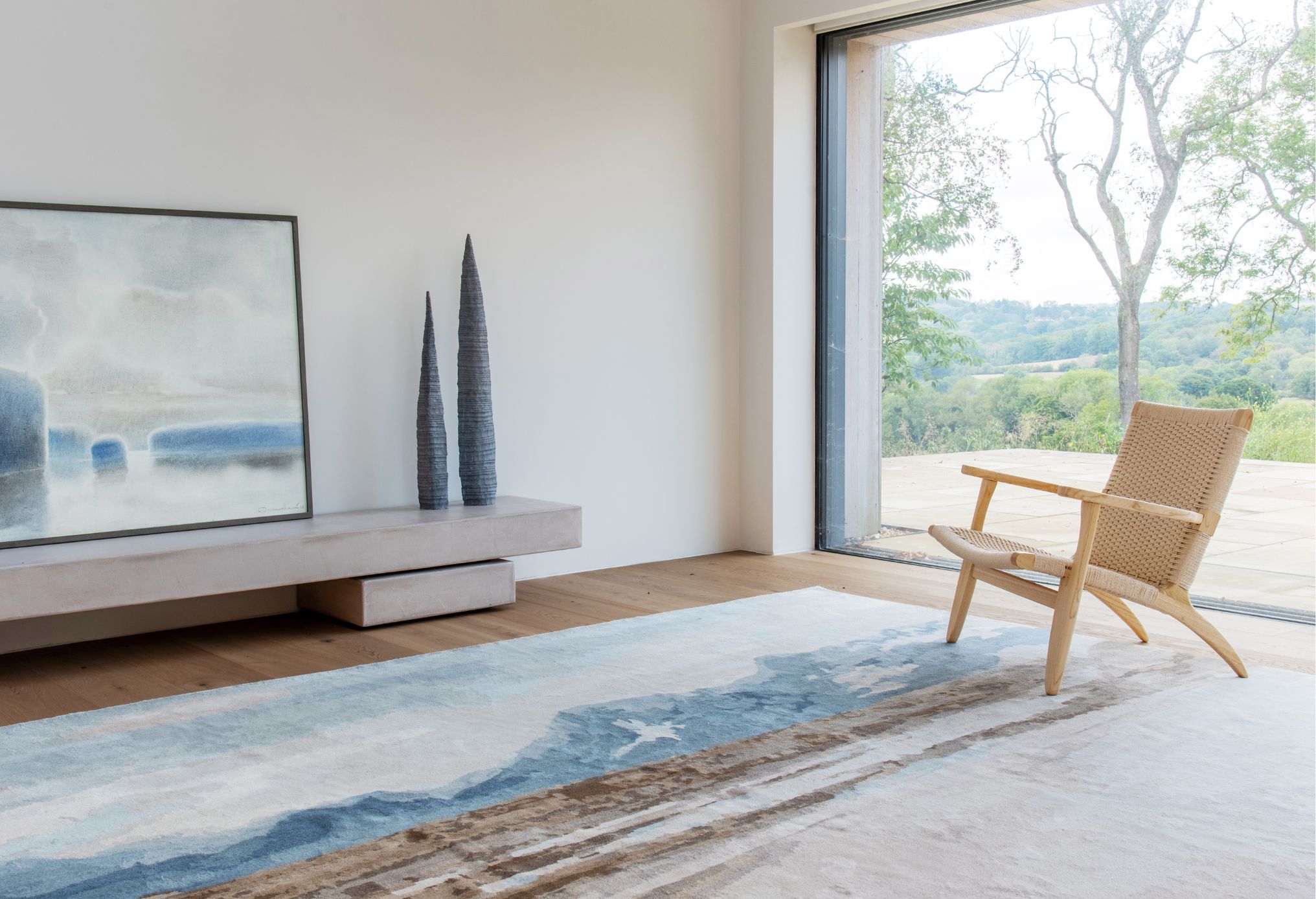 /iːˈtɜːnɪtɪ/
– a state to which time has no application; timelessness
'Eternity' is inspired by the breathtaking glaciers, which are an intrinsic part of Patagonia's landscape. Glaciers are not only spectacular natural phenomena. They are also symbols of eternity because they have been on Earth for eons Their magnificent crystalline beauty reflects the intensity of the blue sky and one can see many different shades of blue reflected in a pattern. The austere beauty of ice formations becomes almost abstract in the pattern without reference to scale or time. They say that ice can sing. This rug lets you enjoy the timeless melody of singing ice in your interior.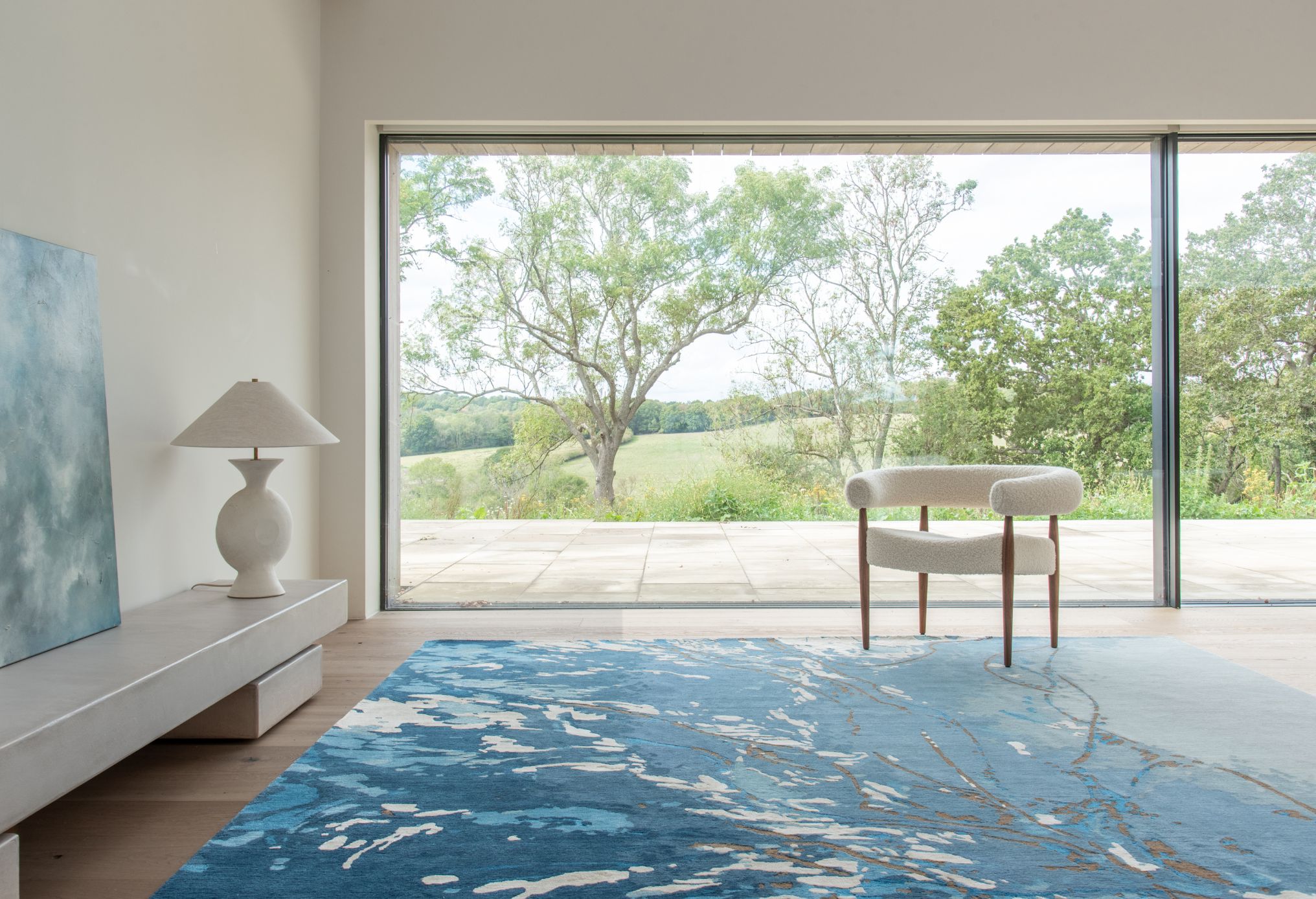 Sustainable and Renewable Materials
All rugs in the collection are hand-knotted with meticulous skill by artisans in Nepal using sustainably sourced natural fibres like Tibetan wool and eco-friendly Tencel silk. Materials were carefully selected with the ecological impact in mind. In a world increasingly dominated by synthetic materials which are not easily biodegradable, we choose natural fibres, like wool sourced from Himalayan sheep. Wool is extremely eco-friendly, it is 100% sustainable and renewable, with very little environmental impact throughout the production process.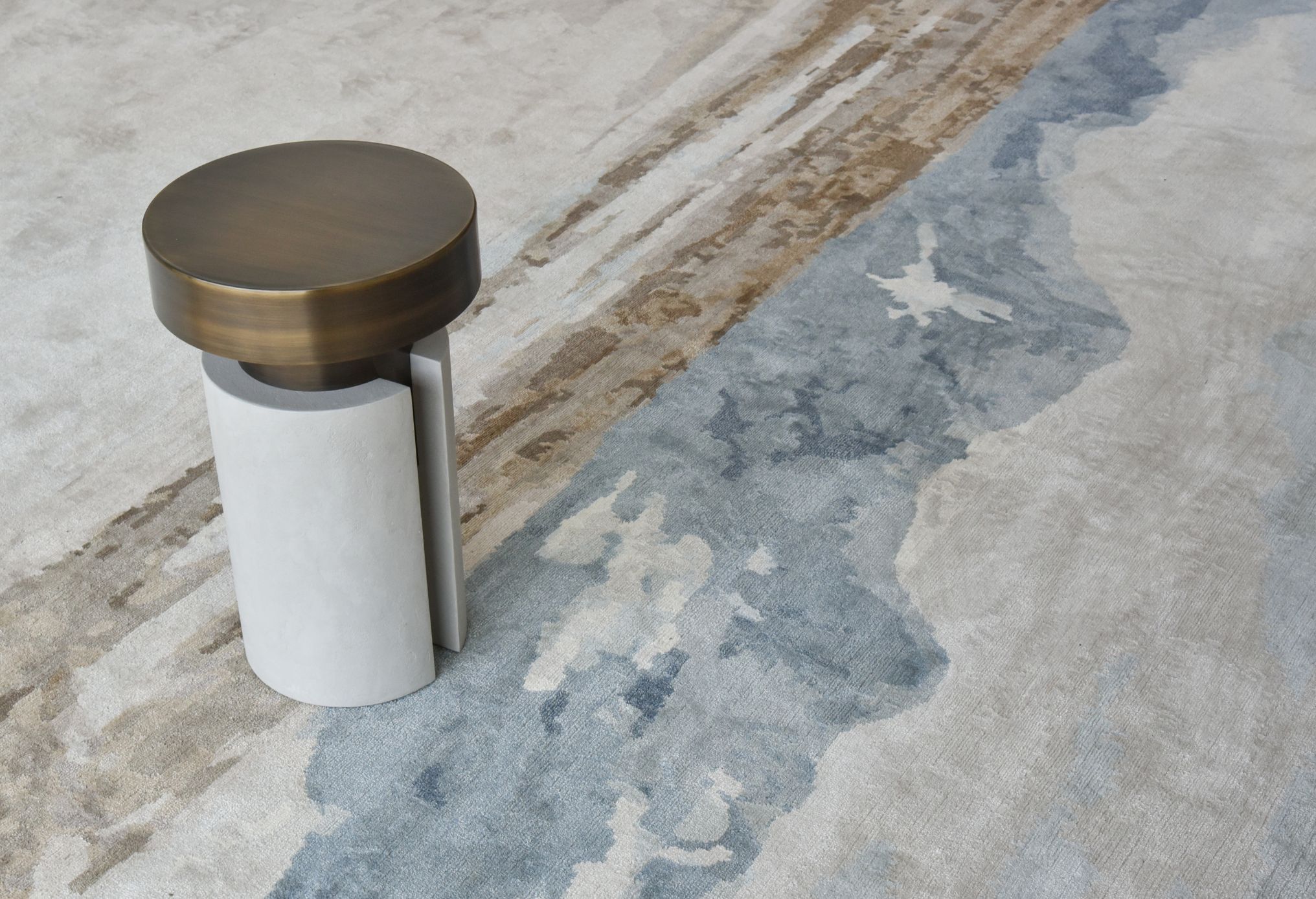 Textures and Colours
Delicately contrasting textures and vibrant colours create a subtle three-dimensional impression and a very tactile feel. Designed to outlast trends and stand the test of time, the Patagonia collection is intricately hand-crafted by artisans using age-old traditional methods and the finest materials.
We strongly believe that the choice of colours, textures and materials we select for our homes have a strong impact on how we feel. These qualities not only  enrich the appearance of our homes, but they support our wellbeing at the same time. In particular, natural materials applied to designs inspired by nature have this amazing capacity. This is the defining quality of our rugs: they are pieces inspired by nature and created at the highest level of quality in terms of materials used and skills deployed. These rugs offer longevity, that will evolve with the owners' home and lifestyle to perhaps, one day, become 'antiques of the future'.
All designs can be customised in any shape and size.
The collection is presented by Rivière Rugs | 46 Lots Road, London, SW10 0QF
The Collection Lookbook curated and photographed by the talented Elena Tikhonova.