Paris Déco Off 2019: Invitation to O&A London x Holland & Sherry Caledonia Collection Presentation
10 Jan 2019
Dear friends,
O&A London and Holland & Sherry invite you to celebrate the presentation of the CALEDONIA collection of decorative fabrics and wallpapers.
The CALEDONIA collection reflects the deeply intimate sense of beauty that designers Anna Agapova and Oleg Klodt felt on their first visit to Scotland.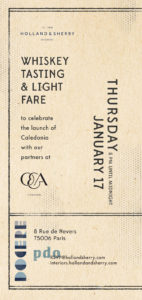 Please join us for whisky tasting & light fare on Thursday 17th January from 8 pm until midnight at The Highlander – Scottish Pub (8 rue de Nevers 75006).
Please RSVP to rsvp@oa-london.com to request your attendance.