20 // 20: Interview with Olga Korotkova, Editor-in-Chief of the SALON INTERIOR magazine
13 Oct 2021
O&A London studio celebrates its 20-year anniversary. In past years the studio grew by creating not only unique world class interiors but also bespoke furniture, textile, rugs, lighting and wall covering collections. The creative tandem of the studio's leaders Oleg Klodt and Anna Agapova is the driving force behind the team. During this time, we have been lucky enough to collaborate with extremely talented and creative professionals from around the world. They have not only become partners and co-authors of our collections but also friends.
We continue our "20 // 20" series where we introduce you to our colleagues and friends – artists, designers, craftsmen, and editors who contributed to our success.
Our guest today is Olga Korotkova, editor in chief of Salon Interior magazine.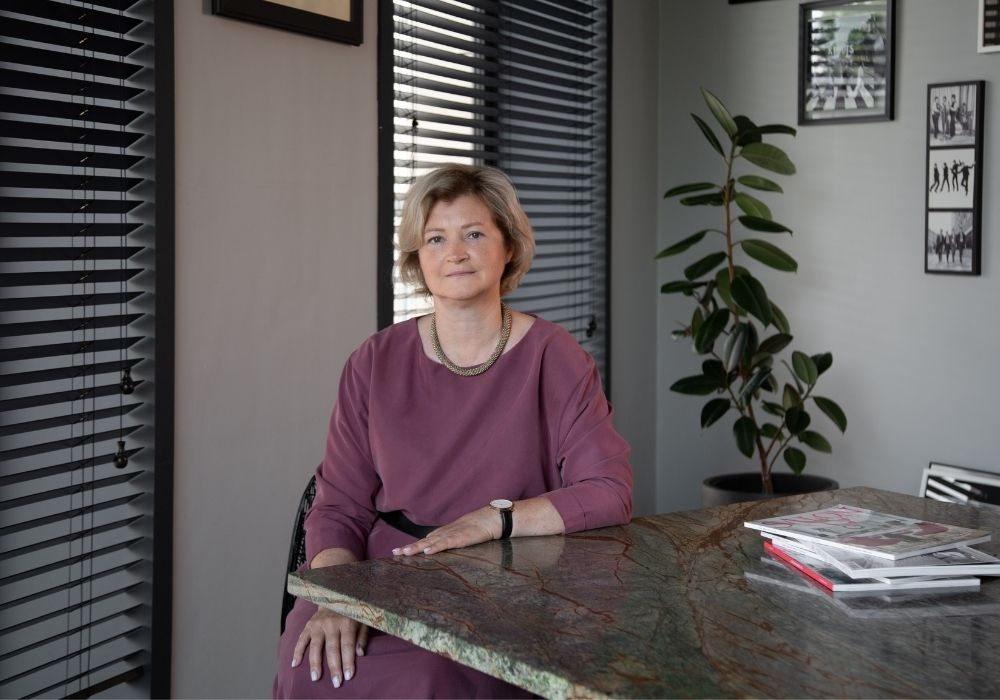 O&A: Olga, what did you dream about as a child?
OK: You may find it funny but I dreamt of becoming a prima ballerina. Maya Plisetskaya was my idol and from about the age of three. I loved looking through the beautiful photo book I had about her. But I was not just looking at the photos, I actually went to dance school and attended ballet classes for several years. As you have probably guessed I never became a ballerina but I am sure dreams don't just come and go. I was drawn to visual beauty and Maya's costumes fascinated me. I think this craving for beauty finally came to fruition. I never did become a ballerina but having graduated as a journalist I came to the area of work where amazing people such as Oleg Klodt and Anna Agapova create unbelievable beauty.  Having gone in a large circle I came back to beauty where they write about artists, decorators and architecture. In a way my childhood dream did come true.
O&A: SALON Interior magazine has been in circulation since 1994. Can you tell us how you became editor in chief of the oldest interior magazine?
OK: This is not really an interesting story. I became editor in chief by pure chance. Just as I ended up at the faculty of journalism by pure chance. To tell the truth I had dreamed about all that since school but I was too afraid. It's Moscow.
And I come from a very ordinary school in the middle of nowhere in Siberia, the city of Nizhnevartovsk near Tumen. I was too afraid to try the journalism faculty so I applied to the history faculty of Moscow State University instead but didn't get it. A year later I got braver and got into the journalism faculty. To be honest I never strived to become a boss. I fist worked as an editor and at the same some was teaching at the journalism faculty of Moscow state university. My Phd there was about Dostoevsky. Later, while working at SALON Interior I fell in love with architecture and design, and really got into it. I was interviewing famous Russian architects and it opened up a whole new world for me. The job title is not the most important thing. The most important thing in a magazine is the team. It is very cool when professionals that really know their trade come together and are interested in what they are doing.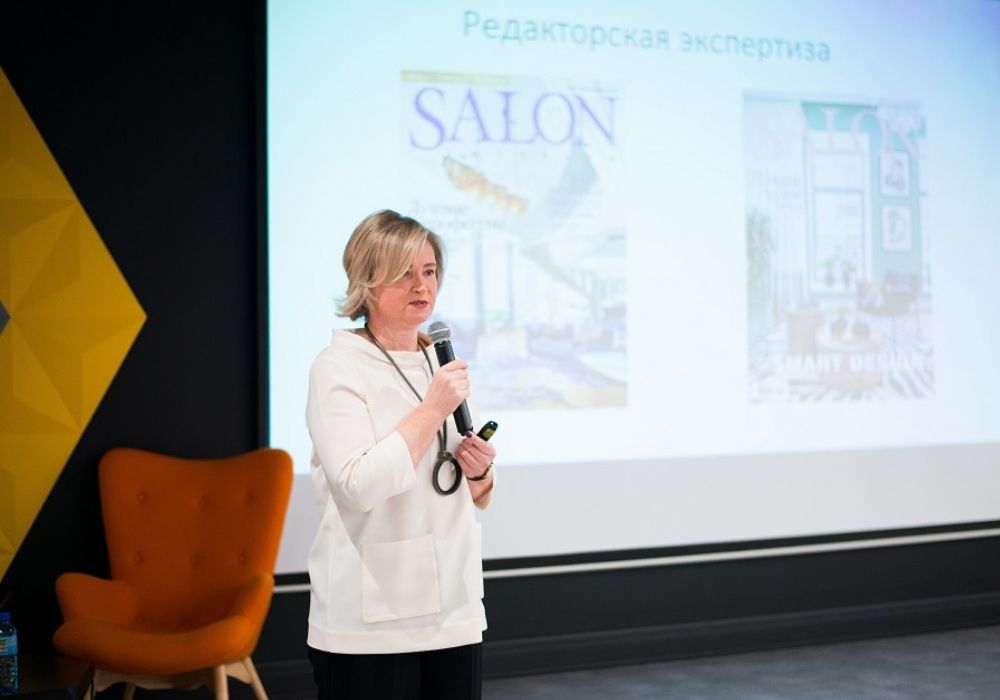 O&A: How has the magazine changed since you became editor in chief?
OK: As Evtushenko once said: "In Russia a poet is much more than just a poet." In the same way a magazine in Russia is more than just a magazine. Interior magazines in this country played a very important role in shaping the entire interior industry. Interior became very important and the magazines promoted that idea. In those times the term interior did not exist. Of course the magazine has gone through some changes over the years thus serving as a reflection of our lives. Every week we get 20 to 60 projects from all over Russia, Belarus and Ukraine. The magazine is changing along with the projects. In the past "palace style" interiors were the most popular and now this has thankfully changed and the stylistic preferences are different. We look at what life offers us. And from that we select what we deem most suitable. We try not to ficus only on trends and fashion which change and pass quickly. The cycles change very fast and one year is different from the next.
O&A London project, Salon Interior Magazine, Cover, 2017
O&A: What is most important for an interior magazine in Russia today?
OK: SALON Interior has always been different from other magazines. We were never of western style. We have our own pedigree. Pedigree is important in any business and any family. The psychology of the beginning that brought you to life. O&A London has a brand pedigree. SALON Interior also has one. Our magazine was born a Russian magazine and has always had Russian clients as it's target audience. It was always our goal to be a professional magazine and this is why we always published projects that demonstrated a very honest picture of what a Russian customer really wants. If the customer wants palaces we will show them those palaces but they must be examples of quality architectural and decorators' work. If the customer wants minimalism we have that too. We always tried to reflect reality in a way that allows our client to see the best. Every issue offers the whole palette of styles allowing everyone to find the style they were looking for. Our magazine's aim is to serve the client, bring them together with professionals and work together in the long term.
O&A London archive, project was published in Salon Interior Magazine, January issue 2016
O&A: Please describe your typical reader.
OK: I'd like to think that we have several types of readers. We have meetings where we discuss the projects we receive. At that moment one needs to put own taste aside and it is the sign of editorial professionalism. We discuss the likes and dislikes and wether we would like to live somewhere like that.  Quite a few of our clients are senior officials. They have been with us for a long time and we take into account their interests. But they are not the only segment of our readers. The magazine is over 25 years old and we have often been criticised for only showing expensive things for the rich. However it is not about the rich. Projects with a larger budget get thorough execution. Interior is indeed an art form when it's done on a large budget and with professional work on a large scale. Right now the IT and building  businesses have the most possibilities. The readers involved in IT and building have become the most powerful segment. The style palette has also started to shift. The interiors have become quite minimalistic but at the same time very expensive including high quality materials, expensive wood and stone, cutting edge technology. We also have readers like that. The third type has also grown – they are the children of our first readers. They are educated in the UK and USA where they studied art and design. They have very refined taste and they are very artistically aware. They typically choose the style of O&A London – modern neoclassicism. It is the classical base gained from serious architectural education with understanding about proportions and ideals and on top of this base there are some modern views. All of this creates a productive stylistic environment which the most prominent bureaus are working with.
O&A London archive, country house, featured in Salon Interior Magazine, March 2019
O&A: Is social media just an addition to the magazine or the new media all together?
OK: Good question. I think different formats and approaches are key and they separate or bring together the overall picture. It's a question of information perception. We do not manufacture initial products but talk about something that has already been made – interiors, textiles, furniture, design items. We look through the projects, select them and publish, so the magazine content is an interpretation of sorts. And interpretations can be completely different – they can have different formats and relate to different forms of perception. Someone will see it on their smartphone, and someone else will look through a magazine and place it back on the shelf. All of this is not so important. What is important is who you are going to pick and work with. We have a function of an applied tool. Our goal is to match a client with a true professional. We don't have this feeling that we are changing the world or creating something epic.  I think our task is much more simple and how we implement it is not that important. The main thing is that we are all moving towards the same goal.
O&A: Right now there a lot of talented architects and designers in Russia. How do you choose photos for publishing?
OK: There are several criteria. As I said before we try to minimise the use of our personal taste and preferences even though it's a very important tool. The editor is a personality and the team is a cluster of personalities. Of course the aspect of taste exists and the traditions and pedigree of the brand are also taken into account. There are also some purely formal features such as the level of execution and budget. There are some high quality and professionally done economy class spaces around but we do not usually take these on as it's not our DNA, not our target audience and not our approach. We take fakes very seriously as it is a big problem. We try to maintain our position on this as in recent years this problem has become more serious. In order to lower the cost authors or clients order copies of famous brands'  designer items. They call them "replicas" but in reality they are not replicas at all. Replication is a legal process involving recreation of a well known item or an art piece. Here we are not talking about legally produced by Italian factories legally acceptable replicas of Le Corbusier or other famous designer items. We are talking about illegal copies. Brand level is also important for us. We always check what brands take part in the project. We are not showing off, it's just that less expensive brands often copy others' designs. Cheap furniture is often based on someone else's design. So on our part it's not arrogance, but taking care of copyright.
O&A: How do you see the future of design say in 50 years?
OK: The pandemic left a prominent mark in human history which changed a lot of things. Something happened that no one really expected. And the environment that surrounds us had highlighted some very important psychological values. If before the pandemic people were drawn to a minimalistic sterile space (part of our clientele) so that the interior would speak for itself: I am so technical and self fulfilled, I have nothing too much  and I want to know nothing  about traditions, I live for the first time and I am unique. And the interior itself just screamed me me me.  Now the preferences and values are starting to change and the clients want more cosy spaces, more uniqueness connected with nature. This includes natural wallpaper and bespoke wallpaper. Creation of self contained environment which is beautiful, unique, not boring or monotonous, where technology is not noticeable. I thing the human desire to resist standardising and inhumanity will continue to grow. Interior and living spaces will become more and more in tune with the human desire to be oneself. It is the only thing we can do. When we are not influencing external processes they put pressure on us trying to make us live their way and it is normal that humans resist. The environment that a person surrounds themselves with will match the desire to create something special, cosy, warm and humane. I think the interior will be moving in this direction but I cannot quite imagine yet what it will look like in terms of style. This is what is so interesting about interiors, you always get new unexpected forms of eclecticism where classical elements intertwine with modern shapes and materials.
O&A London CITYSCAPES rug collection, Salon Interior Magazine, September 2021
O&A: What else would you like to do in your profession, what sort of project would you like to create?
OK: It is rather difficult to theorise about but I would love to lean a few more professions and have time to try something new. Wherever life brings you, especially if you were not trying to get there, is God's will. It means that you were not trying to force your fate  trying to arrive somewhere you probably were not supposed to go. I have always been interested in creative consulting that includes choosing various options for the clients, looking for professionals. Consulting is a niche that sadly does not yet exist in our area of work. It does work slightly but I don't see any specific mechanisms or projects. The main problem in life is that we never have enough time but the truth is we never will. The older one gets the more one understands that one should not just dream and think that one day I will do this or that. Dreams are for children. Life begins with a dream but it should be lived and filled with something specific. If a person reaches certain age only with dreams it means that there is something not quite right with them. One must do something specific that can be felt.