20 // 20: Interview with Sandra Jordan
29 Nov 2021
O&A London studio celebrates its 20-year anniversary. In past years the studio grew by creating not only unique world class interiors but also bespoke furniture, textile, rugs, lighting and wall covering collections. The creative tandem of the studio's leaders Oleg Klodt and Anna Agapova is the driving force behind the team. During this time, we have been lucky enough to collaborate with extremely talented and creative professionals from around the world. They have not only become partners and co-authors of our collections but also friends. 
We continue our "20 // 20" series where we introduce you to our colleagues and friends – artists, designers, craftsmen, and editors who contributed to our success. 
Our guest today is Sandra Jordan, the founder of Sandra Jordan Prima Alpaca, an extensive line of luxury textiles.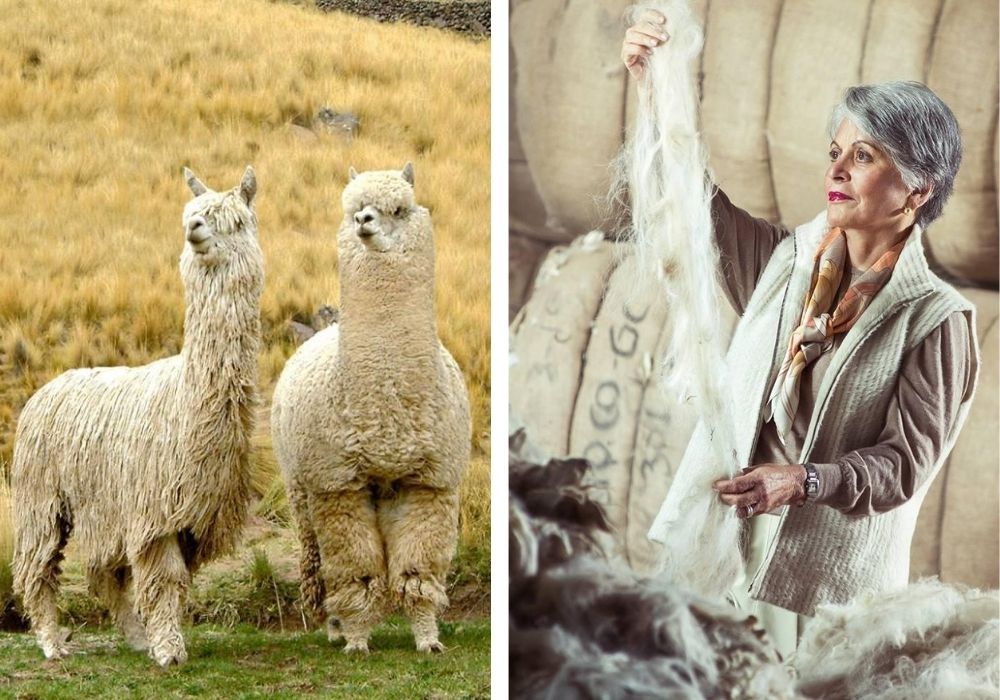 O&A: What did you dream about when you were a child? 
SJ: Traveling the world and starting my own business. 
O&A: Your educational and working experience is so wide! How did you get into fabric design? 
SJ: When I was Creative Director at Jordan Winery, I revamped the hospitality facilities and the public areas. When I began to choose fabric for the guest suites, I looked to my native Peru to source the fabric. I traveled to Peru to source fiber, had a mill manufacture the very best, pure alpaca. For the redo of the winery suites, I decided on a palette of five colours, colours present at harvest time in the California wine country and this ended up being my first collection. The rest is history! 
O&A: You grew up in Peru, but also lived in Chile, India, Thailand, and the Philippines. How do you think your childhood has influenced on your design-thinking? 
SJ: I didn't study design formally, but my childhood instilled a love of textiles and of artisanship. During my childhood, my family always worked with local seamstresses and had trunks full of fabric for any event for my parents my brothers and sisters and myself. These trunks were full of fabrics like India silk, cashmere and Chilean Linens. When we lived in these places we also looked locally for what fabrics were available. Things like shoes, silver and furniture we designed ourselves with local craftsman.
O&A: Why did you choose alpaca and toile specifically? 
SJ: It all started in my Peruvian history class in elementary school. As a young girl I could not reconcile what I heard in school about the alpaca fiber with what I saw in the marketplace. We were taught that the Alpaca fiber was the Oro de los Andes – Gold of the Andes and Las Nubes en La Tierra – the Clouds on Earth. The alpaca fiber that I saw in the marketplace during my youth was rough and coarse. It did not make sense. 
Many decades later when I read an article called The Secret of the Alpaca Mummies by archeologist Jane Wheeler. She discovered alpaca mummies from the late 1400's where the fiber was so soft and alluring. It was highly coveted in the highland empire centered in what is now Peru. Through DNA testing she discovered that most alpacas of the present day were interbred with Llamas. That combination degrades the fine alpaca fiber. I researched extensively and flew to Lima to meet with Jane Wheeler and I was off on my journey to rediscover and reintroduce the finest alpaca fiber to the world. 
The toile was something that came from my love of decorative arts. It is a timeless design where I added a modern twist. Peru is also known for having exquisite quality of cotton. My father was a cotton grower. 
O&A: What is more important – colour or texture? 
SJ: Both are essential, but I am especially colour sensitive and am deeply inspired by colour I find in different cultures and in nature. 
O&A: What inspires you for creation of new collections? 
SJ: I am always inspired by nature. It can be as simple as the colour of a stone or the colours of harvest time in wine country.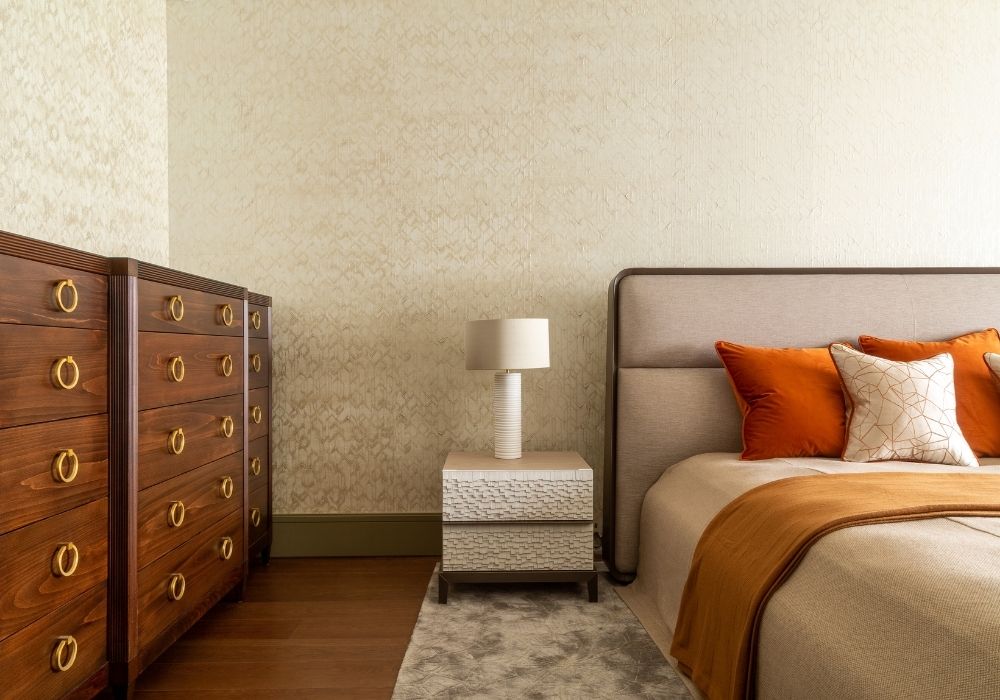 Master bedroom, bedcover by Sandra Jordan, Interior by O&A London
O&A: Who in the industry do you particularly admire? 
SJ: I love Fortuny and have huge respect for the craft of their textiles. Besides the textile industry I have a great affection for silversmithing and I love the designs of Georg Jenson, Christofle and Buccellati and others. I used to design and produce silver for the table in Peru. 
O&A: What is the future of textile industry? 
SJ: I believe climate change has the potential to have a dramatic impact on our industry. It is already impacting where the alpacas live (high up in the Andes) and can potentially impact the food sources and harsh weather conditions. I believe the value of durability of goods that are natural and long lasting, like my Prima Alpaca textiles, will become even more valued. 
O&A: What are the colour pallet trends for 2021? Is there a difference between Europe and USA markets? 
SJ: I find looking at trends distracting. Each collection is very personal. Top designers tend to work internationally so we don't see huge regional trends.  
O&A: Do you remember when you first met Anna Agapova and when you started cooperation with our studio? 
SJ: We met in Paris, and I became fascinated with the natural landscapes in her fabrics!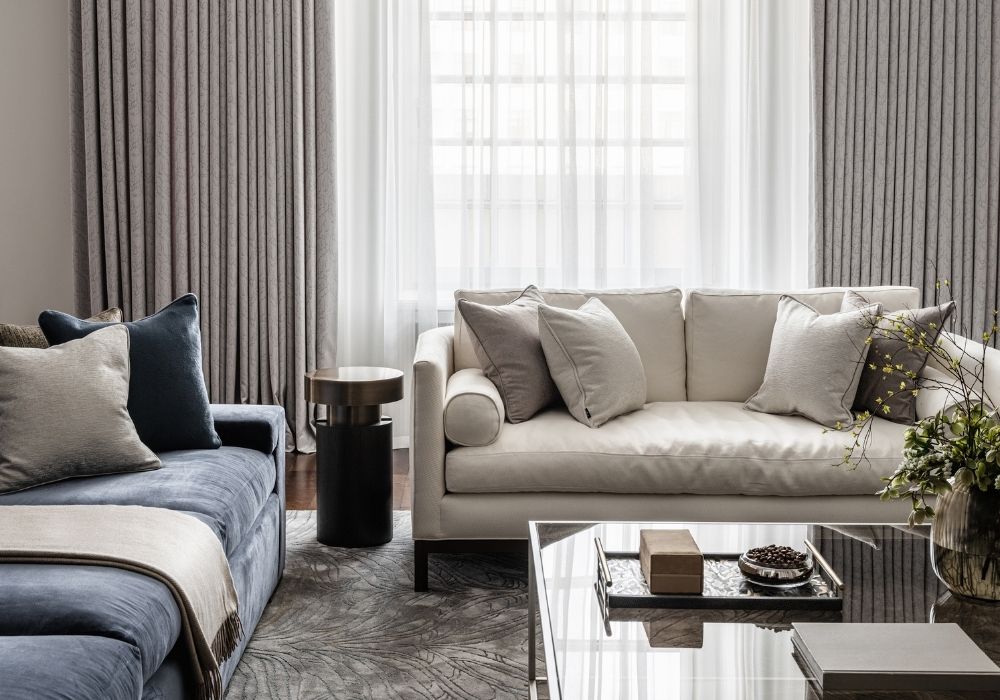 Living room, cushions by Sandra Jordan, Interior by O&A London
O&A: You're obviously very passionate about everything you do – you made silver, created jewelry collections, made wine, and even wrote a book. What are you dreaming about today? 
SJ: I can't wait to be able to bring more people to Wine Country to visit. I am also excited to announce that we will be launching an embroidery school in Peru. I can't reveal the details just yet but we are hoping to break ground this year. 
Discover Sandra Jordan collections www.sandrajordan.com