AD Russia Magazine March 2018
04 Apr 2018
What excellent news came to us from Russia!
Two items from our furniture collection were published in AD Russia magazine's March issue. Read a translation of the article below.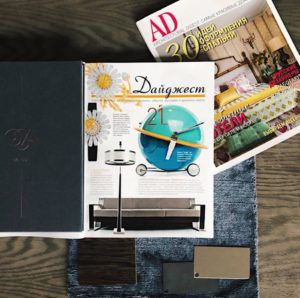 Digest: English Alphabet.
The Russian architectural and design duo of Oleg Klodt and Anna Agapova presented its first collection of furniture in London. Pieces are simple in form, but not in isolation: they are all made of exquisite materials.
ALNILAM armchair
The ALNILAM sofa is distinguished by its subtle shape and spacious, console-style seating upholstered in the finest, natural, New Zealand lambswool. Subtly aged brushed brass sets off the deeper tone of the upholstery, and fabrics and veneers can be customised to match interiors and preferences.
MINTAKA floor lamp
The MINTAKA floor lamp is the embodiment of how to balance contrasting materials. The innovative asymmetry of the fastenings makes it possible to keep the base on a single plane, giving the piece a unique character. The metal rings in the base emit an even LED glow that serves as both a light source and a subtle ornamental effect.
Photo: Anton Phatianov