O&A London is in the Design Centre GUIDE Spring/Summer 2019
18 Mar 2019
We are happy to announce that O&A London collection is included in the ultimate guide to the World's Premier Design Destination.
The new issue highlights the very best at Design Centre, Chelsea Harbour that unites 120 showrooms and over 600 leading interior design brands.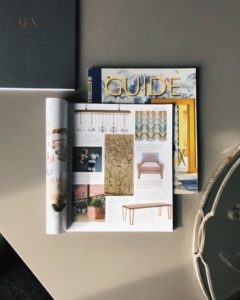 You can find the O&A London collection in the showroom of Thibault Van Renne. The showroom was opened on 10 March during the London Design Week.
Oleg Klodt and Anna Agapova were commissioned by Thibault Van Renne, the manufacturer of luxury carpets to create the space that re-examining of the retail idea.
The designers created an artistic space by incorporating the aesthetics of an art gallery and complemented the space by the authors' O&A London collection of furniture, in which they combined the cultural traditions of different countries and eras while using ultra-modern materials and utilising the latest technology, making sure the areas are all infused with one another and intertwined.
Here at O&A London, we believe that every client can select the product that is perfectly suitable for them or create their unique piece. We are pleased to have an opportunity to provide clients, interior designers, decorators and architects of the UK with exceptional products.
See O&A London collection at the new Thibault Van Renne showroom.
Address:
Third Floor, North Dome
Design Centre, Chelsea Harbour
London SW10 0XE