How to style a room with statement console tables
08 Jun 2021
Console table
For many people a console table may seem like an insignificant detail, but it has no less value than other interior elements. A properly chosen console can both unify space and accommodate details. The choice of console must be approached with care. Let's figure out which consoles are generally available and how to choose them correctly.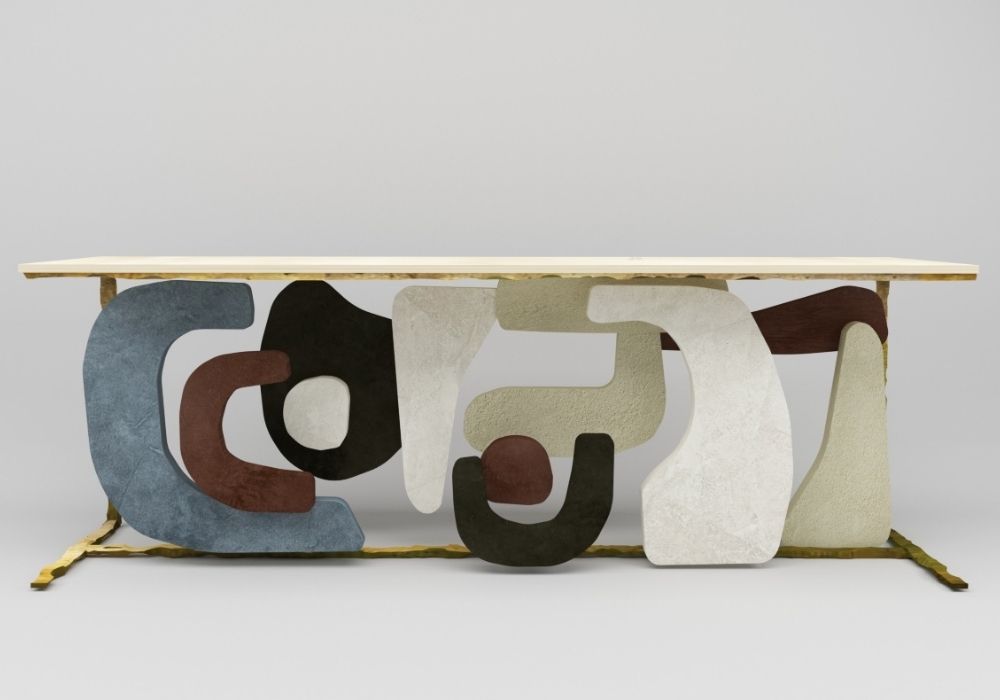 How can I choose the right one for my interior?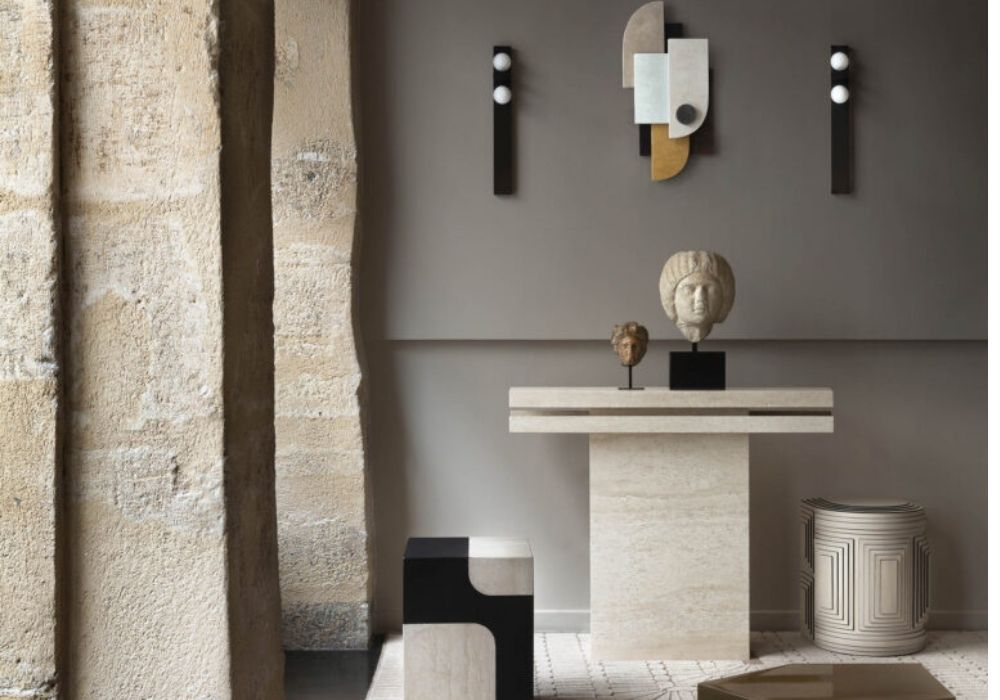 The traditional purpose of console tables is a surface on which to place decorative elements like clocks, photographs, vases, candlesticks or figurines. Despite its size the console is not only a decorative element but also a functional piece of furniture. There are countless types and forms of consoles. They can be of any height, width or length, and can be equipped differently. Everyone can choose a console table depending on their taste. But the question is: "How can I choose the right one for my interior?"
Consoles in hallways and corridors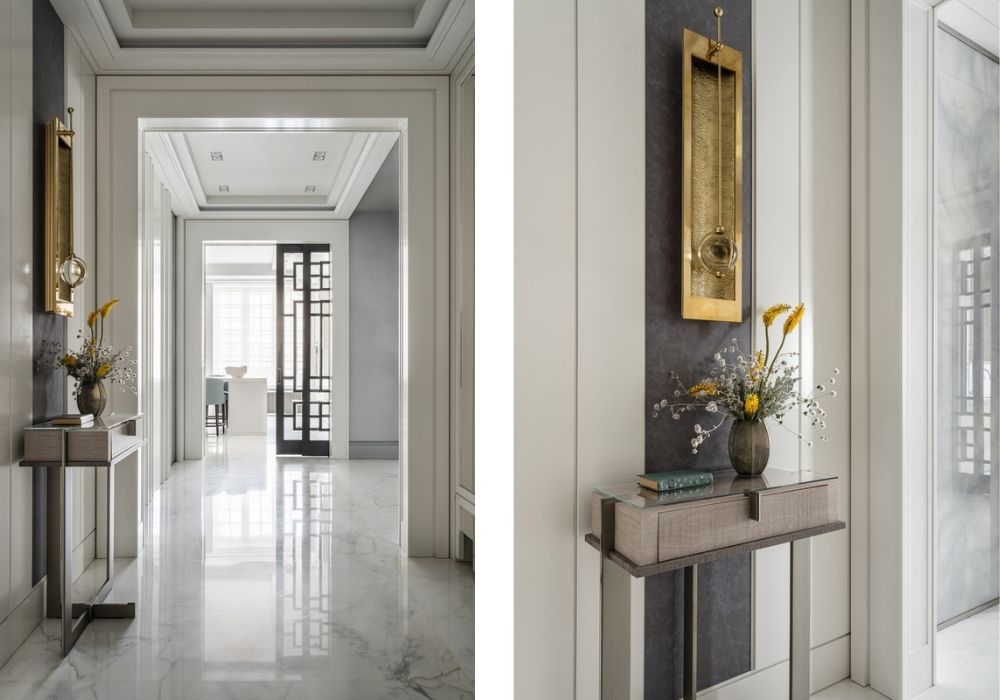 There is rarely a lot of space in the corridors and halls. In such cases console tables become indispensable. They do not take up a lot of space. The "Naos" table made by O&A London, crafted from polished brass and grey sycamore, is ideal for your entryway. Also, the "Naos" is endowed with a capacious drawer in which you can store everything you need. Light and elegant, it will subtly fit into any modern interior, complementing the design and placing the necessary accents.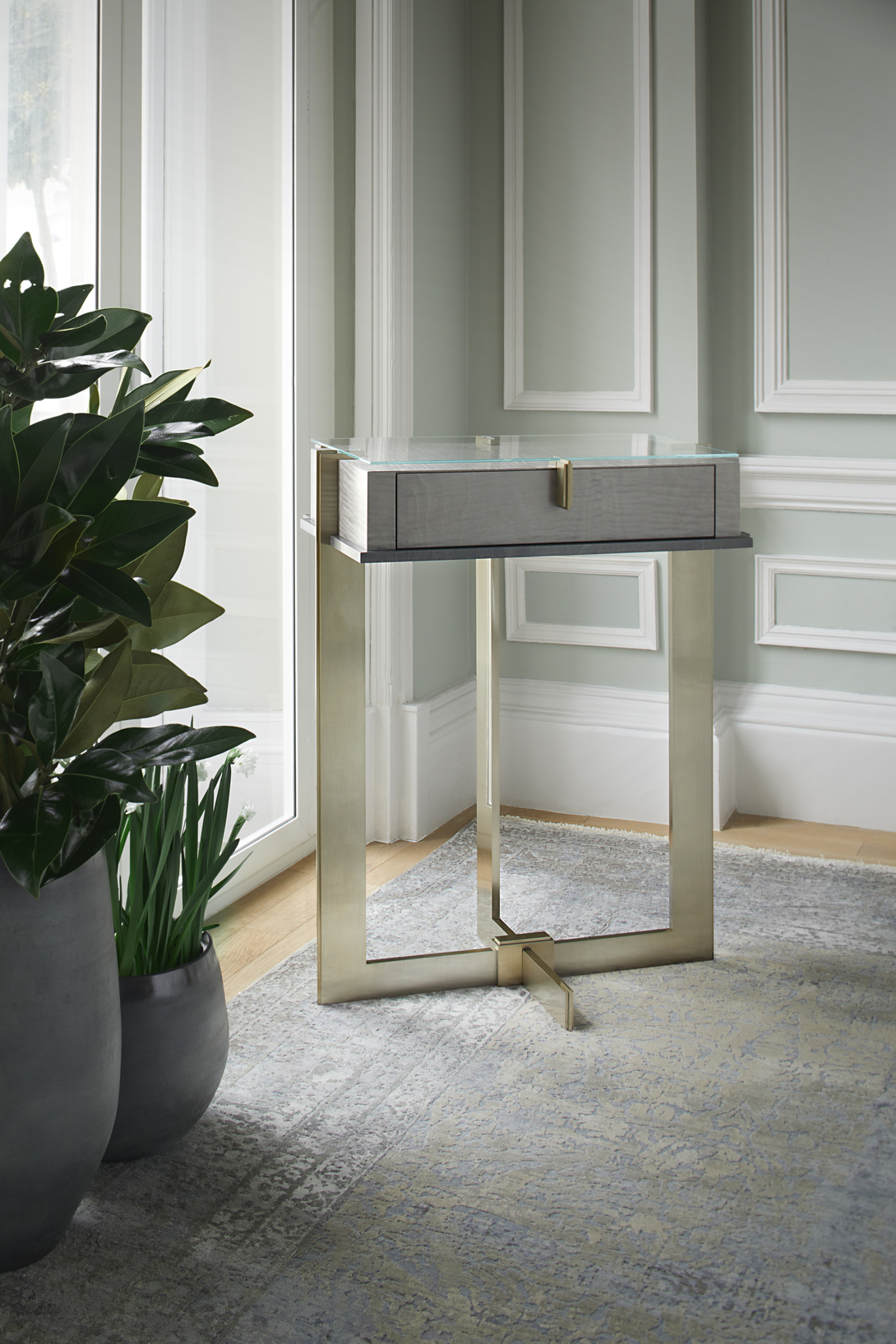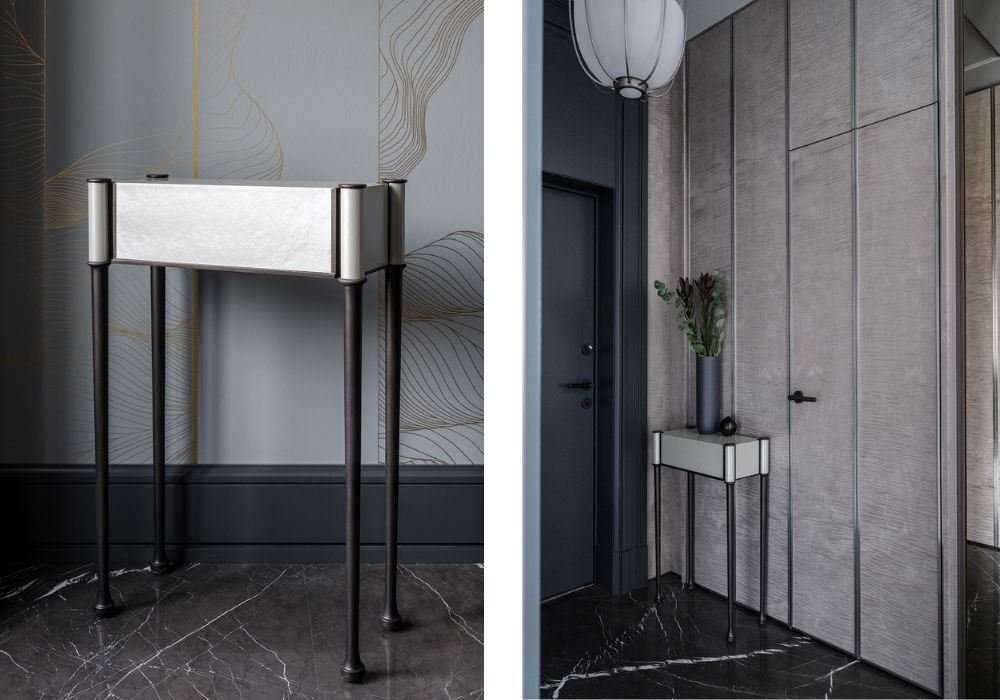 For narrow spaces, lobbies and corridors, the miniature "Lyra" console is better suited. It immediately attracts with an unusual combination of bronze and pearl trim and, thanks to its neutral colour scheme, fits well into any interior.
The first impression is count! If you want to set a mood, you should place a statement piece, for example, this chic modern console with art deco vibes.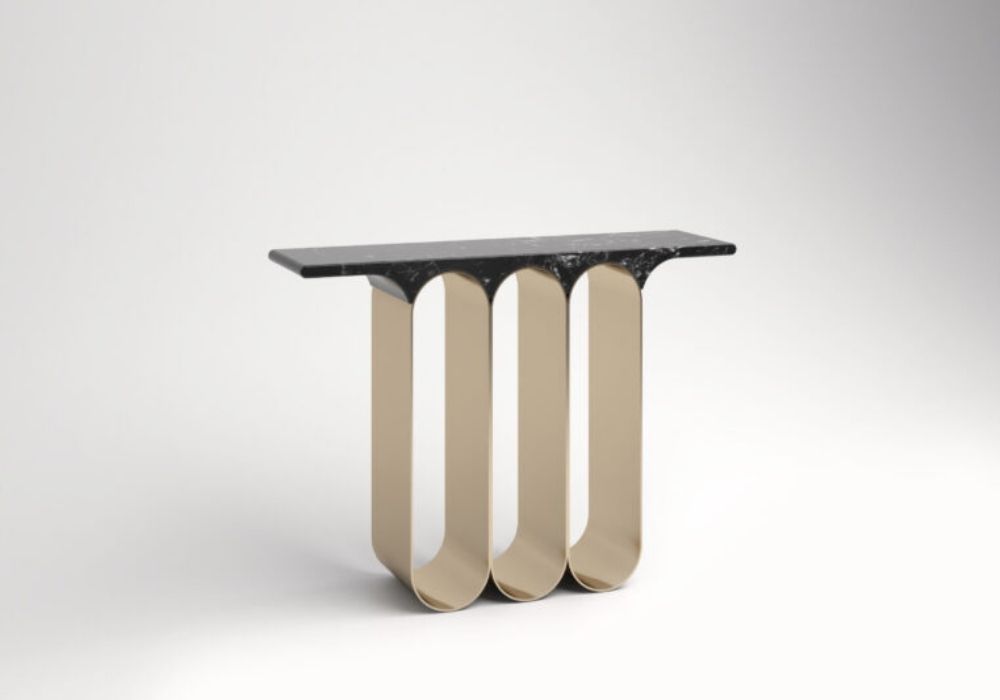 Living room consoles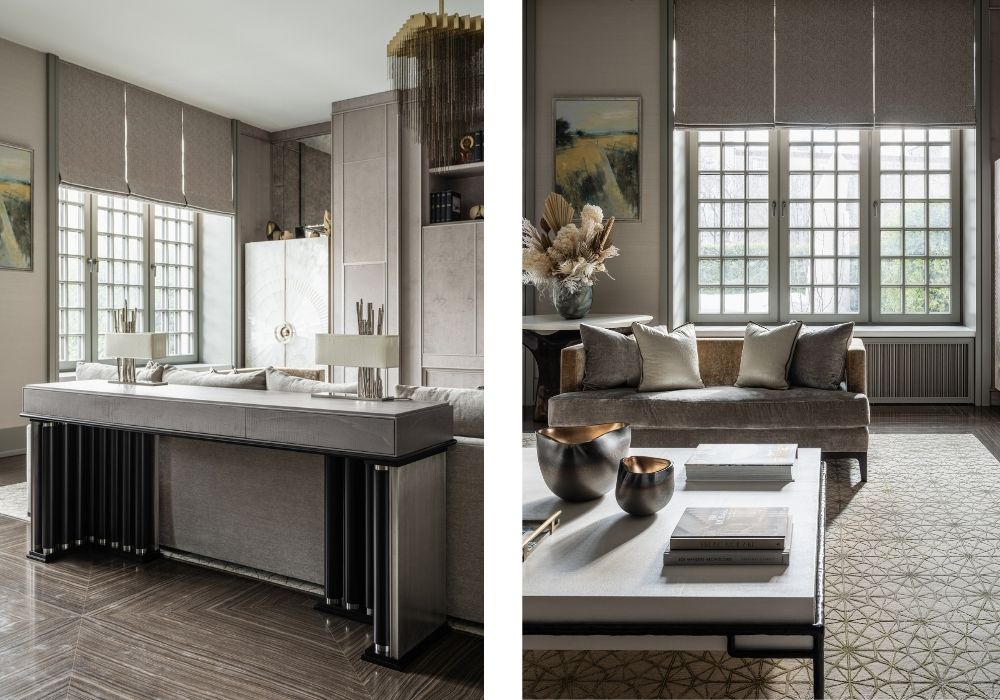 The main feature of the console table is its versatility and it comes into its own in the living room. One of the functions can be the division of space into zones using a console. For example, you can use an 'Alkes' table from the same O&A London collection. At first it may seem basic, but upon closer examination it becomes a work of art. Thanks to this combination of modesty and confidence, the contrast of age-old traditions and the spirit of modernity, the 'Alkes' will fit perfectly into any interior. Consoles exactly like that, due to their size and unusual design, divide interior spaces. Also, such a table can be placed in large living rooms next to the sofa and decorate the back of it. In this way a console makes the space more interesting.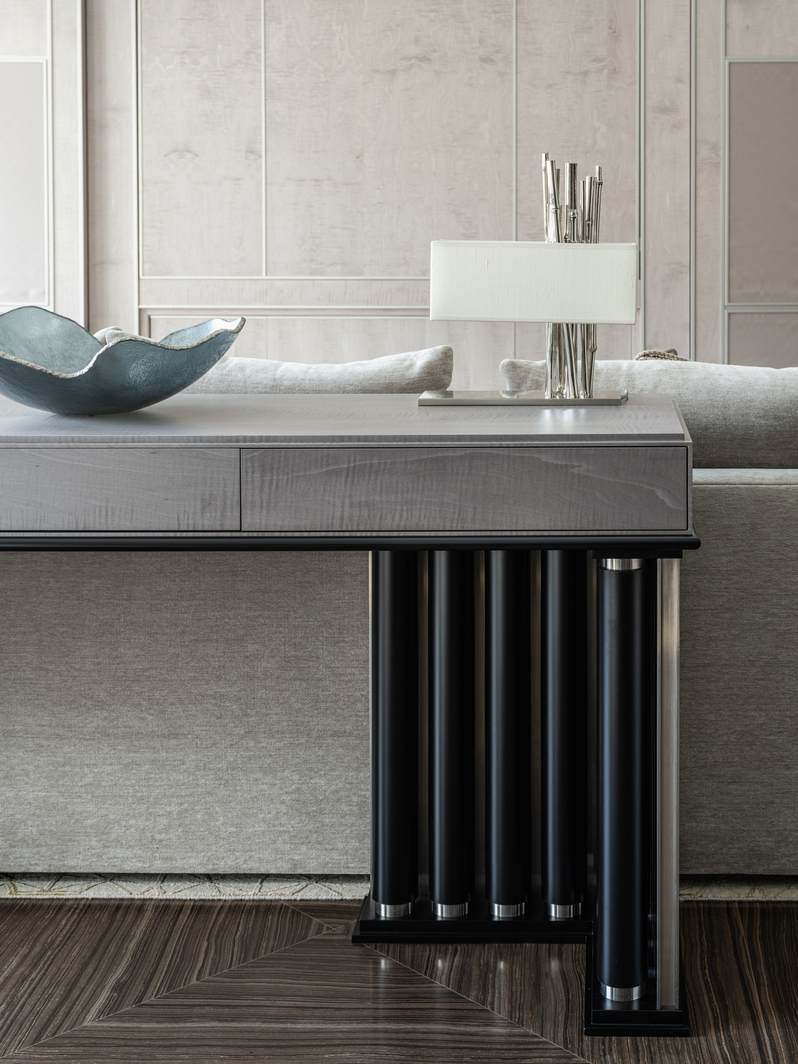 In addition, with smart location, the console table has very versatile function. It can serve as a drinks stand, a place for storing small trinkets, table lamps, vases and much more. For this role the "Double Leaf" console table designed by Eric Schmitt or the "Thalie" marble console by Joris Paggioli will be perfect.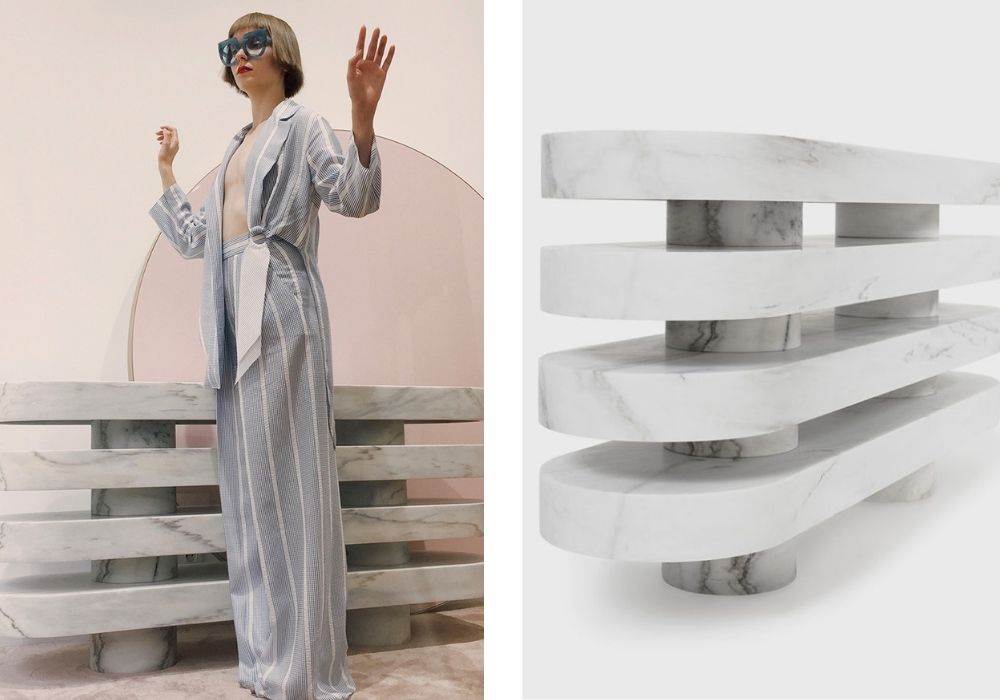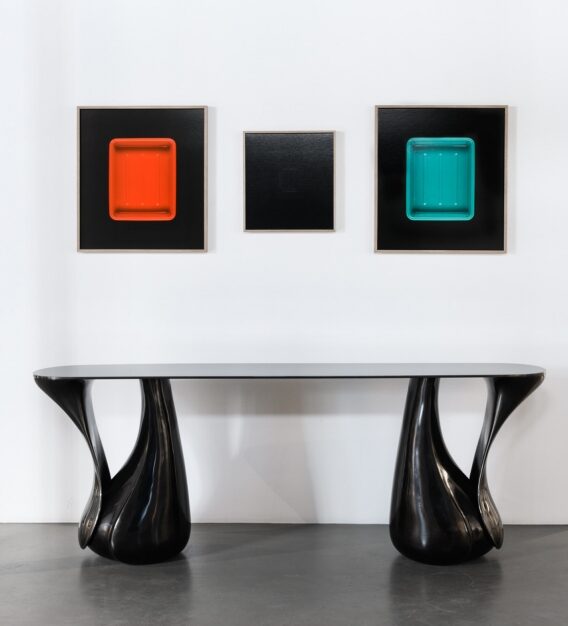 No less of a fit would be the minimalistic 'Auva' console. Despite its thin linear design, the console is stable and can withstand significant weight of objects placed upon it. It makes an excellent addition to your living room.
For the dark living room, the ideal choice is the "Terzo" console by Bruno Moinard. Moody, dramatic shades can create a brooding sense of intrigue and luxe sophistication. Do not forget that in spacious living rooms, consoles can play the role of serving or bar tables.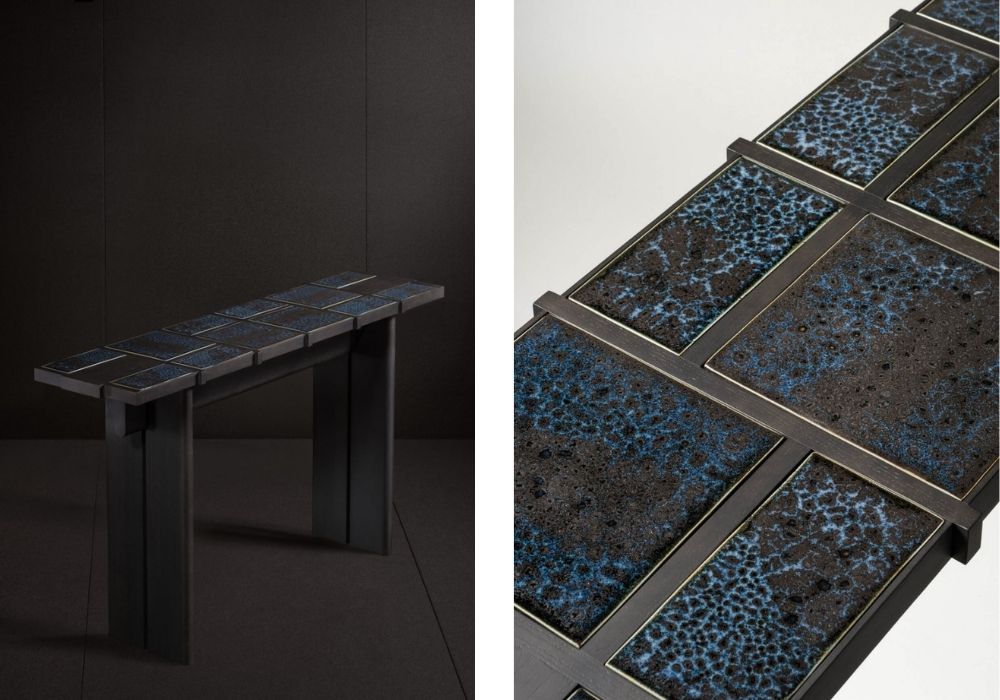 Bedroom console tables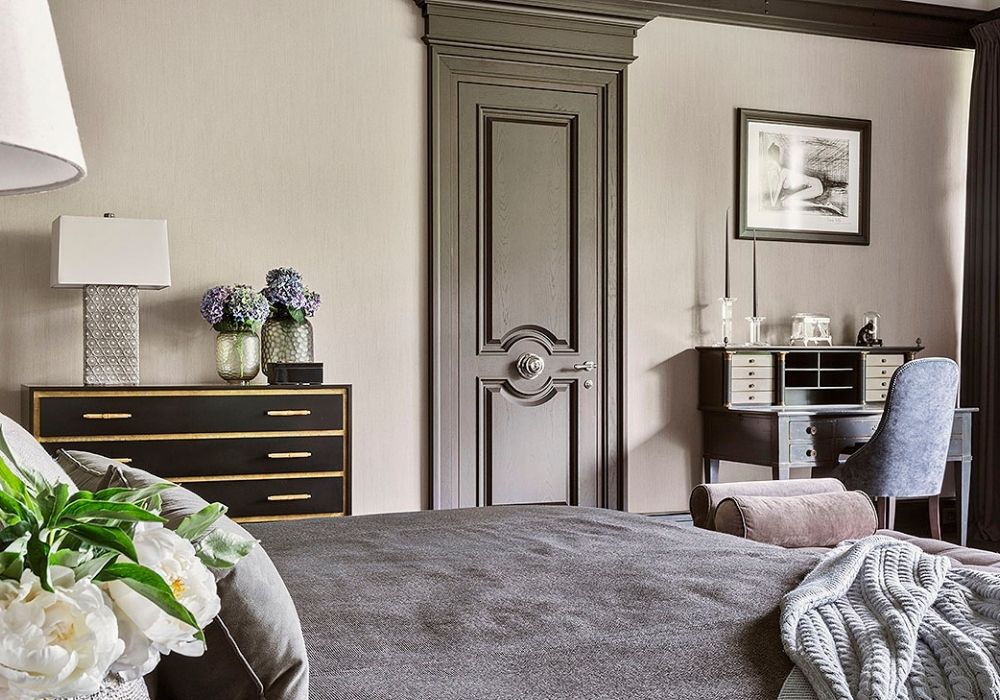 In bedrooms consoles are rarely the main focus. Instead  they are used as dressing tables and other purposes. Someone might use the table as a place where you can put your favourite book or magazine, another person might put  their glasses or watch on it, and someone else might neatly arrange their favourite personal care products. In any of the above cases, the console table does not remain idle, and nor it does not lose its artistic element.
A striking example is O&A London's Diorda. The "Diorda" is a vivid combination of elegance and functionality. The rigour of its geometric shape is distinguished by a carefully thought-out colour scheme which turns it into an 'objet d'art'.
In the bedroom mirrors of various shapes are often used Most people put them above the console with some poufs underneath. This solution saves space and gives you opportunity to read another magazine by the table, or check your appearance in the mirror before going out.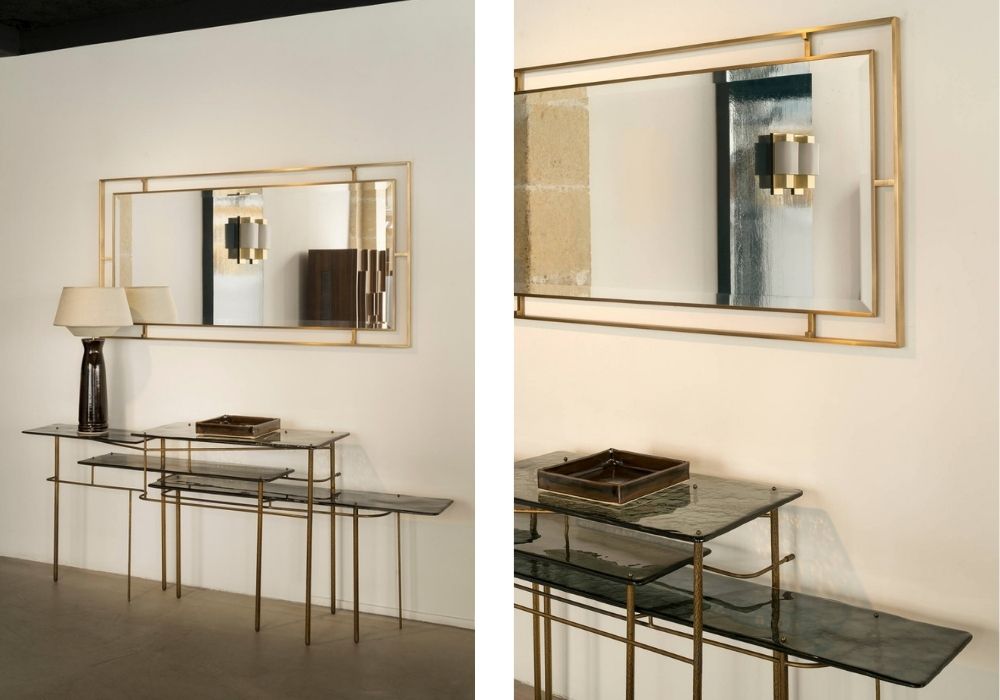 Console style
First, it is important to pay attention to the interior when choosing the colour scheme and style of the console, so that the table does not dominate visually and does not insult the eye. However, the choice of what role the console will play in the interior is up to you. It can be the focal point that attracts all the attention, such as a work of art like "Versailles" by Tom Faulkner; or a harmonious and functional addition to your interior such as the "Siena".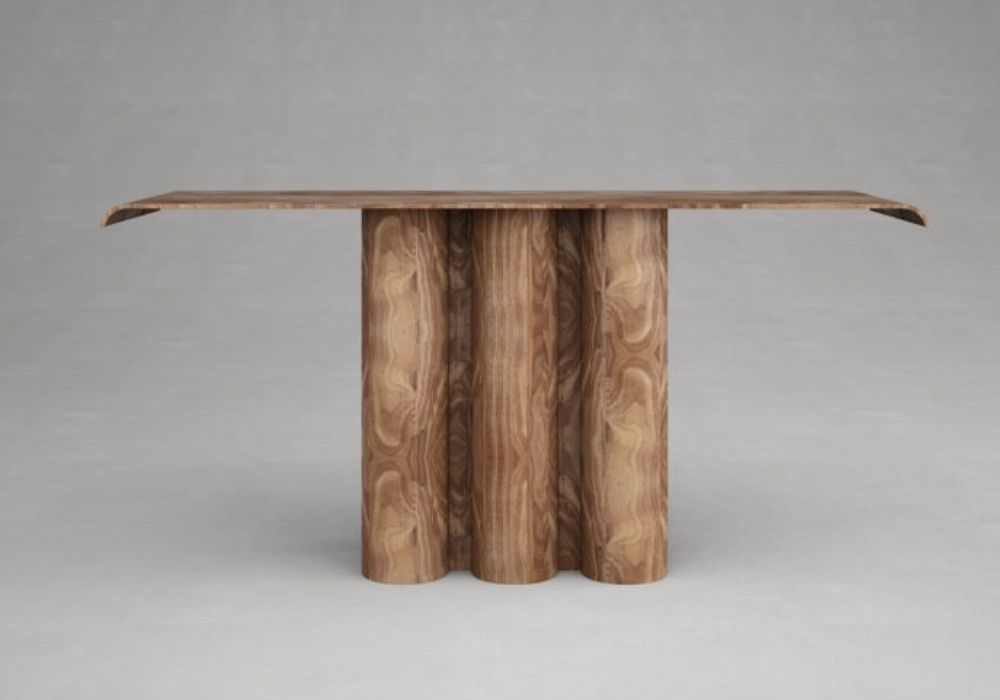 You can choose something more architectural as the "Lava" console by Samuel Accoсeberry or "Nekkar" by O&A London that emphasise the work of the material, in a brutalist expression. The choice is yours.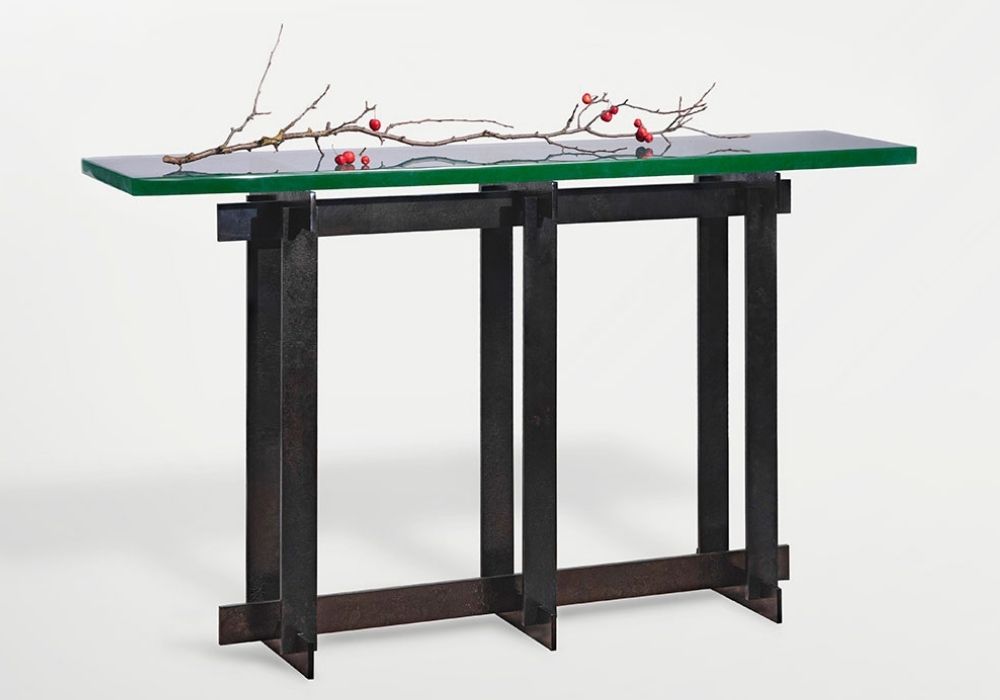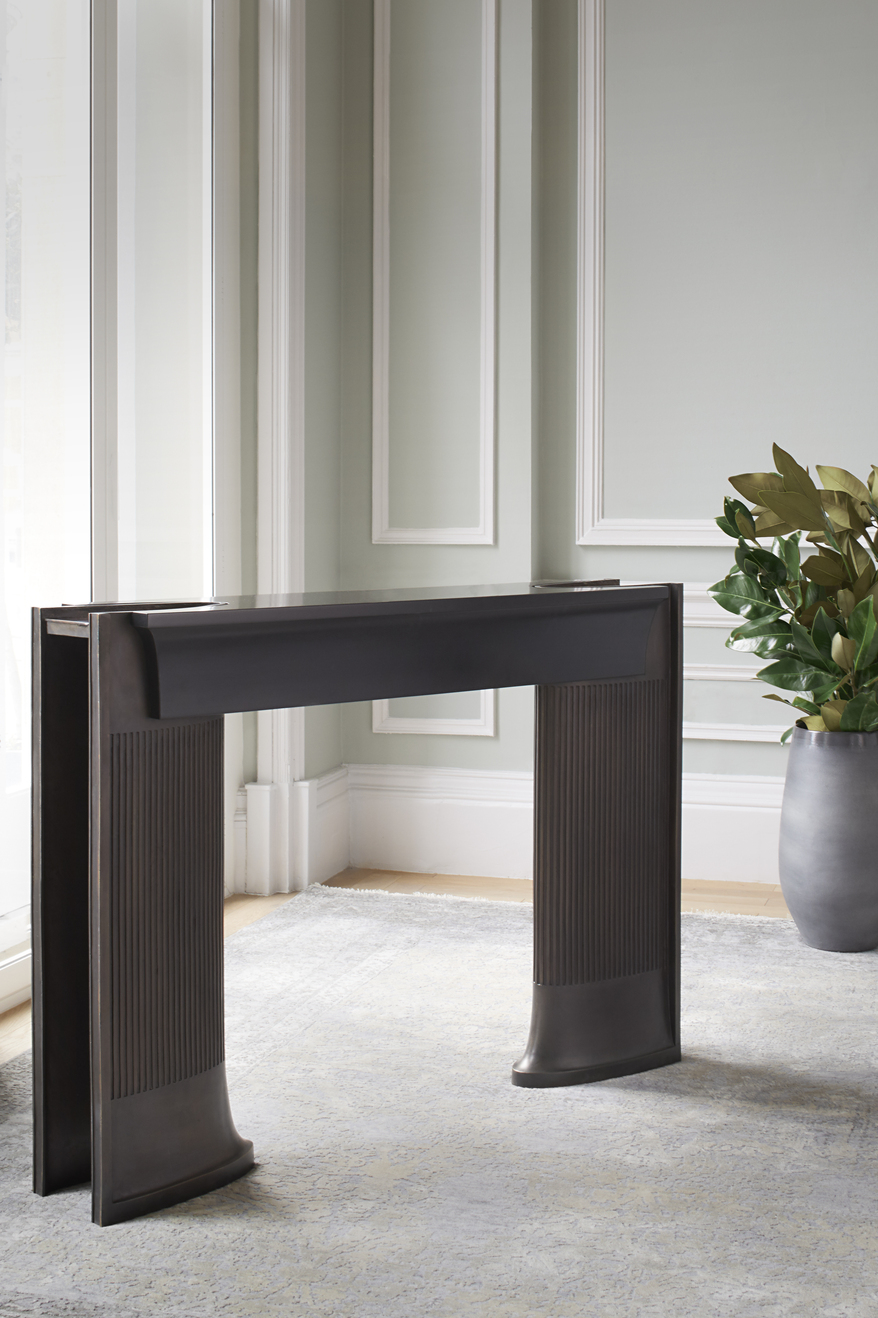 Few people think about what functions and qualities suchan insignificant element of the interior can give. Console tables are an integral part of the design world and are filled with possibilities.
Text: Anna Agapova, O&A London Creative Director