Inspired by high-tech architecture: New chandeliers from O&A London
04 Oct 2019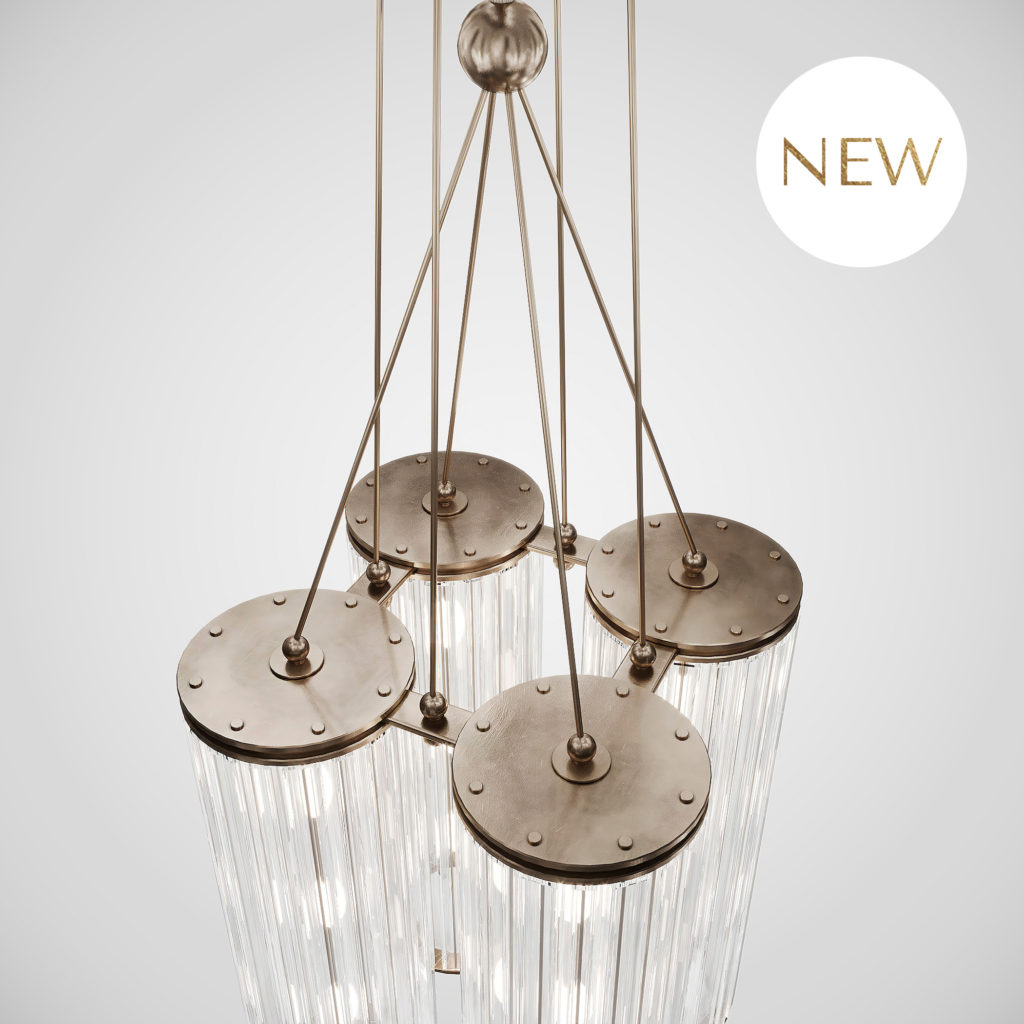 In September 2019 the design duo of Oleg Klodt and Anna Agapova revealed their unique second lighting collection. The new collection is inspired by modernism and functional designs of high-tech architecture. The designers' approach is in transforming functional details in decorative elements. Oleg and Anna do it with the style, wit and elegance! 
Oleg Klodt: "From my experience, not many designers and manufacturers pay attention to hiding functional elements such as lamps, cables and wires thinking that decorative elements are attracting the viewers' attention. As a result, there are not so many chandeliers that are entitled to be refined in design and are smart from the engineering perspective, especially when thinking in terms of oversize lighting fixtures". 
The new chandeliers fill the gap in the luxury lighting market. These items are shining examples of smart elegance and design intelligence.   
The Altair chandelier is the perfect piece for high-ceiling space, including atriums and staircases. The chandelier presents an art piece where every detail is carefully thought out and beautifully implemented.  The bearing structure is elegant and geometrical. All functional elements are hidden in metal bars and balls, that play the role of main decorative features. Lamps are not visible, and the light softly passes through trapezius vertical glass units that are arranged in staggered formations. Altair chandelier is an eclectic chandelier with elements of ArtDeco and is suitable for any modern interior. 
The Meridian chandelier is a laconic luxury piece which brings a unique atmosphere to any surrounding, especially to modern bedrooms and living rooms. The chandelier features an acrylic lampshade covered in sophisticated thin metal chains. The soft, whispering sound of strings fill the space with relaxing vibes. The lamps are not visible due to the acrylic platform, which is a smart design trick. The light is reflected and passes evenly through the sides of the lamp. All the functional elements are not visible. This lighting fixture is a genuine piece of jewellery for the interior. 
The chandeliers can be customised in any size and finish.  
O&A London 
After years of designing private and commercial projects, Oleg and Anna noticed that certain items are hard to find on the market. As a result, the next obvious step was to create a whole new brand: O&A London. Designers began to create pieces that they could not find on the market to suit their projects. 
The main brand values of O&A London brand are timeless design, universality and architectural approach.  
Anna Agapova, Creative Director of O&A London: "Trends are replacing one another at an increasing rate and often mixing. But every time, as they come to the fold again, they are transformed due to the new technology, and this is exciting for us in the furniture sector. We are confident that designers and architects will continue to create spaces and products that link us with the past. People's desire to remain in spaces of comfort and calm where they can explore real human connections remains as true as ever. This is why we created the brand O&A London, reflecting these values and striving to offer our clients something timeless".