O&A London Featured in Interior Design Yearbook 2019
23 Oct 2018
Oleg Klodt and Agapova Agapova talk about the furniture side of the industry from a studio business perspective in the new Interior Design Yearbook 2019 issue.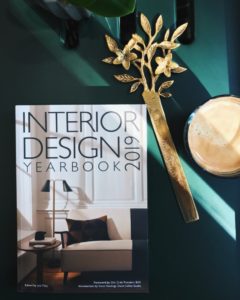 What does the furniture design landscape in the UK look like at the moment?
The British furniture landscape is diverse, and it is experiencing a renaissance. Every year we can see new names and emerging brands that are hard to categorise under one particular style. There is no end to these designers' creativity and London can proudly be named as a global creative hub!
Broadly, we can divide modern furniture design in the UK into two big groups. The first one is represented by the designers who are committed to classical English traditions. These brands keep conservative approaches and design authentic furniture by trying to rethink traditions and give new contemporary interpretations. In a nutshell, we can identify them as the representatives of 'refined English delicacy'. In our view, Justin van Breda, Stuart Scott and Soane Britain belong to this category. The other group of designers adheres to the principle of innovation. They create relatively iconic shapes by mixing different materials and adopting revolutionary technologies. These designers are more European oriented. Thus, they follow traditions of exceptional quality and classic design but add an eccentric flare. The 'tailored' items created by David Linley and Tom Faulkner are a great example of this.
How have changes in client expectations changed the way you prepare furniture packages as part of your interior design service?
Any creative activity is the cumulative result of all the experience you've built up throughout your life – or at least, everything which has been involved in your profession. Our experience in interior design stretches back more than fifteen years, evolving more and more in the luxury segment of the market. Most of our clients hear about us through the grapevine and many of them know each other. On the one hand, this means our clients trust us and respect our experience, but on the other, no one wants the same furnishings as their friends. That requires us to have a thoughtful approach to the whole creative process, including the sourcing and designing of furniture.
The manifesto of our company is to create interiors that will always remain modern and relevant. Any interior needs a kind of suppleness, a soft feeling that arises from a mixture of different items which all have different stylistic approaches. There shouldn't be a feeling of completion – instead, a sense that you could always add something else later. The interior works as a foundation: the clients can change some elements in the future, but the whole system will work perfectly. Thus, our primary task is to find these pieces or design them and show to the client how the interior will work from a long-term perspective.
How do you continue to innovate in the furniture sector?
After years of designing private and commercial architectural projects, we realised which items are hard to find in the market. As a result, the next evident step was to create a whole new brand: O&A London. We started by designing pieces that we could not find for our projects. For example, the back of the Pictor II armchair is particularly unique. From our experience, we perceived that spacious living rooms require a group of two armchairs that viewers can observe from different angles. In the same vein, difficulties sourcing lighting for high-ceilinged spaces such as atriums and stairwells led us to design our 3-metre chandelier Meissa. We featured it with lots of elements and allowed viewers the opportunity not only to contemplate it but touch it.
These innovations fill gaps in the market. We do not follow trends by creating furniture just for decoration's sake. We find solutions. New materials and technologies are only the instruments.
Where do the majority of your furniture briefs sit, in sourcing pieces or bespoke commissions?
Tailored furniture items have always been featured in our projects.
We design all built-in furniture and 20% of stand-alone items play a crucial role in the interior. These unique pieces accumulate to lasting effect. Our idea is to create furniture that can match any interior style. All items produced by us reflect the concept of universality, timelessness and 'intergenerationality'. Moreover, all elements are based on our characteristic architectural and structural approach. The perfect house is the house where the interior and exterior are in harmony. Bespoke design is not simply a side project, but an integral part of our brand identity.
People place more trust in furniture produced by architects, which is why when we are sourcing pieces, we devote our attention to collections designed by people who have significant expertise in interior design.
What are the most popular requests from clients when beginning a project that requires bespoke furniture designs?
The most popular request from clients is for decorative lighting products. It is quite understandable since lighting plays a central role in any interior. Chandeliers completely transform entire spaces in a house, becoming its central point. Lighting can influence our mood, so we aim to create a relaxing, intimate and homely atmosphere. It is the unseen soul of the space.
Desks are also an important concern for our clients. We observe a real shortage of these pieces because they are quite complicated design-wise, but our clients trust our exceptional production capabilities as architects.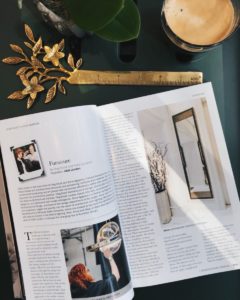 What kind of challenges are you facing in terms of creating new and unique designs?
The most common problem is finding trustworthy manufacturers. The second challenge relates to suppliers. For example, we often combine wood and metal in our pieces, and it is a challenge to link the suppliers and organise production management, especially when bronze is used. The most experienced workshops that work with this metal are in France, and they are overly cautious about new commissions as they try to keep their production methods a secret.
Our journey was long and full of learning curves. But meticulousness and integrity in the quality of the product helped us to find reliable partners.
Have you experienced changes in budgets and the way people are spending and how have you responded to this as a designer?
In our practice, we regularly experience budgetary reductions which sometimes reach 30%. But since we have a good network of suppliers and producers, we are very flexible. In most of the cases, clients want to reduce the costs of 'soft zones' and playrooms. But there are always some pieces that can be considered beyond the budget such as decorative lighting and furniture for living rooms.
What do you like to know from a client when embarking on a furniture design journey with them?
Before starting the design process, we ask our clients to fill out a form. Many questions help us to find a visual territory for future items. But there are no guarantees when met with challenging situations. In this business, especially in the high-end segment, you have to balance between the aspirations of the client and our artistic principles. Our clients are often eccentric people. Some do not like sharp corners or particular materials, or cannot tolerate specific fabrics. It is unpredictable. That is why we keep close contact with the client. The most important thing is to understand the lifestyle of the person. We have learned to build a dialogue, the result of which is a design product that meets two criteria at the same time – the dream of the client and the pride of the designer.
Are there other countries that you look to in terms of furniture design inspiration?
We are in love with American brands. There are two groups. The first one is represented by premium design companies such as Holly Hunt. These companies offer top-class design products. The second group covers young artistic brands such as the Apparatus, Lindsey Adelman, BBDW. These guys produce exceptional items through experimentation which provides us with plenty of inspiration. We are fascinated by the creativity and intelligence that lies behind each product.
Regular visits to France give extraordinary opportunity to feed the mind.
Where do you source furniture from for residential projects?
About 50% of furniture sourcing for our projects is carried out in the UK. Around 30% is sourced in America and only 20% in Europe.
When commissioning bespoke pieces, where do you find is the best source of materials for the work?
We have a group of high-quality material suppliers. Our manufacturing partners buy materials according to our requests even if it requires some readjustment of the production process. Our suppliers are located in Germany, France, Italy, Russia and the Czech Republic. But we have never been fixed in one place, and we continue to develop our network, because in this business if you want to be at the top of your profession, your motto has to be 'never stop learning and sourcing'.
What do you see as being the biggest furniture design ideas for 2019?
Everything develops cyclically. The pace of life speeds up year after year and the lifetime of each style becomes shorter. Trends are increasingly replacing each other and sometimes mixing. But every time, as they come to the fold again, they are transformed due to new technology.
It is impossible to foresee what will be in fashion tomorrow. But we can guarantee that only high-tech items will be in high demand. These new technological art objects can fit into any space, including traditional ones. These items indeed will be high functioning and environmentally friendly.
In 20 to 30 years, functionality and so-called digitality will completely replace decorative and aesthetic aspect in interiors. Nevertheless, we are sure that architects and designers will continue to create spaces and products that link us with the past. And no doubt, people will desire to remain in areas only if they feel comfortable and calm, where they can explore real human connections. That is why we created the brand O&A London that reflects such values as universality, timelessness and links between generations.