London Design Week 2021: highlights to catch
26 May 2021
This year, Design Centre Chelsea Harbour has adopted a hybrid format with in-person visits and an online programme that reaches out to a global audience. From Monday 17 to Friday 21 May showrooms showcased the latest patterns and inspiring palettes, alongside key details like scale, craftsmanship and artisan finishes. After months at home, people are longing for change and designers are seeking to resume their usual sourcing process. Anna Agapova O&A London Creative Director is delighted to share an increasing variety of natural designs that reflect a growing groundswell for sustainability.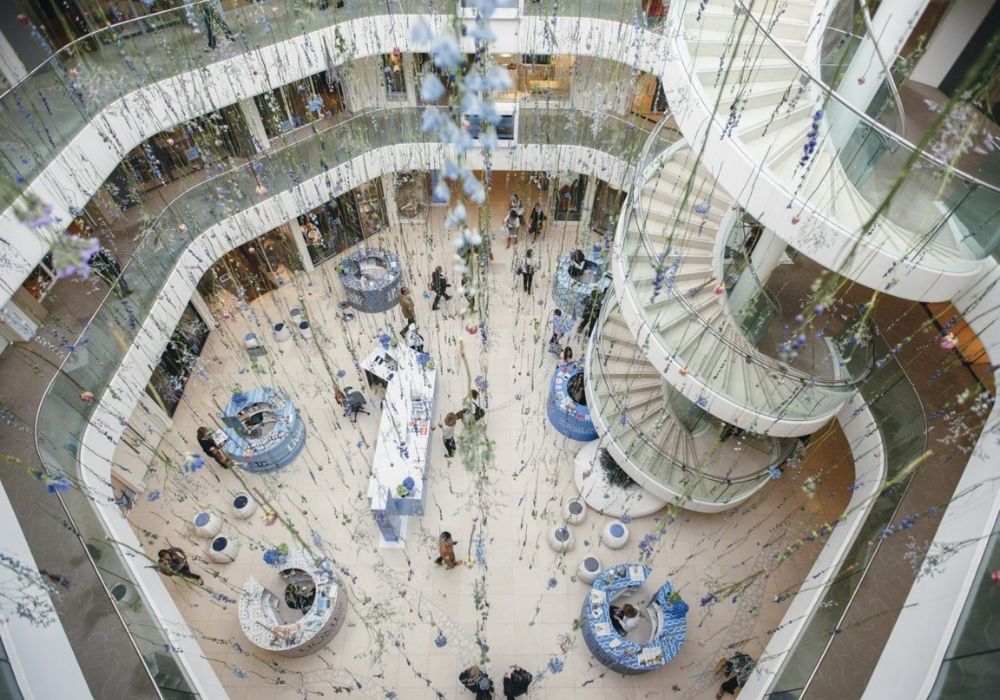 CLOSER TO NATURE
Outdoor furniture and fabrics are where technical innovation meets imaginative design. The so-called "al-fresco economy" was booming even before the circumstances of the past 18 months meant the need to spend more time outside – and from a design perspective these are exciting times for those looking to create a garden, terrace, yacht sundeck or poolside with personality and soul.
Dutch architecture and design studio Piet Boon creates collections that balance functionality, aesthetics and individuality. Pieces such as the "Anne" dining table, "Niek" chair and "Lars" sofa, chairs and coffee table have simple lines that let the beauty of the natural timber shine through.
The furniture collection is presented in Tollgard showroom.
These "Sun" daybeds by Paola Lenti demonstrate some of the technical prowess that lies behind outdoor furniture: its curvy shell is made from Diade, a waterproof plastic specially developed by the company, which is embedded with woven fabric that gives it an organic-looking, textured appearance. The daybed is the work of Italian product designer Francesco Rota, who has created a family of other products for Paolo Lenti this year, including the "Canvas" sofa, whose cushions sit within a sling of fabric that forms the back and sides.
The furniture is presented in Interdesign showroom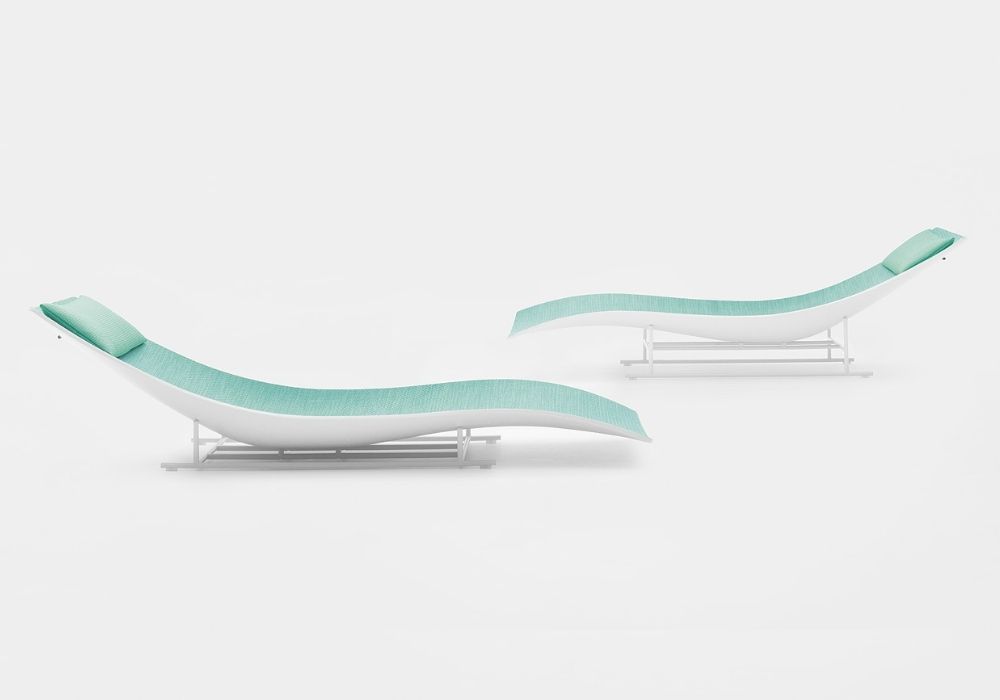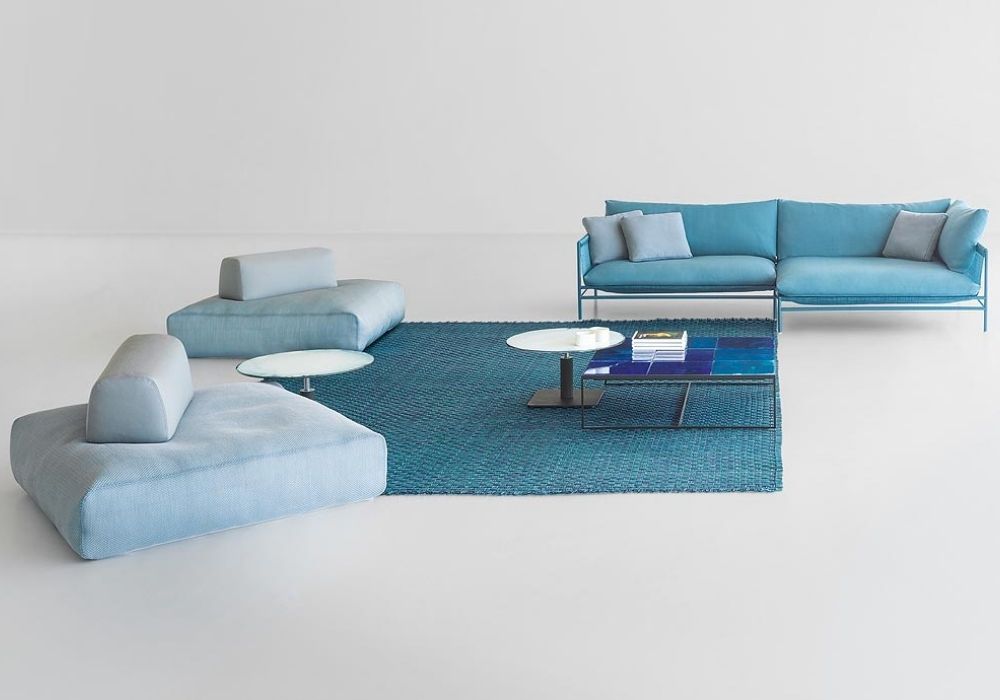 COLOUR FIELDS
"Forest bathing" may be the latest wellness trend, but with these hexagonal "Woodland Glade" tiles there's no need to leave the bathroom to get a sense of nature's ability to calm and heal. Available in six random patterns plus a white field tile, their gentle silhouette design was inspired by Winkworth Arboretum in Surrey, which belongs to the National Trust: the tiles are part of a wider collaboration between the conservation charity and Sarsen Stone, parent company of Design Centre showroom Artisans of Devizes.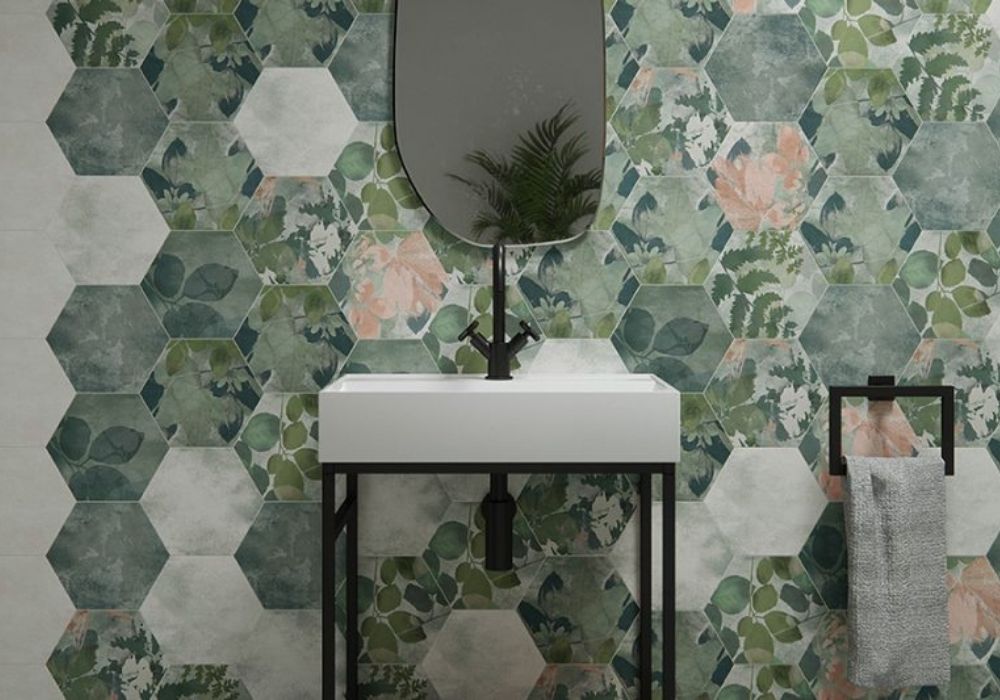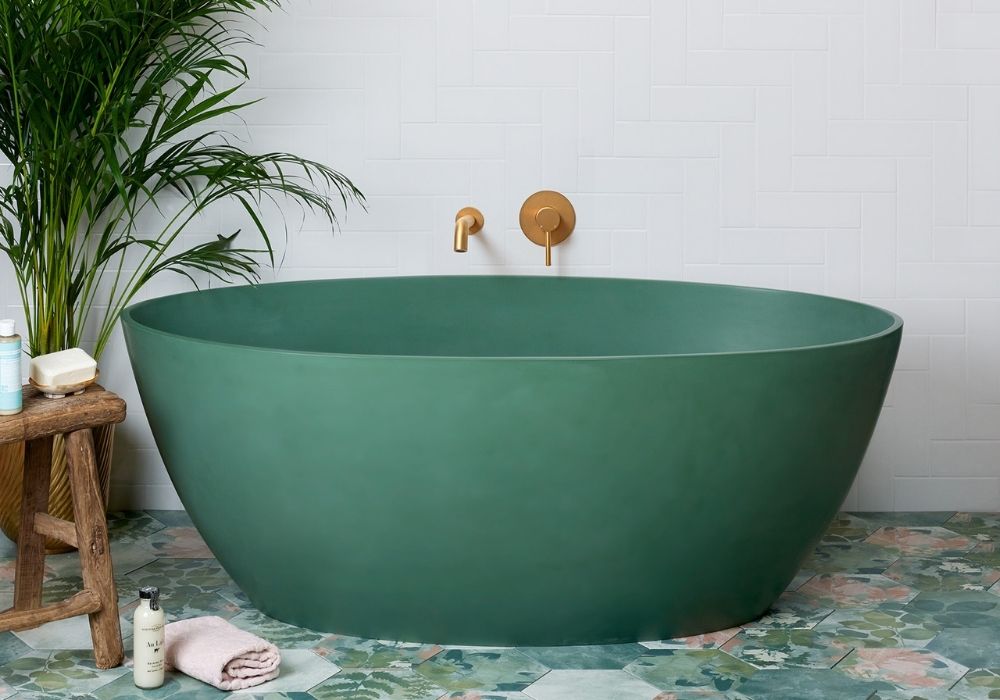 Colour and pattern have become intrinsic elements of kitchens and bathrooms, too. Victoria + Albert Baths is showing its new compact "Amiata" bath in a dark green.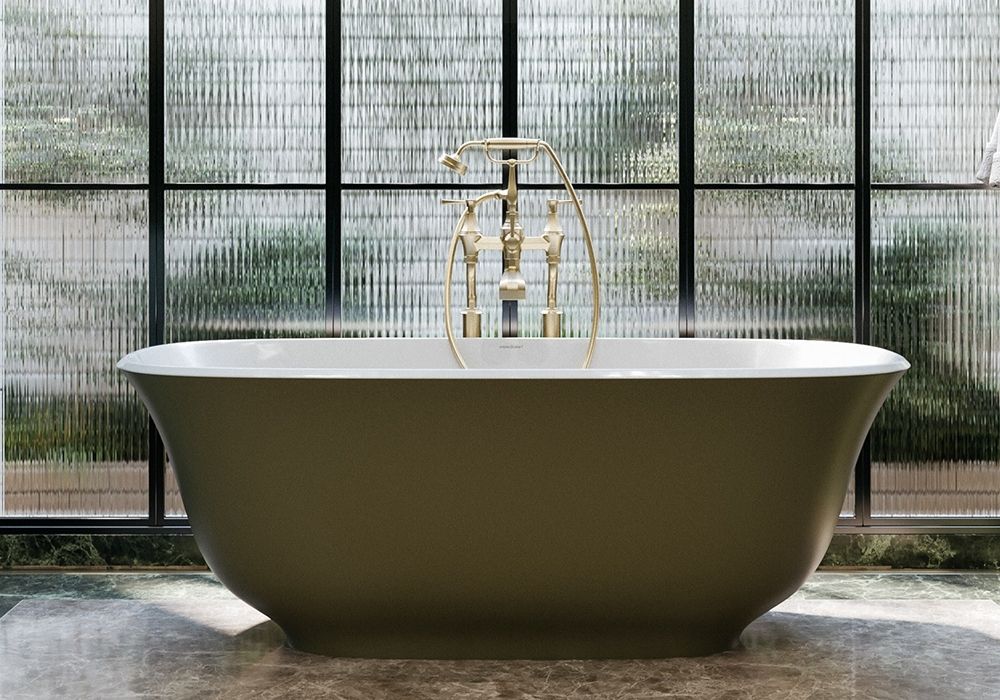 DESIGN FOR CHARITY
Fine Cell Work is a charity that makes beautiful handmade products in British prisons. Its unique products have been designed in collaboration with some of the country's leading contemporary designers and are all hand-produced in limited editions. For London Design Week 2021, Fine Cell Work is thrilled to be relaunching Melissa Wyndham's iconic "Pineapple" cushion in three brand new colourways. As well as this, it is offering visitors the opportunity to create a bespoke colourway, matched to their own chosen design scheme.
ORGANIC FORMS
Characterised by sculptural designs, textural surfaces and local craftsmanship, Porta Romana has long established itself as a leading global brand in the lighting and design world .
Its spring 2021 collection has a wild and fantastical feel to it, with designs that transport you to another world, combining organic forms with an element of escapism. New models, concepts and colourways come together to form a range of unique and artistic pieces, perfect for a summer house against a coloured wall.
"Large Cep" is an elegant table lamp by Collier Webb with a modernist influence that would sit comfortably alongside most design styles, offering all the playfulness of a green cartoon character.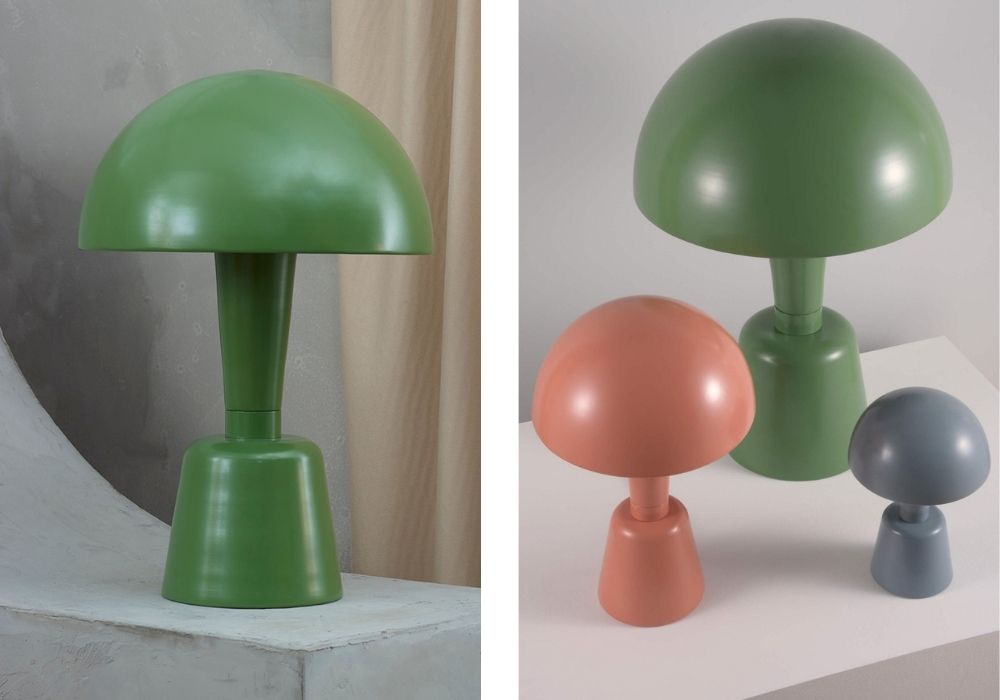 The new bed linen collection is an extension of De Le Cuona's 100% organic. The fabric house has launched a new collection, which is designed with health and wellbeing in mind, with a perfect balance of aesthetics and ethics.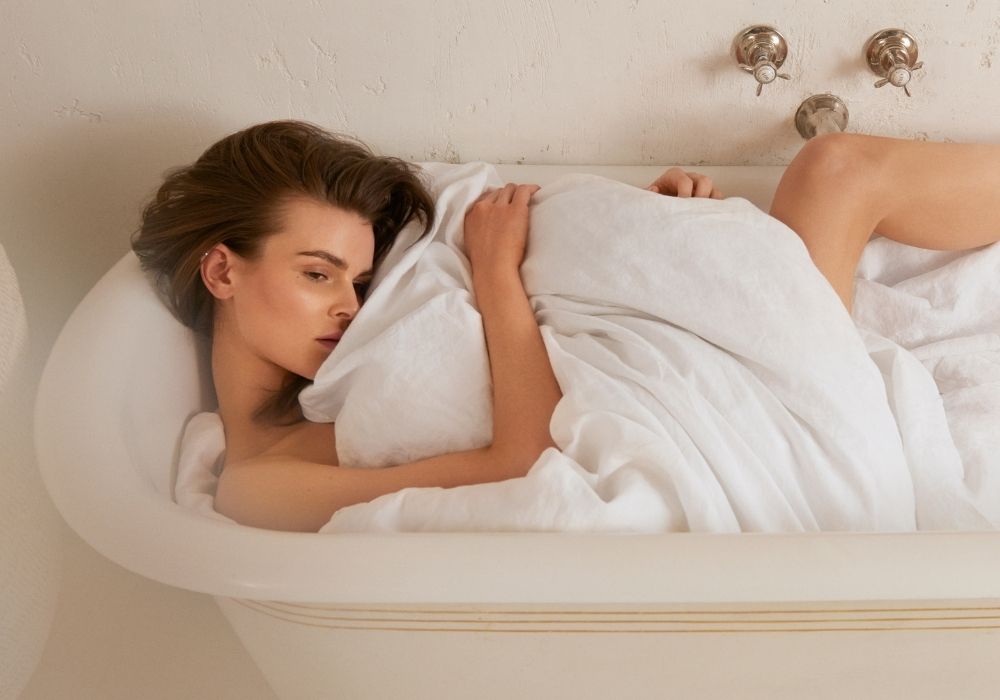 SCULPTURAL DESIGN
New to Gallotti & Radice, these "Monete" and "Clemo" tables are the work of Italian designer Massimo Castagna. Both show a flair for mixing playful design with sumptuous materials: "Monete" is Italian for coins and the table's clever sculptural design resembles slotted-together pennies, with a burnished metal finish that is unique to each piece, while "Clemo" sits on short rounded legs and is pictured in brushed Ceppo di Grè, a rare stone known for its pebble-like surface – a natural version of its man-made cousin, terrazzo.
WILD THING
David Hunt Lighting's new "Panther" light is perfect for interiors in need of some unabashed glamour. Available as a table or wall light, it is made from hand-cast resin in a matt black finish, before being finished by artisans in the company's Cotswolds workshop.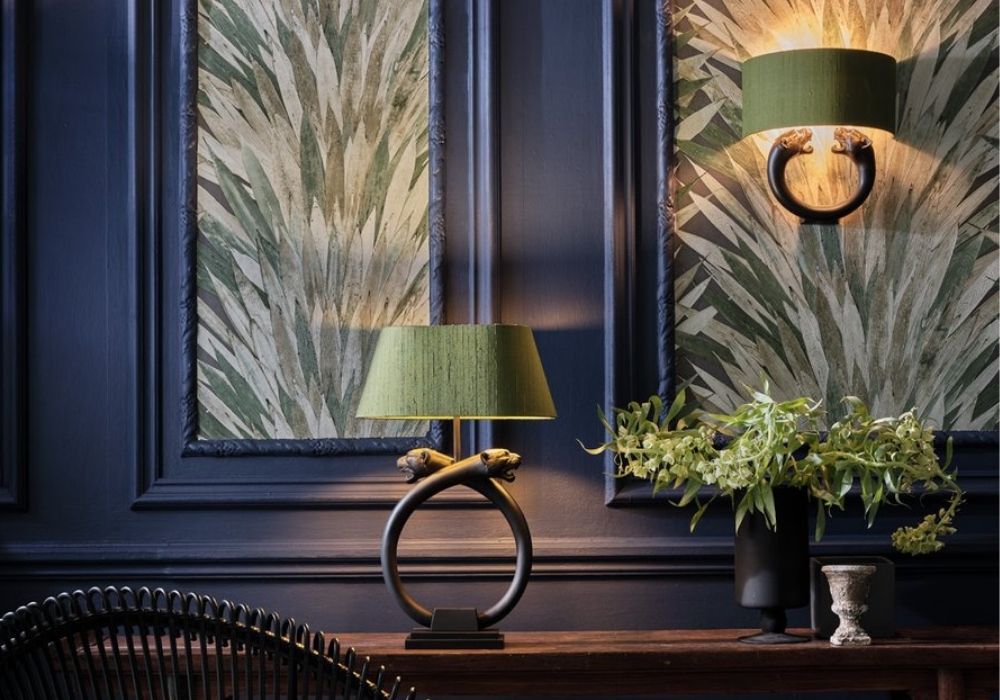 SCANDINAVIAN LANDSCAPES
The Borealis collection by LELIEVRE PARIS is an invitation to escape, inspired by the wild landscapes of Scandinavia. Consisting of one tapestry, beautiful jacquard fabrics, comfortable wool and linen loops and one fine wool twill, this is a contemporary collection of enveloping, soft and refined high-end fabrics.
HISTORY AND ART
Iksel – Decorative Arts highly imaginative approach to wallcovering goes from strength to strength, with a new collection that trains its eye on some of the most alluring scenes in art history, from Renaissance paintings to Ottoman palaces. These are then translated into digital artwork – either repainted from scratch in the studio or recoloured, rescaled and painstakingly retouched as necessary – that can be fully customised to create a wall-to-wall, immersive design experience.
The new Riviere Rugs for Zoffany collection is a celebration of artisanal hand-weaving techniques, creating bespoke rugs with an enduring style and quality. Six of the most iconic designs were selected and translated into rugs with the signature Riviere style. The results are stunning statement pieces with the power to transform an interior space.
Design Centre Chelsea Harbour has long been a catalyst of creative connections but at London Design Week 2021 a new chapter is unfolding. It is a welcome reminder of how the design community can continue to unite in a positive way.
Теxt: Anna Agapova, Creative Director, O&A London