Pinterest Global Top 10 Interior Trends Predicts for 2022
03 May 2022
"Before you see it everywhere see it here"  – these are the opening words of Pinterest Global Predicts Report for 2022.
Based on its research the most popular design source of inspiration and social media published "a not -yet-trending report" as a window into the future. The creators of Pinterest argue that people use this search engine to plan for the future. That is why they know what comes next.
O&A London Creative Director, Anna Agapova, had a look at the findings and there are some real surprises. Be prepared to love it or hate it!
#1 HELLENISTIC REVIVAL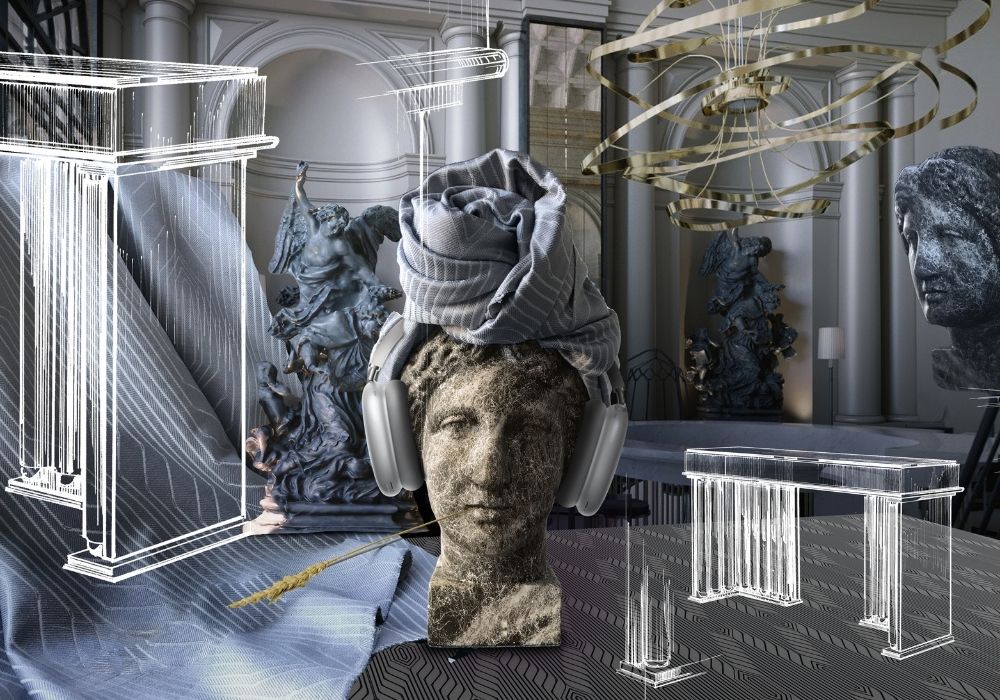 Since my surname is rooted in the Greek language ("agape" means unconditional love), I would love to start my review with one of the top trends.
According to Pinterest Pedicts 2022 it's all about relaxed mediterranean vibes, in particular the Greek culture. Apparently, Gen Z takes inspiration from Greece and young people invest in home décor based on ancient Greek aesthetics. The most popular requests are Greek statue art, columns and Aphrodite aesthetics wallpaper.
Home brands also recommend infusing ancient aesthetics into homes in order to create vibrant and sophisticated interiors. Based on similar sentiments I wouldn't want to miss this chance to promote two statement consoles with ancient Doric vibes by O&A London.
If you want to add a little bit of Greek revival to your interior, think of a furniture piece as a functional and aesthetic addition to your room. The gem of our O&A London furniture collection – Diorda console – features a rare balance of elegance and functionality. The rigour of its geometric form is softened by the carefully chosen colour scheme. A larger console, such as our Alkes console table, could be an impressive room divider. Placed behind the sofa, it improves the visual experience and offers an additional surface for table lamps or flower compositions at the same time.
Diorda Console Table&Alkes Console Table
In addition, you could also use textiles with a Greek flair or something a little more complex like the Malt fabric from our Caledonia Collection. This modern print also has an ancient twist.
Discover O&A London Hellenistic Revival Board
#2 СURVE APPEAL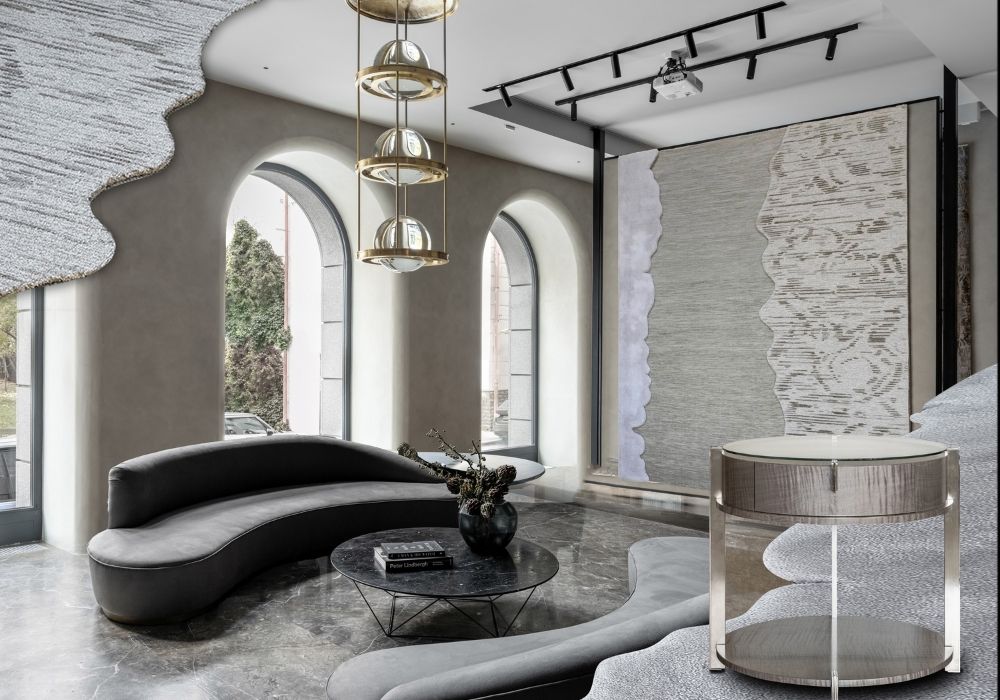 Arches, curves and organic shapes are all around. Boomers, Gen X and Millennials are excited about indoor arches, curved pools, sofas, bars and kitchen islands.
Curves add a lot of movement to interiors. We love bringing them into our studio projects, especially in public spaces. Arches often work perfectly in modern and classic interiors. These elements can add an Art Deco vibe and it is easy to incorporate them in wall décor, doorways and even ceilings.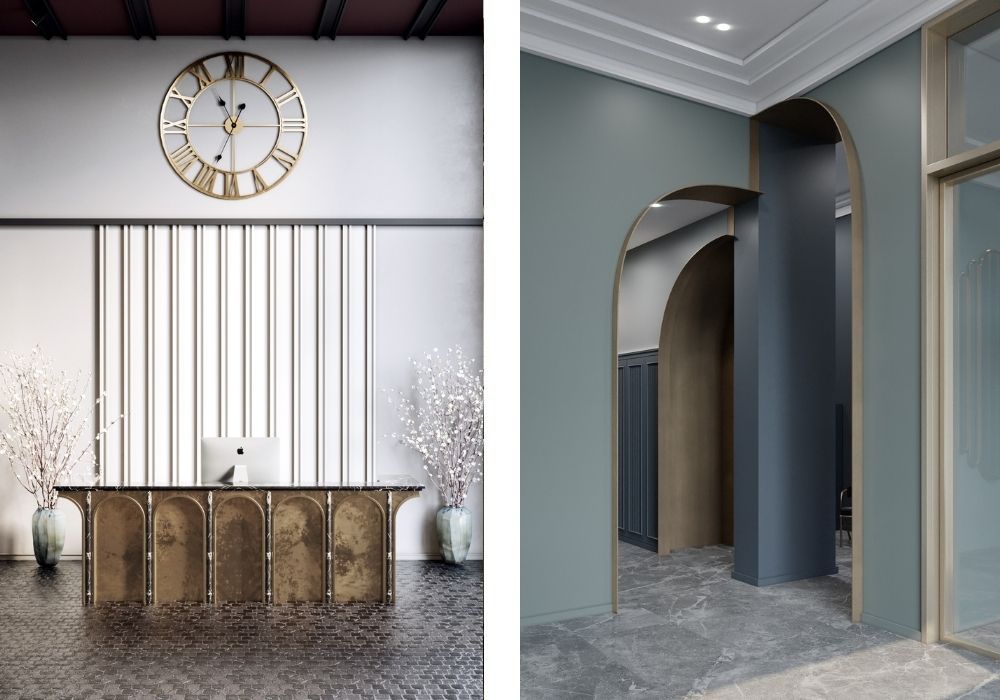 O&A London designed a lobby in Art Deco Style
If you want to bring an artistic touch to a space the easiest trick is to incorporate arches in the interior.
 Luxury rugs boutique, Meissa Small Chandelier, Snow Motifs Rug, Praecipua Side Table
Discover O&A London Curve appeal board
#3 HOT HOROLOGY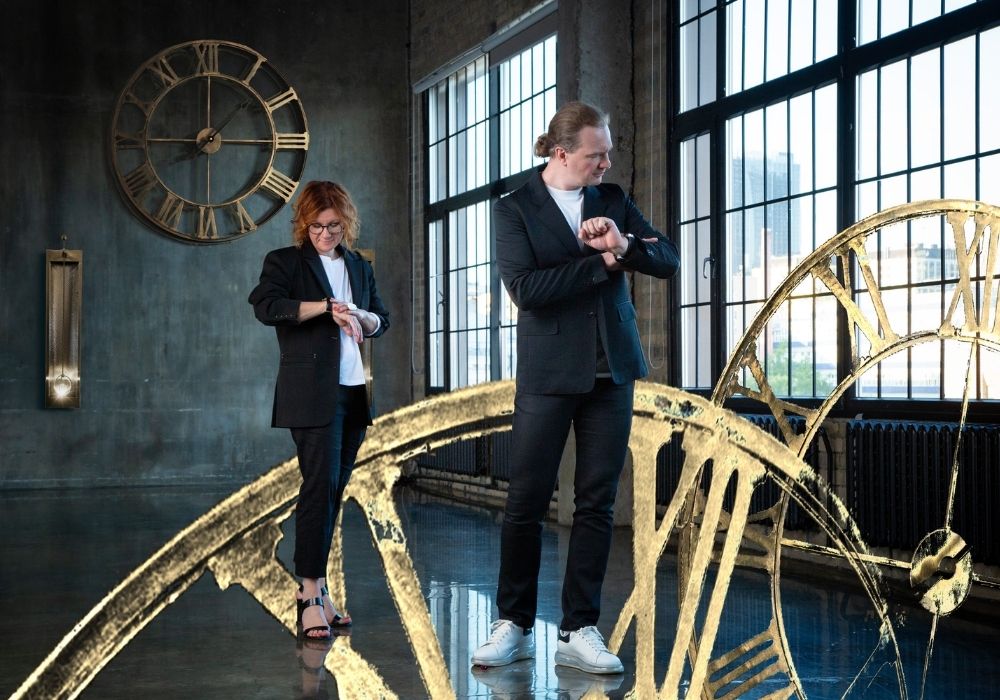 Maybe it's a sign of the times, but Gen X and Boomers are more into clocks than ever. Oversized clocks are trending in homes, offices, co-working spaces, pools – literally everywhere!
Modern wall clocks most certainly add more charm to the simple act of checking the time. Aside from keeping you on time, a wall clock can also make a design statement in any room. And it says something definitive about your personality: you appreciate time!
These functional and gorgeous pieces prove that sometimes being a little old school isn't such a bad thing.
Discover O&A London Hot Horology Board
#4 OH MY GOTH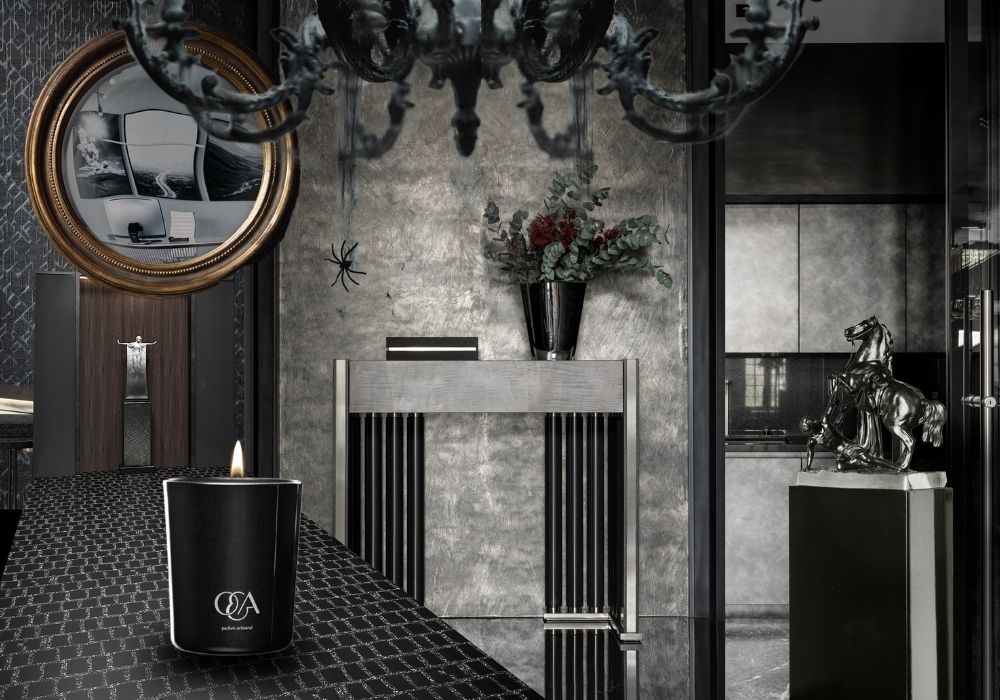 People are searching for dark moody rooms and this is not just a teenage rebellion trend – it's the real deal! Interesting fact: black kitchens and black kitchen décor are leading search terms.
There is a lot of black out there but it is not the only trend. We are also seeing charcoal and dark materials with rich dominant patterns, for example dark marble with white veins. A strong graphic expression of the mood clearly plays a role.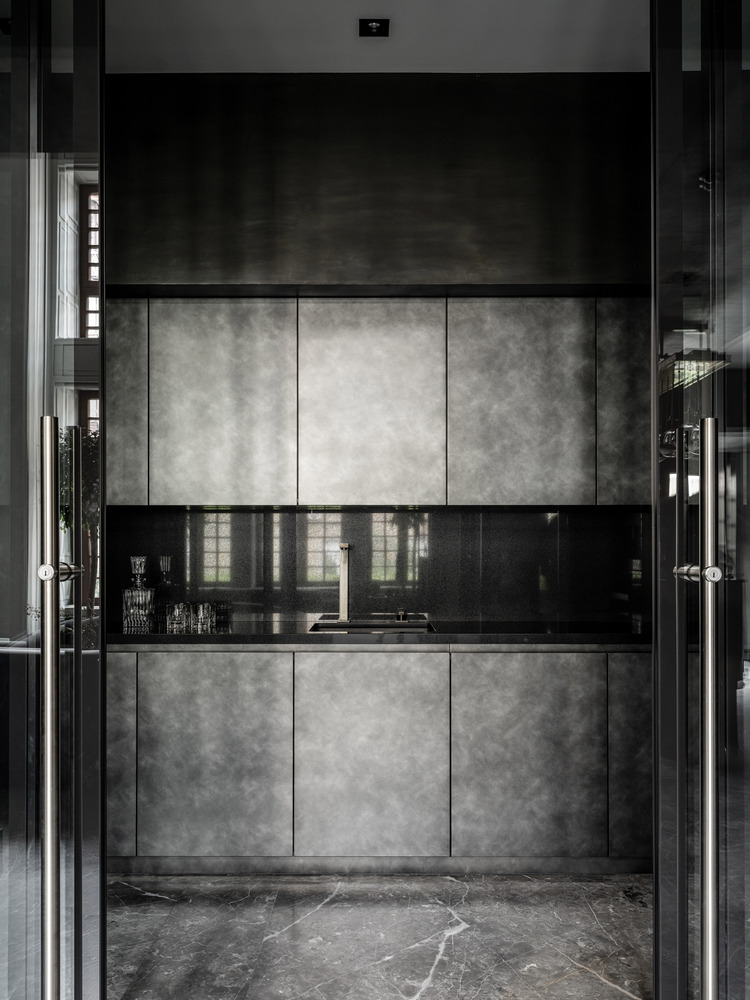 Luxury Dark Moody Kitchen Interior, private project by O&A London
Historians and design theorists explain the tendency toward dark dramatic colour schemes with the fact that, in times of social and economic crisis, humans view their homes as shelters. They get ready to build a nest and wrap themselves in a cocoon.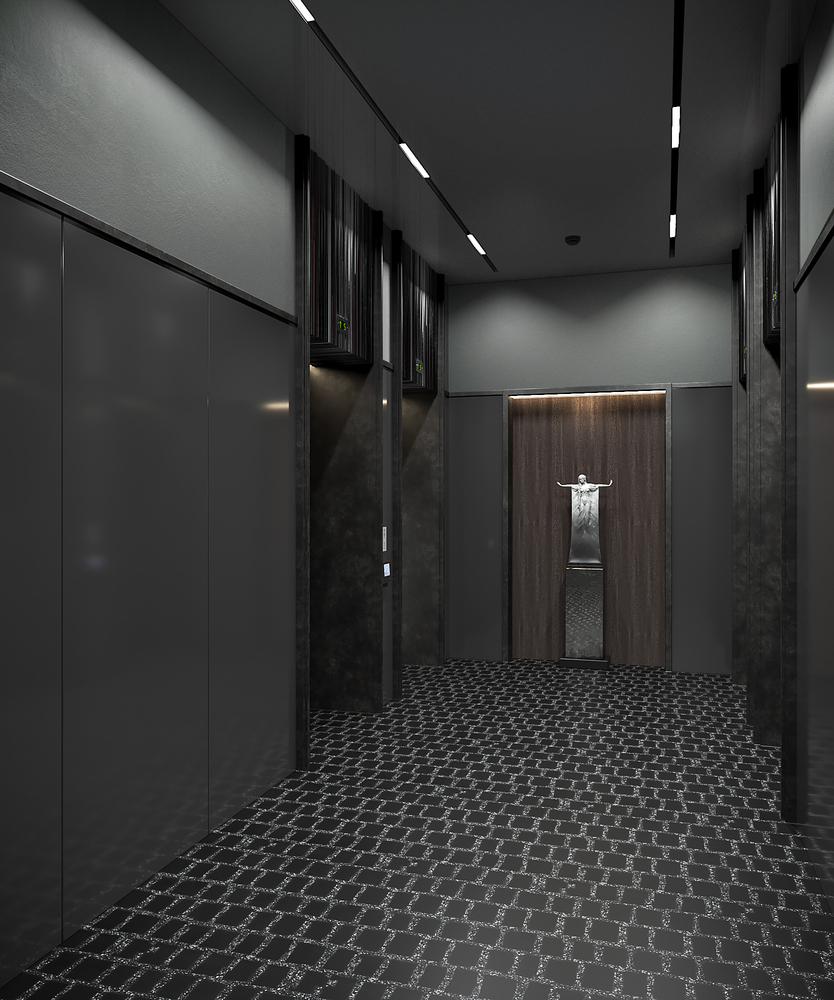 Behind the schemes: for the residential development "Hide" we design a lobby in dark colours. The design scheme translates the idea of privacy.
Discover O&A London Oh my Goth Board
#5 BARKITECTURE
In 2022 people will "catify" and redesign their homes with their pets at the forefront. I find it interesting that luxury cat and dog rooms are a top trend. I can see the logic in this: after so many Covid lockdowns people are keen to spoil their pets who were their companions and best friends during a difficult time.
We have not yet received a request to design a separate room for a dog or cat. But working on design schemes for new residential developments we always provide a bathroom in the lobby, which is also equipped with a shower for dogs. Dog owners love it! They really welcome a facility where they can clean up their pets after a long muddy walk.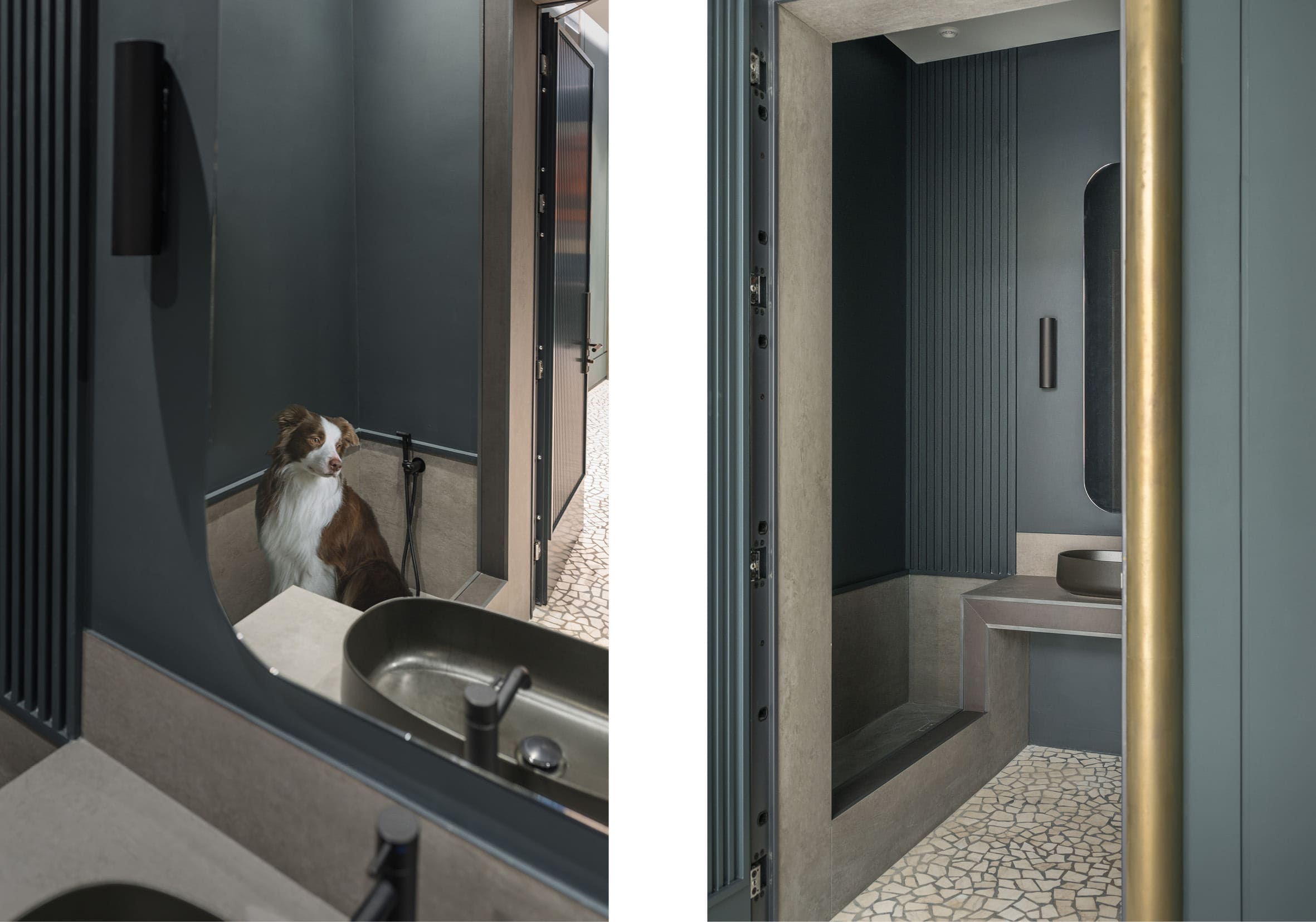 Maison Rouge Residential Development, Pet Shower
Discover O&A London Barkitecture Board
#6 EMOTIONAL ESCAPE ROOMS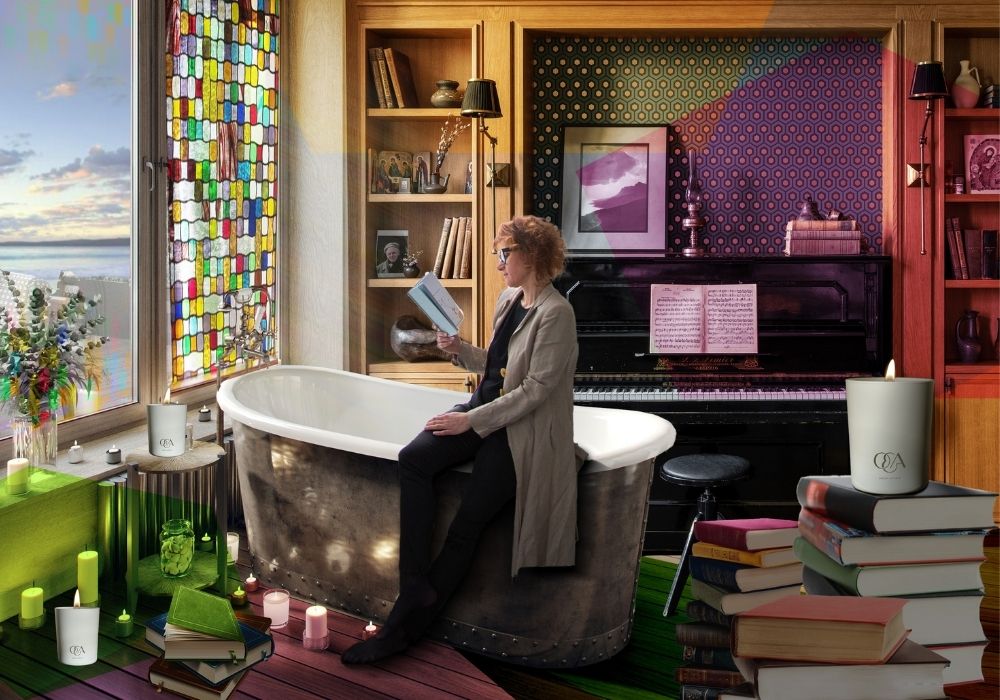 Emotions are so hot right now. Everyone needs a place to get away, relax and restore themselves. People are searching for ideas on how to decompress, balance their energy and reduce anger or anxieties.
An emotional escape room can be about your hobby, reading a book, watching TV, getting dressed, doing your hair etc. It'is all about the things that revive you and make you feel good. All age groups are driving searches for music-themed rooms, yoga and meditation, "zen" zones and even rage rooms.
"Spiritual decoration", mood candles – everything to take your meditation practice to new heights.
Discover O&A London Emotional Escape Room Board
#7 LAKE IT TILL YOU MAKE IT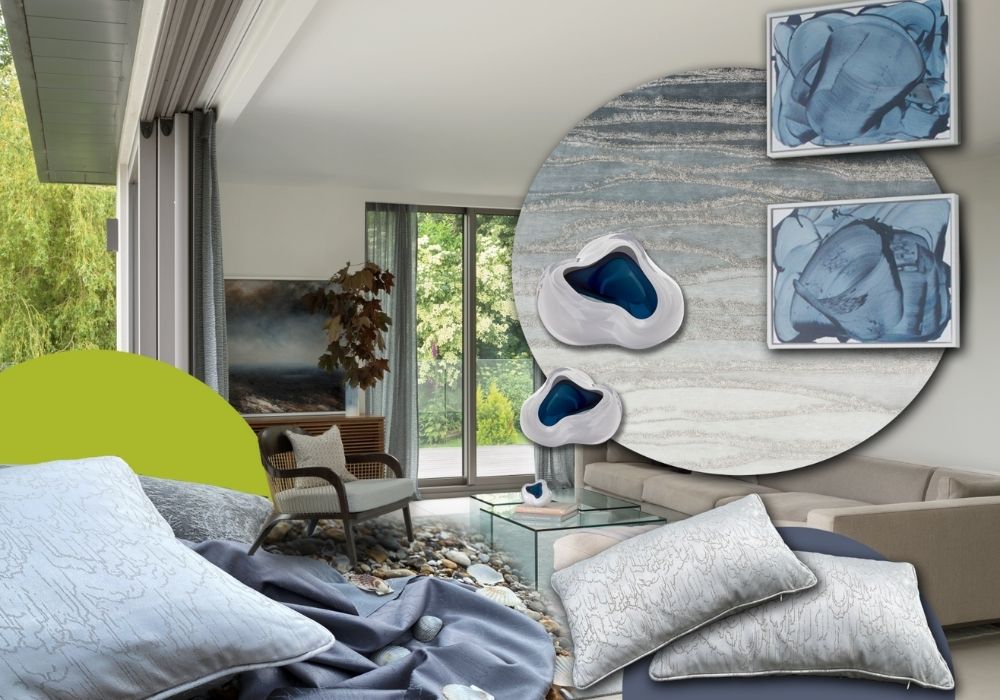 Gen X and Boomers are looking for summer lake aesthetics. The most trending searches are lake resorts, lake home plans, and lake trip outfits. It's all about lakeside escapes.
I should note that we have several lake projects at the moment. Given that the last two years were quite nerve-wrecking for so many people, this current trend really doesn't come as a surprise. The interesting thing is that the lake is more popular than the beach. Obviously, people yearn for tranquility, nature, wood and peaceful settings.
To bring relaxed lakeside home vibes into your interior you can add water-themed artwork, set décor accents or select textiles inspired by waves.
Ocean Rug, Ocean Textile, Glass Art by Samantha Donaldson, Paintings by Stacie McCormick, Holiday Home in Devon
Discover O&A London Lake it till you make it Board
#8 BIOPHILIC DESIGN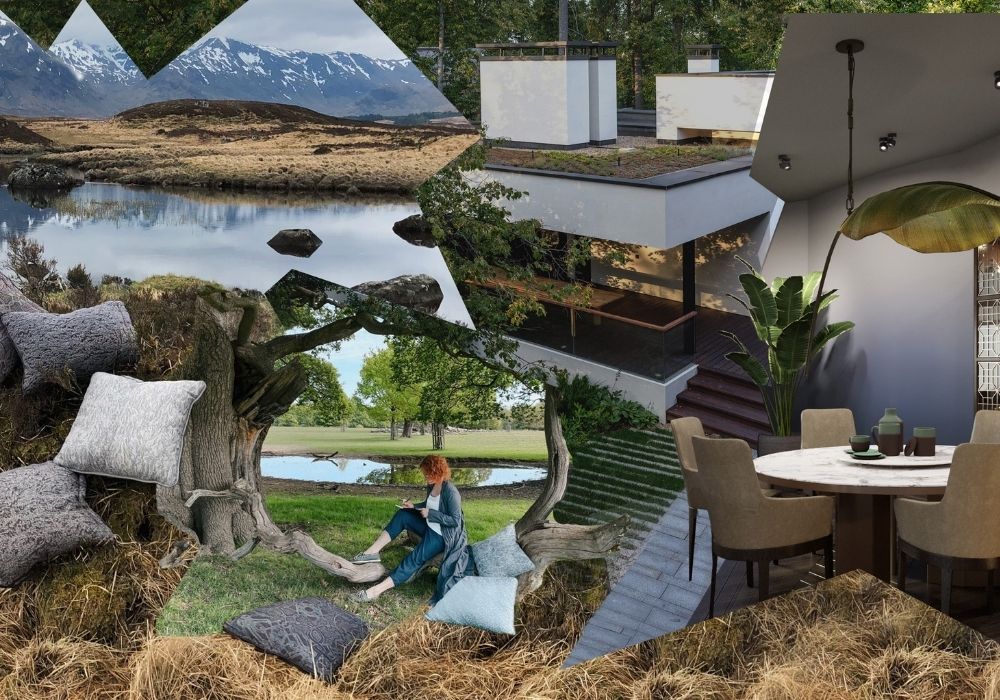 Millennials are searching for "green ideas" to increase their connection to nature and enhance their well-being. The top search terms are biophilic architecture, biophilic office design, biophilic design bedroom, staircase gardens and floral ceilings.
 Floral Ceiling Installation, Serenity Rug inspired by Patagonia landscape, Caledonia Fabric Collection 
Discover O&A London Biophilic Design Board
#9 PEARLCORE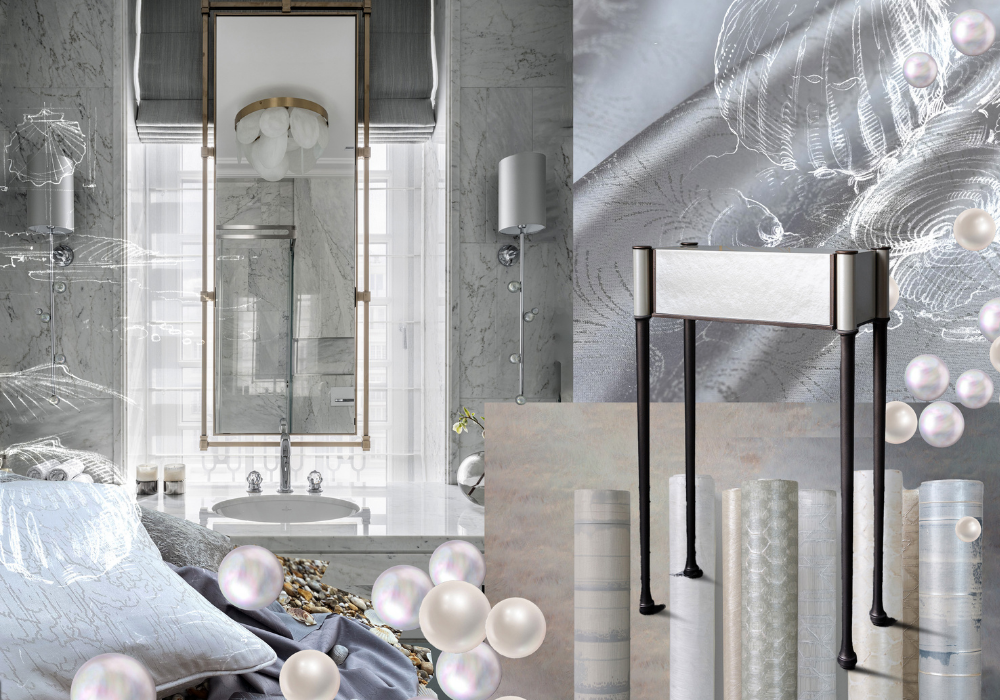 People are embracing iridescent accents in their homes and jewellery boxes. And if you are tired of white, green or black themed parties don't worry: pearl-themed parties will soon be on the rise.
Even artists create pearl necklace installations for popular design exhibitions.
We pulled together some ideas from our portfolio to help our audience to bring understated luxury into their homes and to refresh the interior with pearl accents like pearl finishes, oyster wallpaper, silk textiles, art glass and pearl scones!
Knightsbridge Private Apartment, Erica Frost Wallpaper, Lyra Console, Wings Silk Fabric 
Discover O&A London Pearlcore Board
#10 LIMITLESS LUXE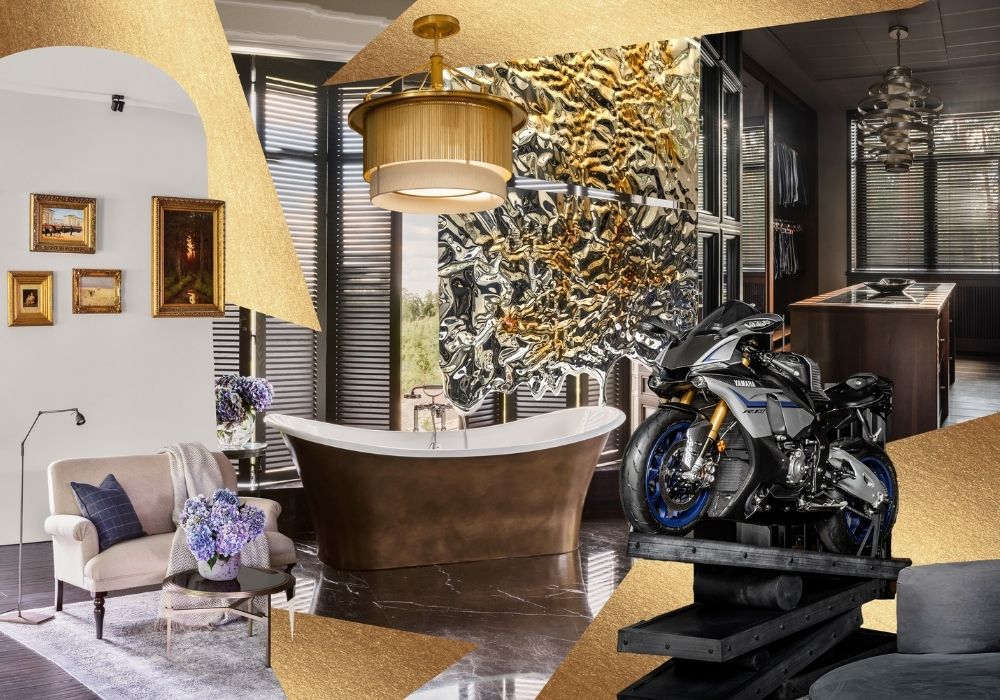 The fun fact is that people search Pinterest on how to bring luxury into the least-expected corners of the home, like children's bedrooms, garages, home gyms, wardrobes, utility rooms and even basements. Everything plus luxury!
For Millennials and Gen X forgotten spaces are becoming luxurious nooks. It's all about expensive and exclusive materials and textures.
It's interesting that this trend is strong in Australia, the country that had one of the longest lockdowns. Maybe that's their reason for wanting every corner of their houses to feel special.
Private Office, Meridian Round Chandelier
Luxe doesn't need to mean an entire overhaul. Find ways to add luxury touches to spaces with our Limitless Luxe Pinterest Board
There are more interesting trends for design professionals. Check out Cuppa Time, Store Décor, The last Resort, Calming Classrooms, Celestial Celebrations, Chequer Yourself, Be Jewelled.
On a final note I'd like to summarise that our trend review seems to present us with two parallel universes! On the one hand there are soothing, cosy, calming vibes and, on the other hand, there's this luxury, shiny, moody and colourful explosion. The pandemic's monotonous life affected our preferences in different ways. Those who felt quite bored during lockdown life seem to be looking for more excitement. Au contraire, there are others who are yearning for calm and tranquility.
Text: Anna Agapova