Ready to be wowed? Highlights from WOW!house DCCH
08 Jul 2022
WOW!house is Design Centre, Chelsea Harbour's first-ever designer showhouse. 20 acclaimed interior designers created a space in partnership with renowned makers and international design brands. A rich palette of styles, colours, patterns, textures, craftsmanship, art and objects. Each designer expresses personal aesthetic and design philosophy from timeless elegance to dramatic, globe-trotting fantasy and romance.
O&A team visited WOW!house and found inspiration in the exceptional work of designers brought together under one roof for the first time.
MAMOU-MANI
Trend – bio technologies
Mamou-Mani used a unique cutting-edge architectural practice and fabrication facility FabPub to create the WOW!house's facade. The aeriform wall of circular mandalas embellishes the entrance creating the interplay of light and shadow. The pattern was generated parametrically. Each mandala was 3D-printed in bioplastic, made from mix of fermented sugar and wood. It is not just a designed façade it is a symbol of the circular economy.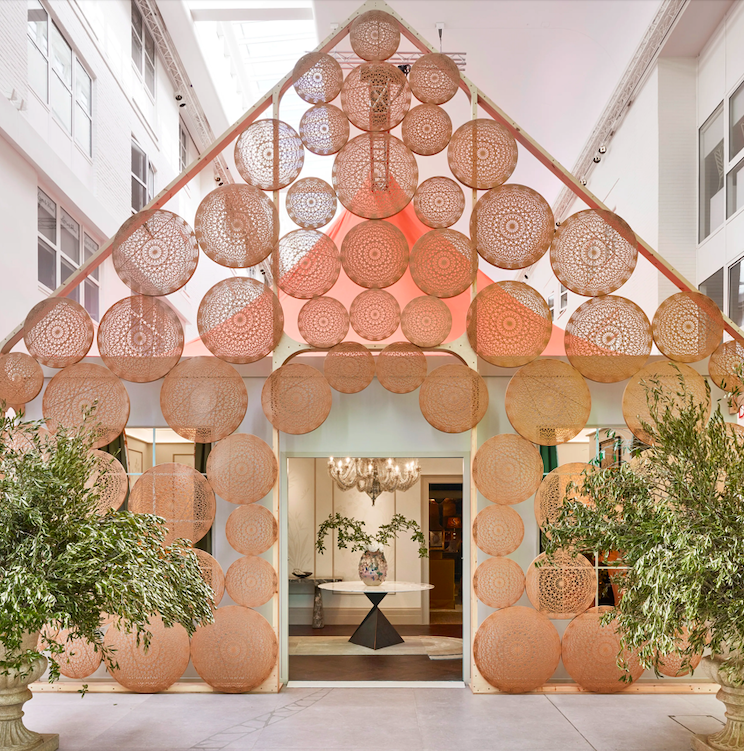 SHALINI MISRA / ENTRANCE FOYER
Trend – recycled materials
Shalini Misra created a fantasy entrance foyer that leads you to the house. She combined artisanal techniques, recycled materials, forms and designed a combination of authentic images. The space showcases exuberant, experimental, and bold design. We are absolutely in love with the central vase by Maarten Vrolijk, Vessel Gallery!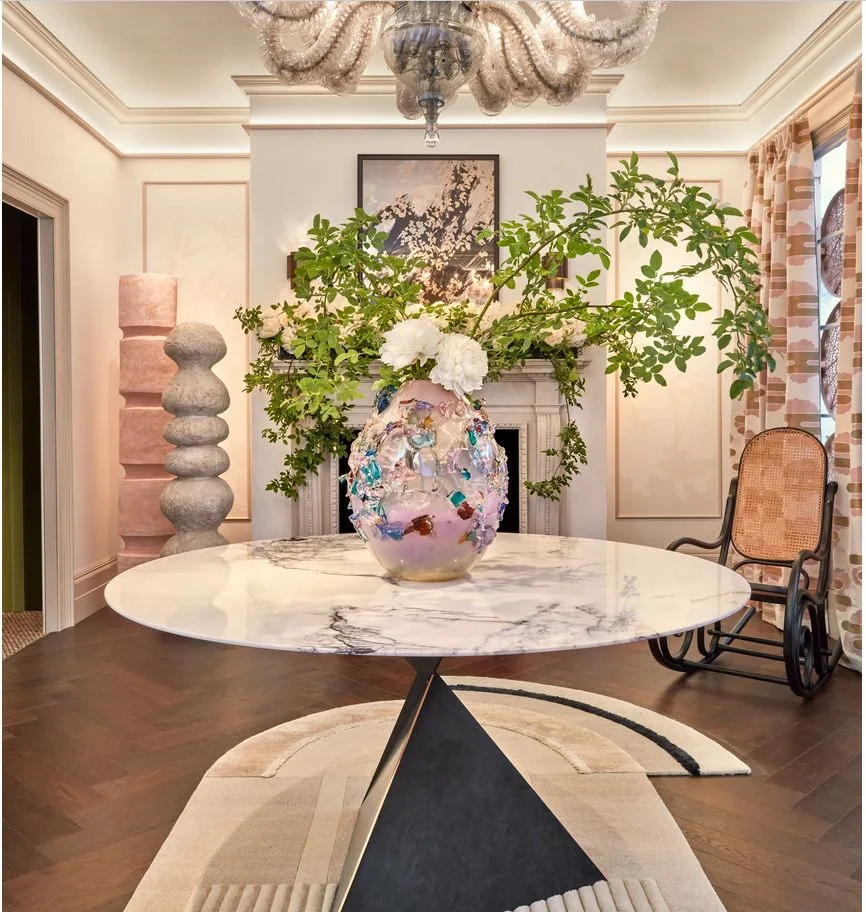 LINDA BORONKAY / PIERRE FREY SALON
Trend – ancient Egypt
Linda Boronkay draw inspiration from the past and used the opulent AMENHOTEP Genoa velvet from Pierre Frey's MERVEILLES D'EGYPTE collection. We have already wrote about this collection and African Spirit Trend in our London Design Week 2022 Review. The designer mixed ancient Egypt with contemporary forms and finishes and presented a luxury room that is as inspiring as it is unexpected. The space tells us mystery stories with cinematic moments. The furniture contrasts elegantly with the gorgeous patterns of Maison Pierre Frey.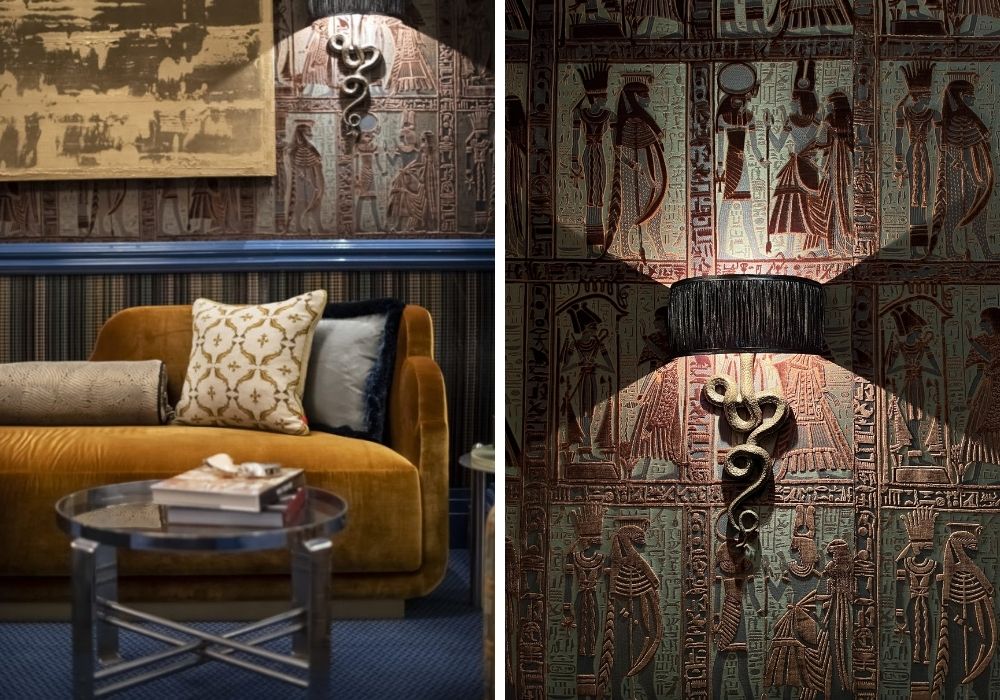 EMMA BURNS AND PHILIP HOOPER / COLEFAX AND FOWLER DRAWING ROOM
Trend – timeless elegance
Emma and Philip lean into the darkness and explore the depths of color to create the best background to art. The designers created space that acknowledges the past but focuses on the future. Enveloping comfort of traditional upholstery, mixed with antique pieces, traditional curtain design and art works perfectly together creating a harmonious environment.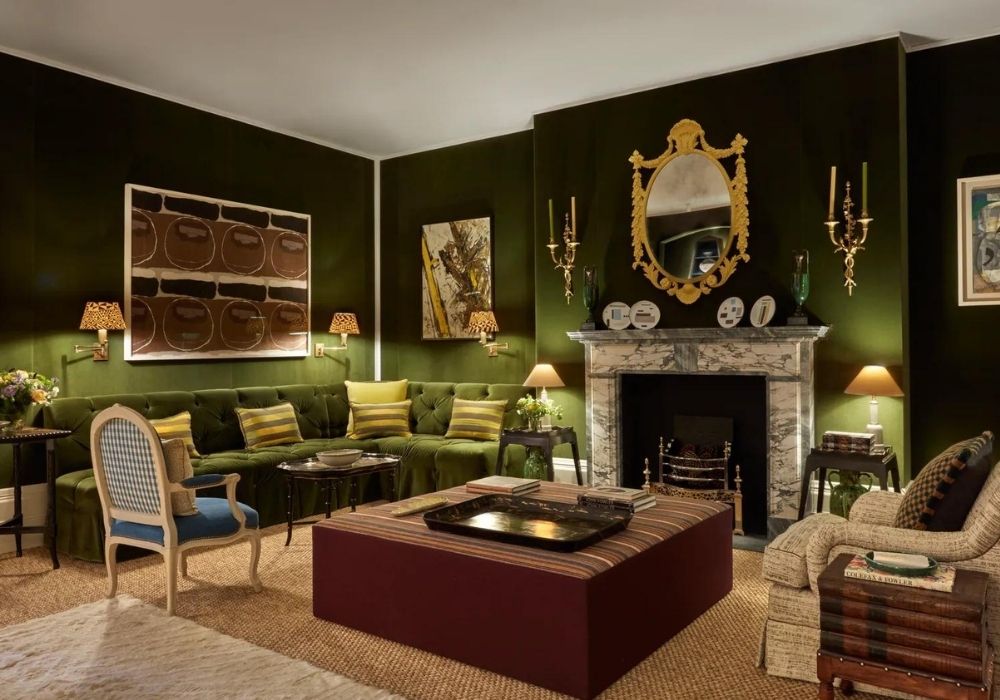 FREDDY VAN ZEVENBERGEN / DINING ROOM
Trend – rich colours
Freddy created the vibrant dining room, both as a transitional space and as a place for warm welcoming. The key point is comfort – high-sided dining chairs, generously scaled sofa, subdued lighting and rich colour palette. It's a new way to design a dining room – emotional and full of passion.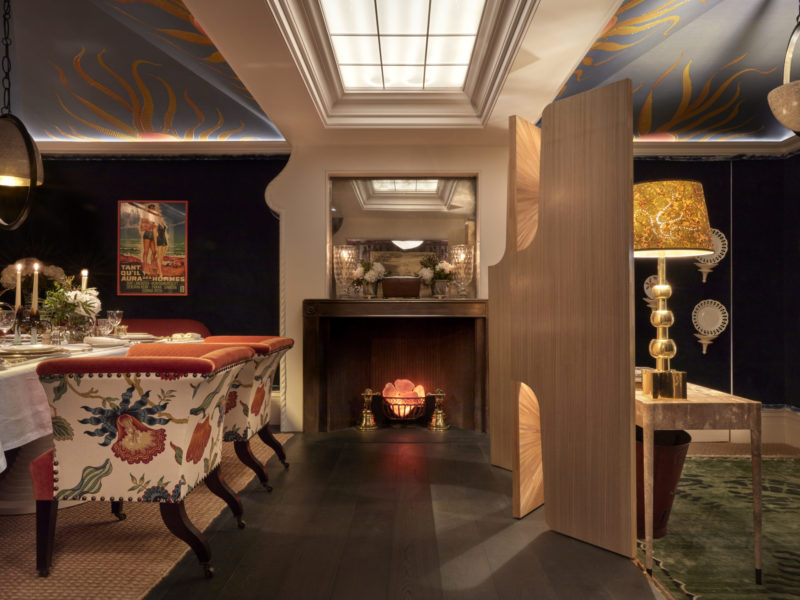 PAOLO MOSCHINO AND PHILIP VERGEYLEN / DRAWING ROOM
Trend – playful interiors
Paolo and Philop seized the opportunity designing the playful drawing room with a mixture of antiques and contemporary furniture. Designers created a classic room with some art and a touch of humour. Fresh, clean, and delicate colour palette! Antiques and oriental art add drama to the room.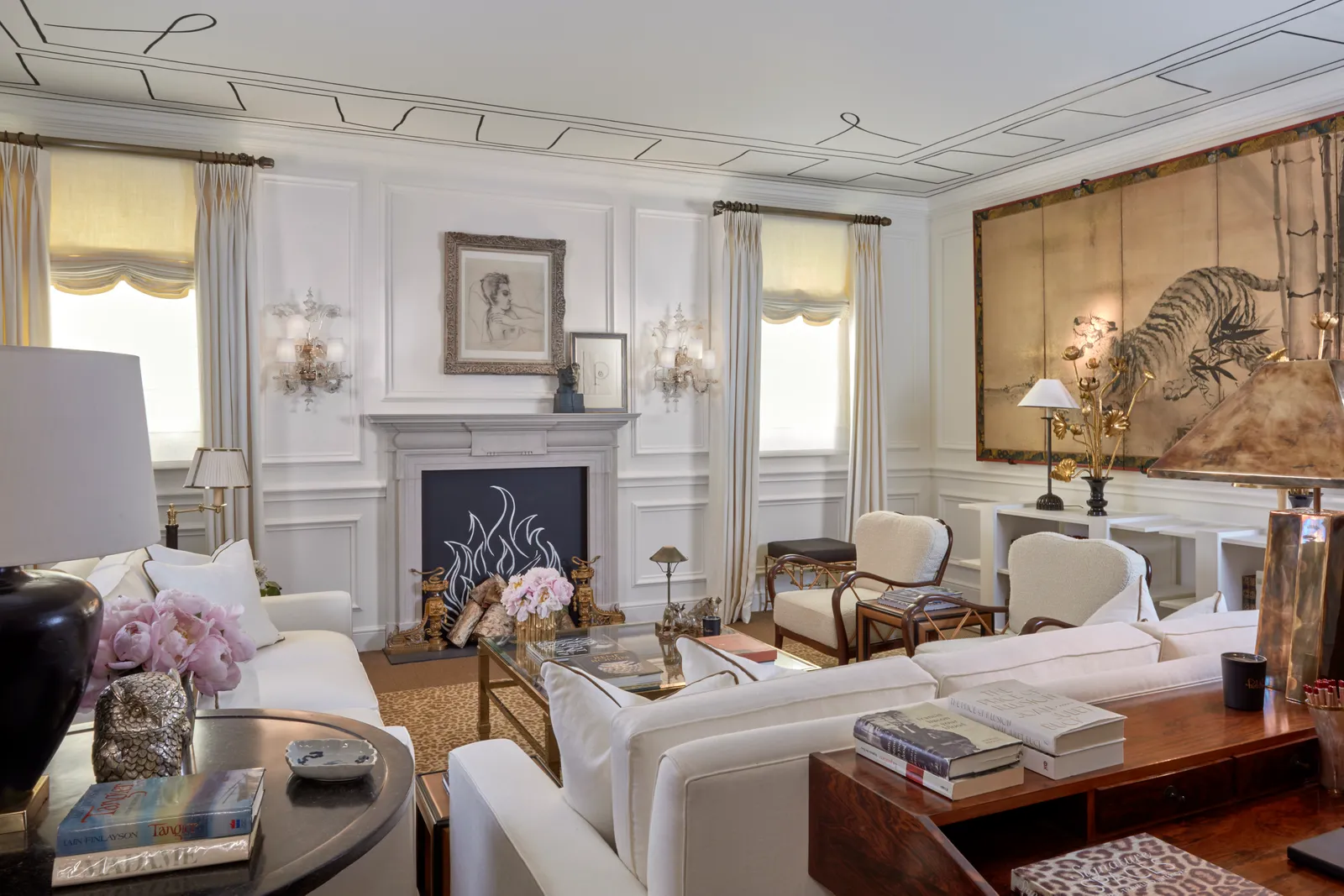 RAYMAN BOOZER / PRINCIPAL BEDROOM
Trend – romantic and sexy
Rayman Boozer chose romantic and sexy shades for principal bedroom. The film The Pillow Book became a sensual inspiration for the designer who used silk, velvets and lush sateen bedding.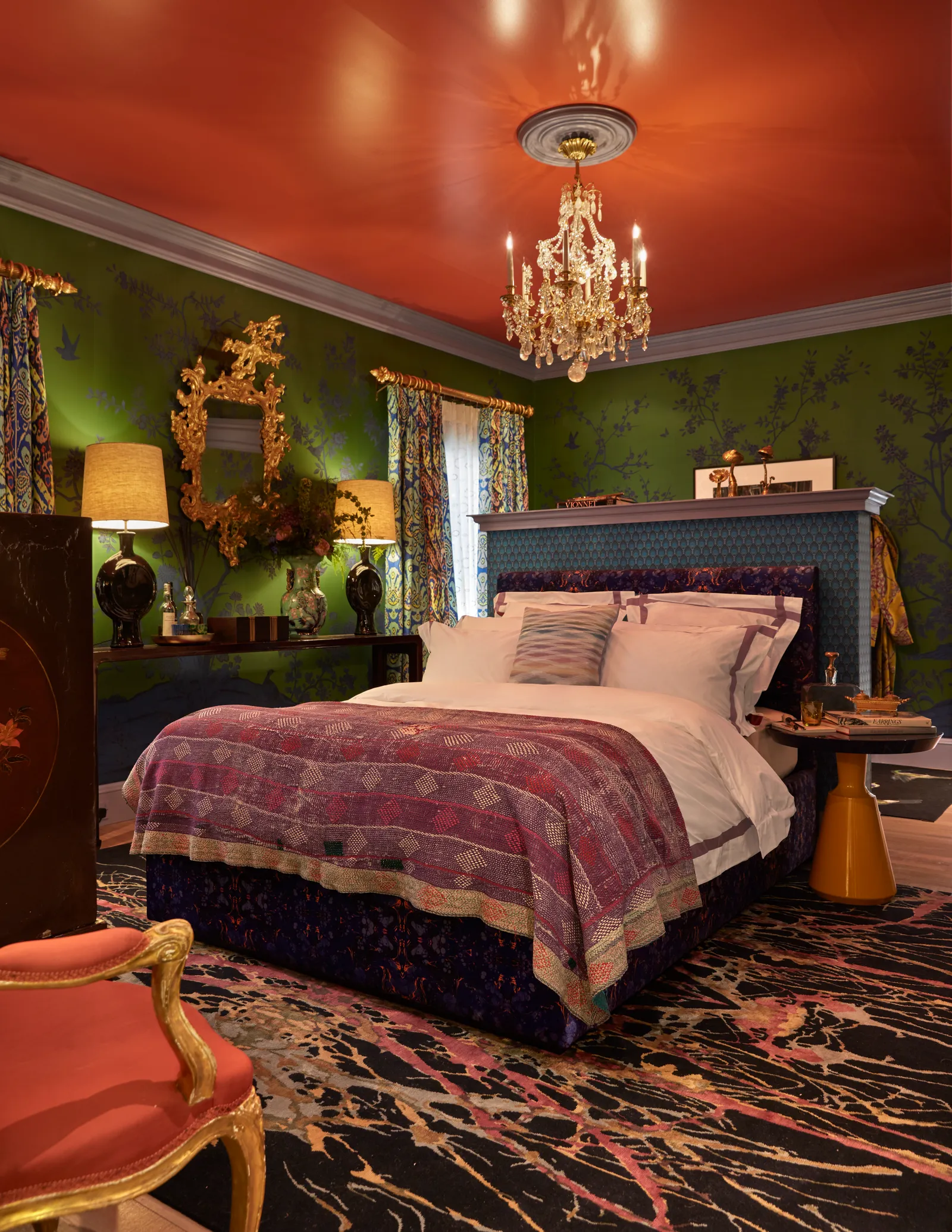 BRANDON SCHUBERT / MORRIS & CO. COURTYARD BEDROOM
Trend – pattern clash
Brandon Schubert used more pattern and colour to create drama and visual excitement. The colour of turning leaves on the walls and deep green curtains on the bed and windows are the winning combination for the courtyard bedroom.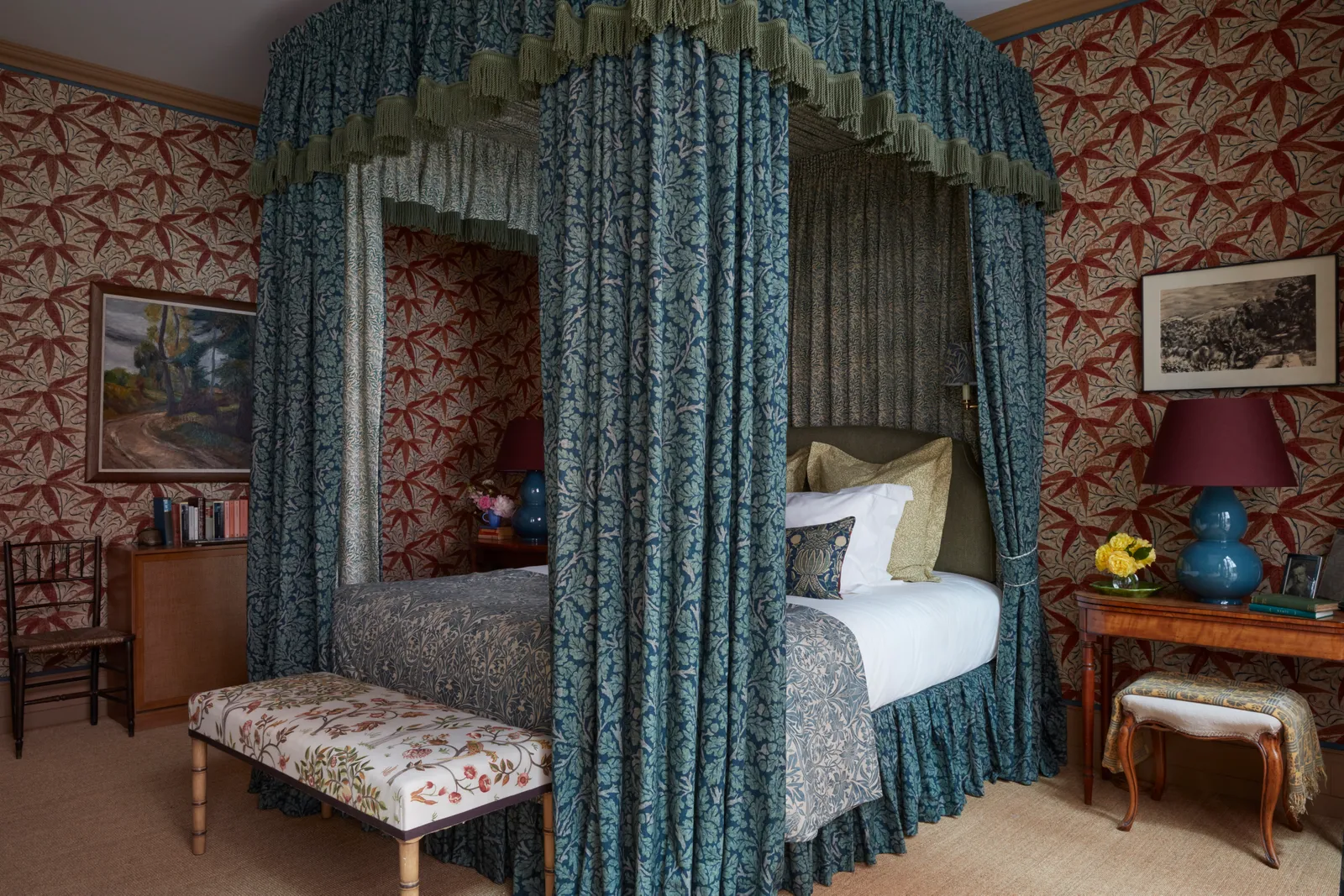 JORDAN CLUROE AND RUSSELL WHITEHEAD (2LG Studio) / HOUSE OF ROHL BATHROOM
Trend – joyful escapism
The creative duo invites us to a journey to paradise created with design tools: tropical plants, blue seas, jungle-backed beaches. The freestanding "Amiata" bath promises pure pleasure in hot, scented waters. Their signature style gives us a joyful escapist with playful use pendant light seemingly made from lines of freshly squeezed toothpaste.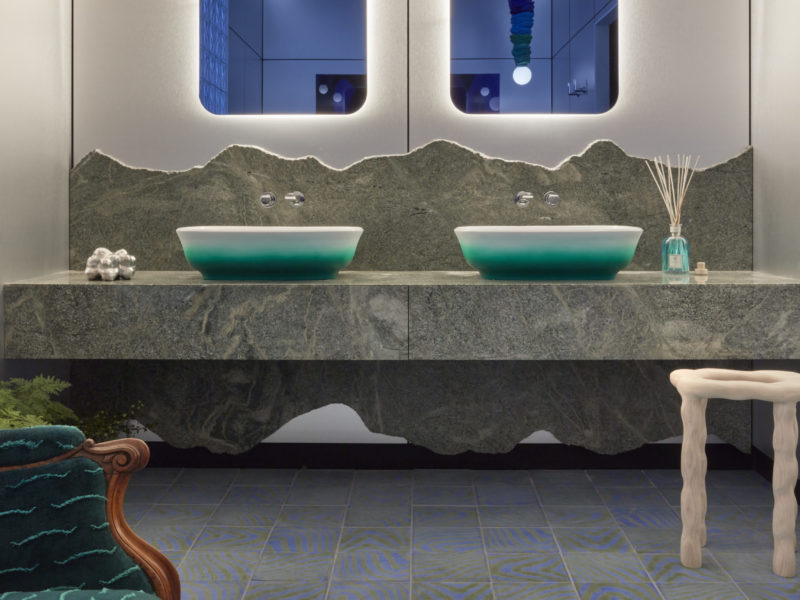 JOANNA PLANT / TISSUS D'HÉLÈNE BEDROOM
Trend – floral prints
Joanna impressed with celebration of floral prints in her bedroom filled with sunshine. We felt atmosphere of a beautiful garden in a summer day with bloom on the walls, bed and over the curtains. A yellow canopy over the bed harmonizes a visual composition.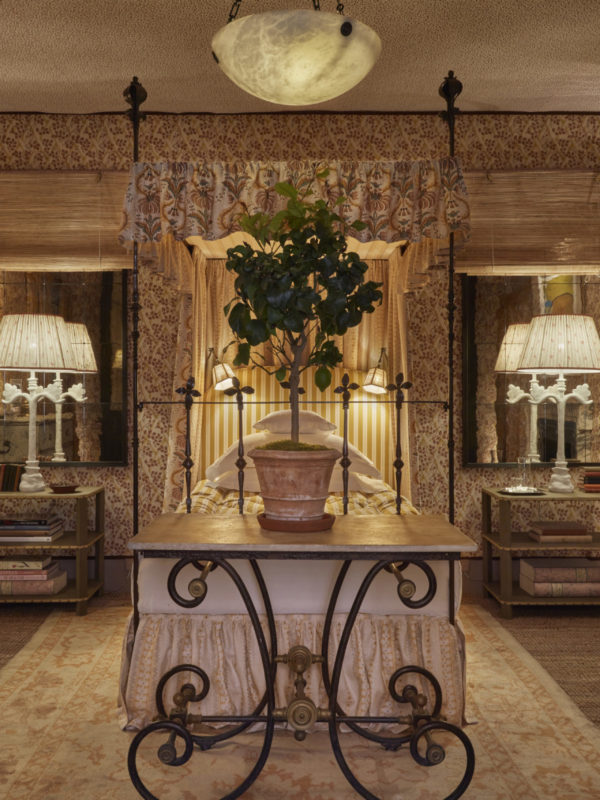 TURNER POCOCK / JULIAN CHICHESTER LIBRARY
Trend – home libraries
The Turner Pocock studio created the library in partnership with the furniture company Julian Chichester. The atmosphere of the home library awakes our imagination and reminds about classic English novels where gentlemen smoked a pipe planning the future sailing around the world. Dark oak bookcase, leather upholstery of chairs with reclining backs and a coffee table feed the soul and invites to dive into reading.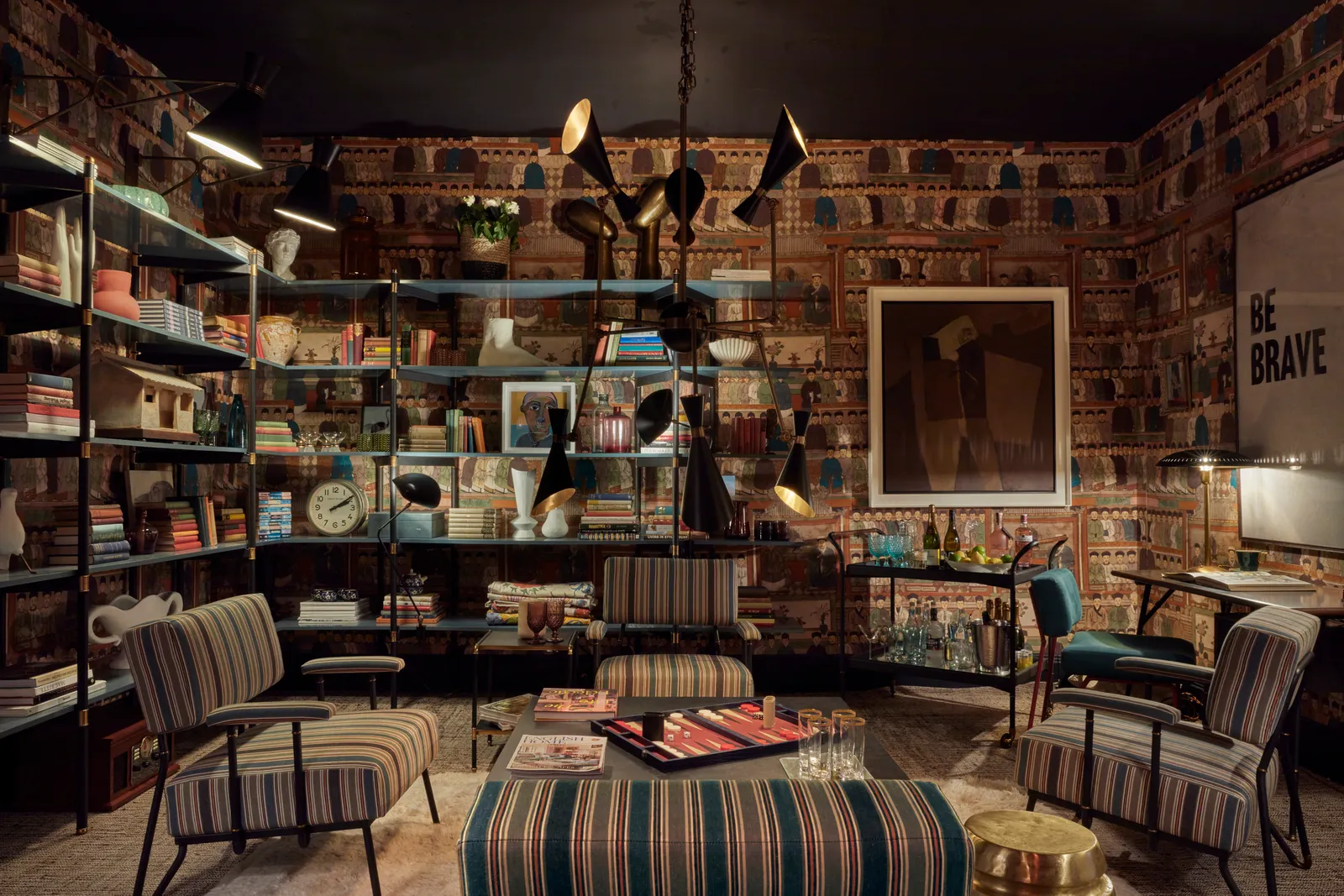 UNITED IN DESIGN / DE LE CUONA LIVING ROOM
Trend – sustainable living
The charity project "United in Design" created a room in collaboration with de Le Cuona. Sustainable living is an entire value of this creative duo. Upon entering the room we explore the connection with the nature in every detail – bespoke furniture, fabrics, furnishings and a living wall in the center of this composition. Artworks by Emma Zhang express a pure nature and harmony.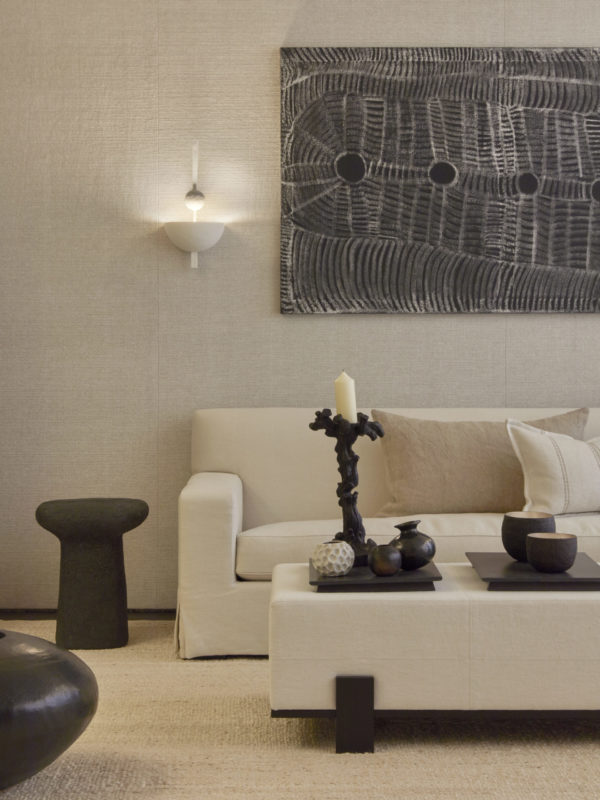 RUI RIBEIRO / DRAWING ROOM
Trend – artful living
Rui designed a space full of art and textures. Oak, linen, patinated brass, horsehair and uneven stucco create a tempting atmosphere of artful living. Restful and calming shades of earthy colour palette infuse the room with warmth.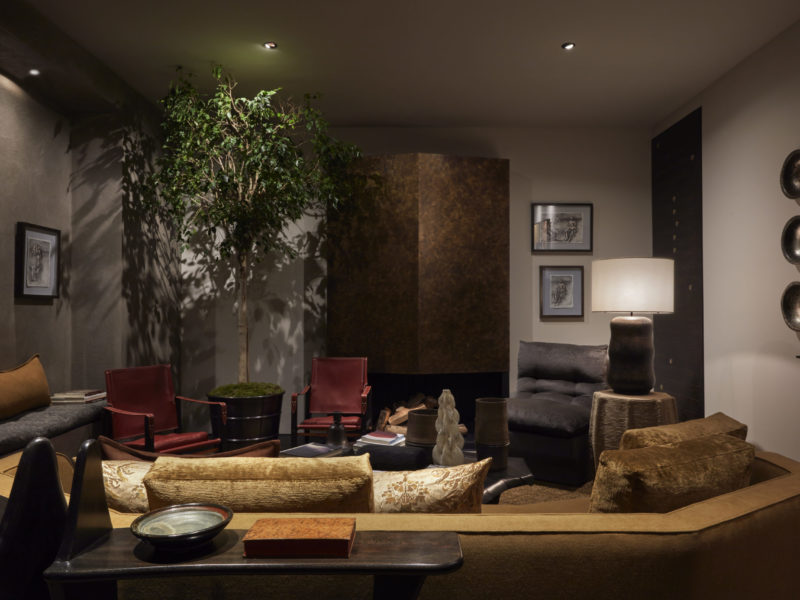 RITA KONIG / GP & J BAKER MORNING ROOM
Trend – ferns
Rita has created a green, fresh morning room that invites you to sit down and forget about everything with a friend. The designer offers ferns as a new trend for visual reprieve. You feel comfort and calm wherever you look – walls, windows, artworks, antique furniture or a fascinating objet trouvé.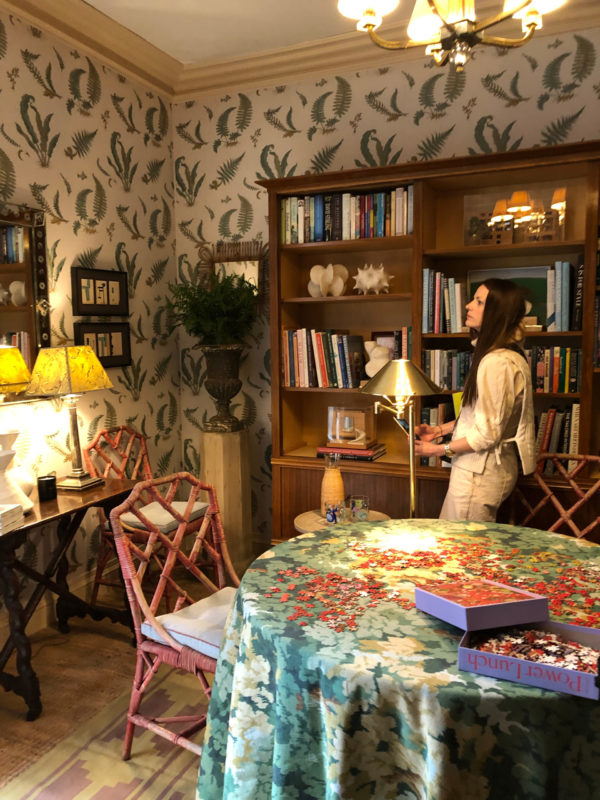 KIT KEMP AND MINNIE KEMP OF KIT KEMP DESIGN STUDIO / DAY ROOM
Trend – fabric ceiling
The Kemps presented composition of thrilling patterns, curtains and mannequins with the same floral print, breathtaking fabric ceiling and rows of colorful hats. An original workshop evokes our imagination and inspires.
DUNCAN CAMPBELL AND CHARLOTTE REY / SCHUMACHER GARDEN ROOM
Trend – eclectic mix
Duncan and Charlotte created the garden room full of deep green shades, chic texture and eclectic style. Natural elements go together with art deco daybed, photographic artwork by Jason Schulman and alluring textile from Schumacher.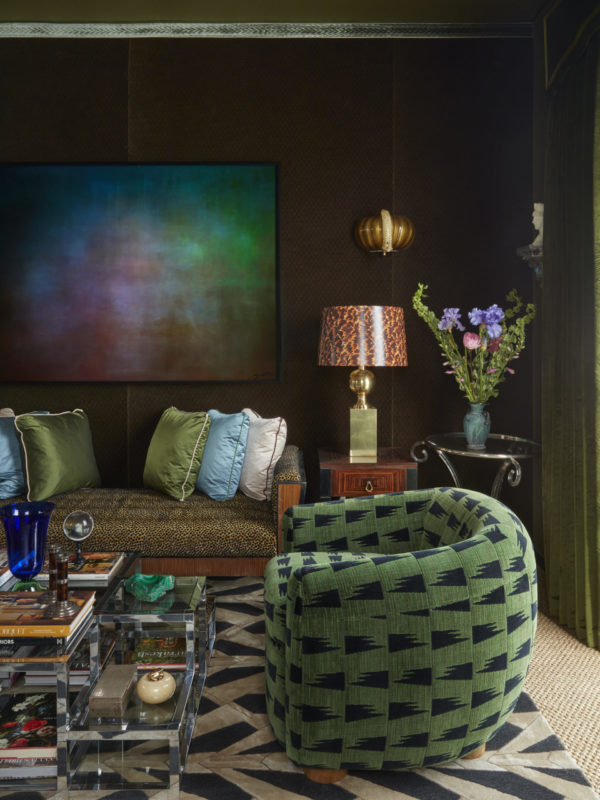 Text: Anna Agapova and O&A London design team