Multifamily residential development
O&A London was commissioned to design the interior of the communal areas, including the lobby, reception and elevator halls. Echoing the striking art deco design of the façade our design team's aim was to integrate the striking modern interiors seamlessly into the overall architectural style of the building.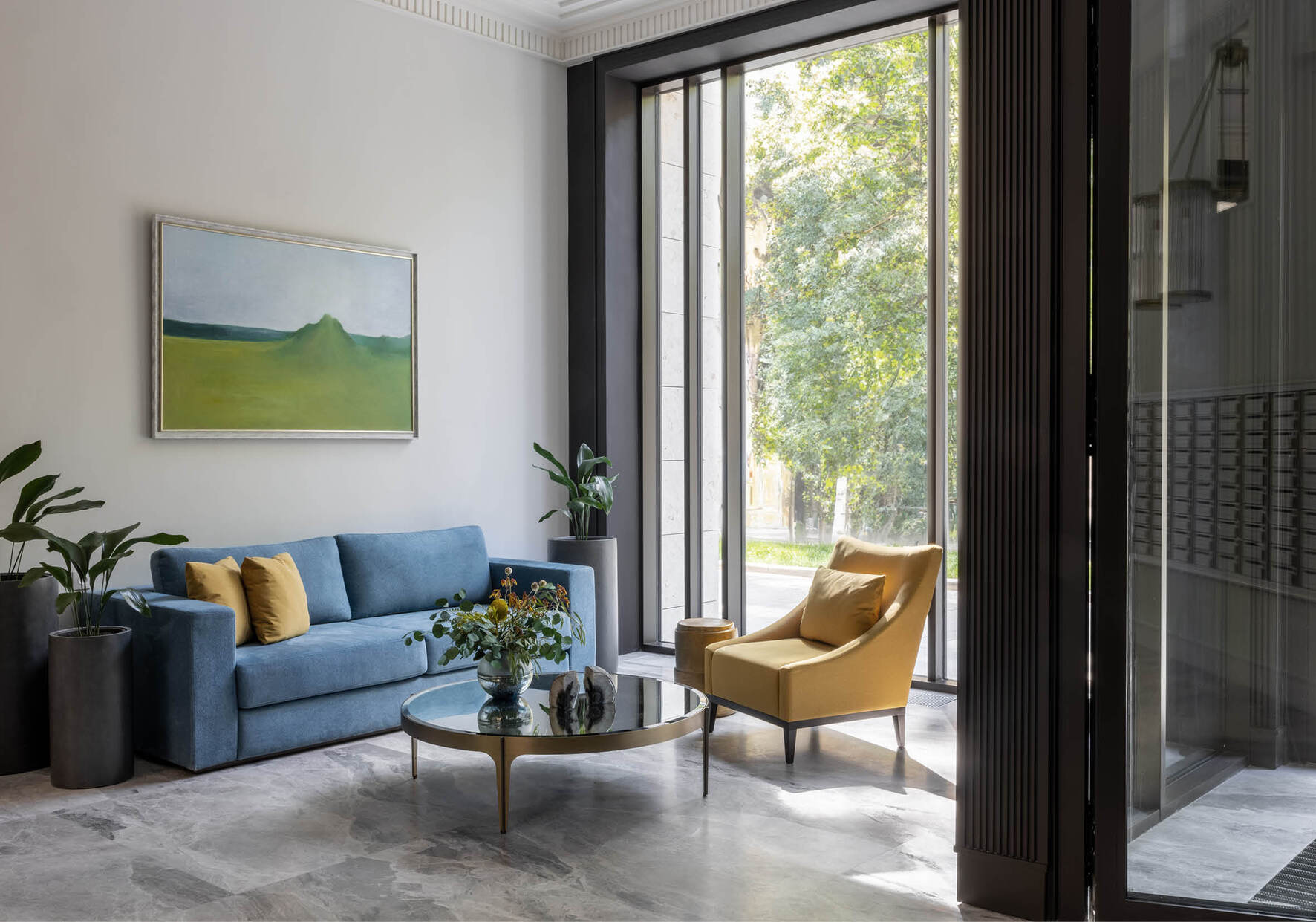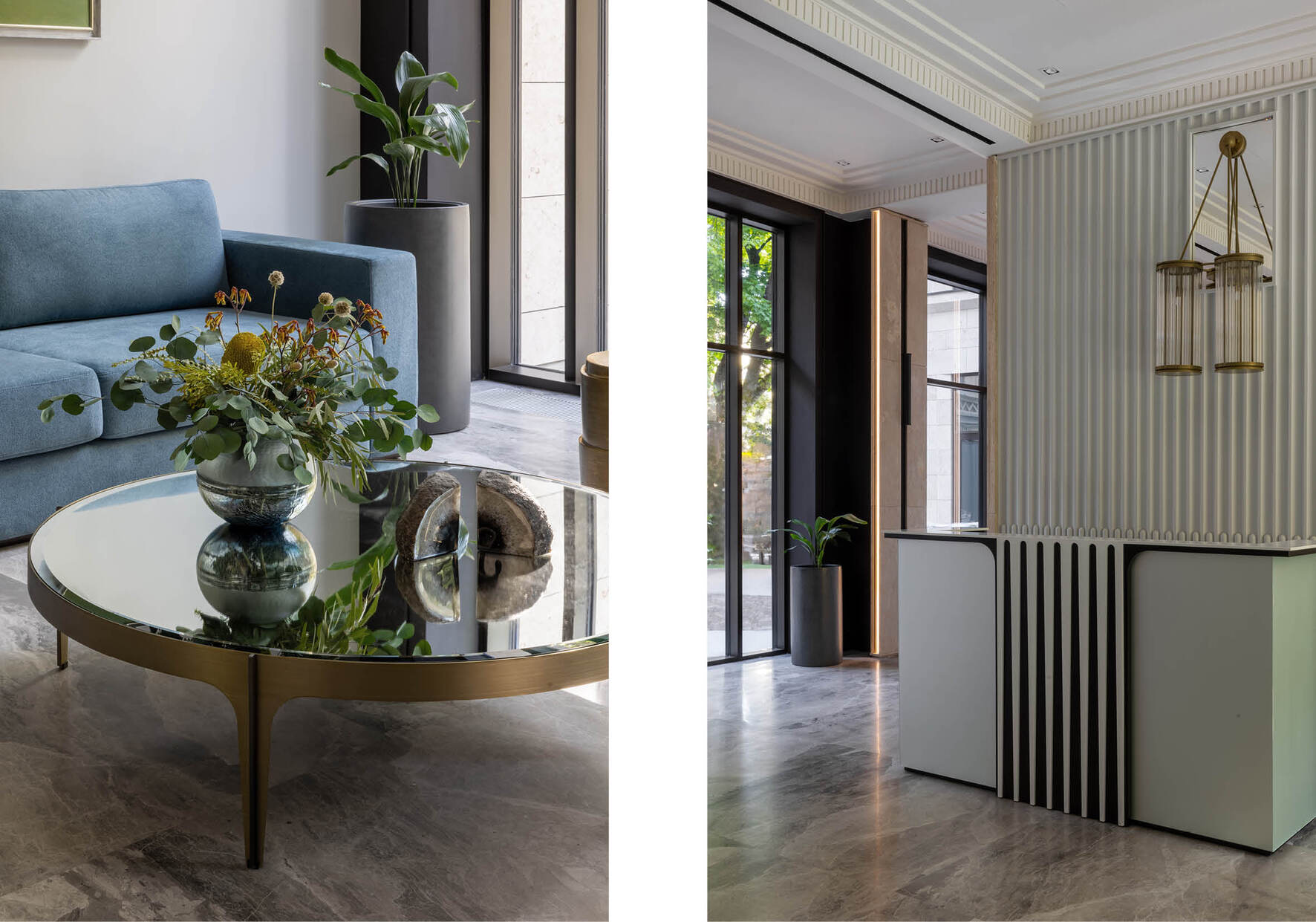 Immediately upon entering the building residents and visitors feel welcome in that very special way most commonly associated with the reception of a luxury hotel. The elegant lobby's interior features high-quality materials – every detail is expertly finished out to the highest standard.
Natural colours in residential interiors usually create a sense of calm, harmony and connection with nature. We chose a natural colour palette for the walls and lightly textured stone for the floor. The lounge area is filled with lush greenery complimented by the rich blue and yellow velvet furniture. Large panoramic windows invite anyone present to enjoy the unobstructed view of life outside this oasis of calm.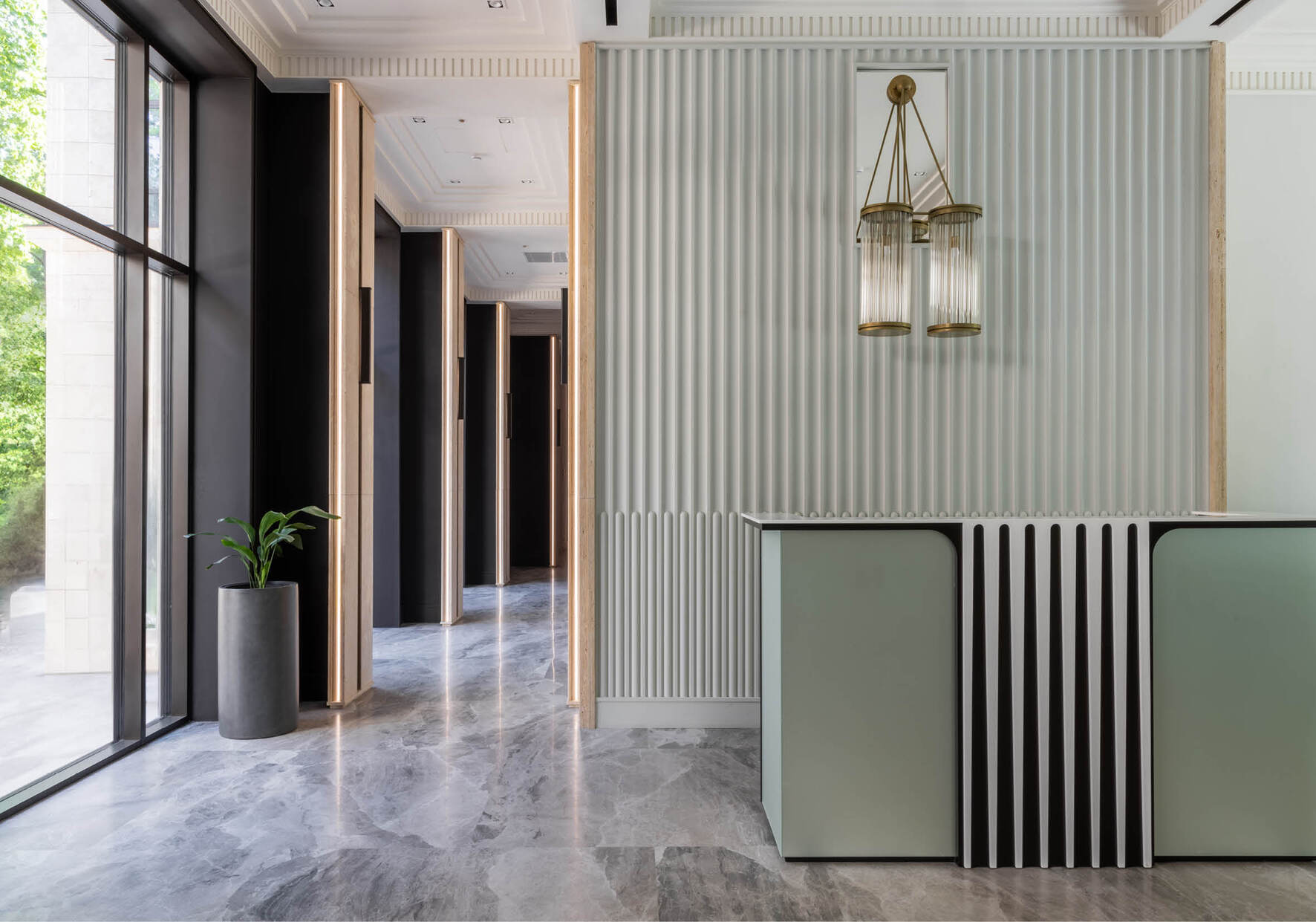 "We were particularly focused on highlighting the unique character of this residential complex by reflecting its style throughout the interior of all entrance areas. Using natural stone, innovative light installations and pastel shades for furniture and walls allowed us to create an interior in harmony with the beauty and style of the overall structure." – says Anna Agapova, Founder of O&A London.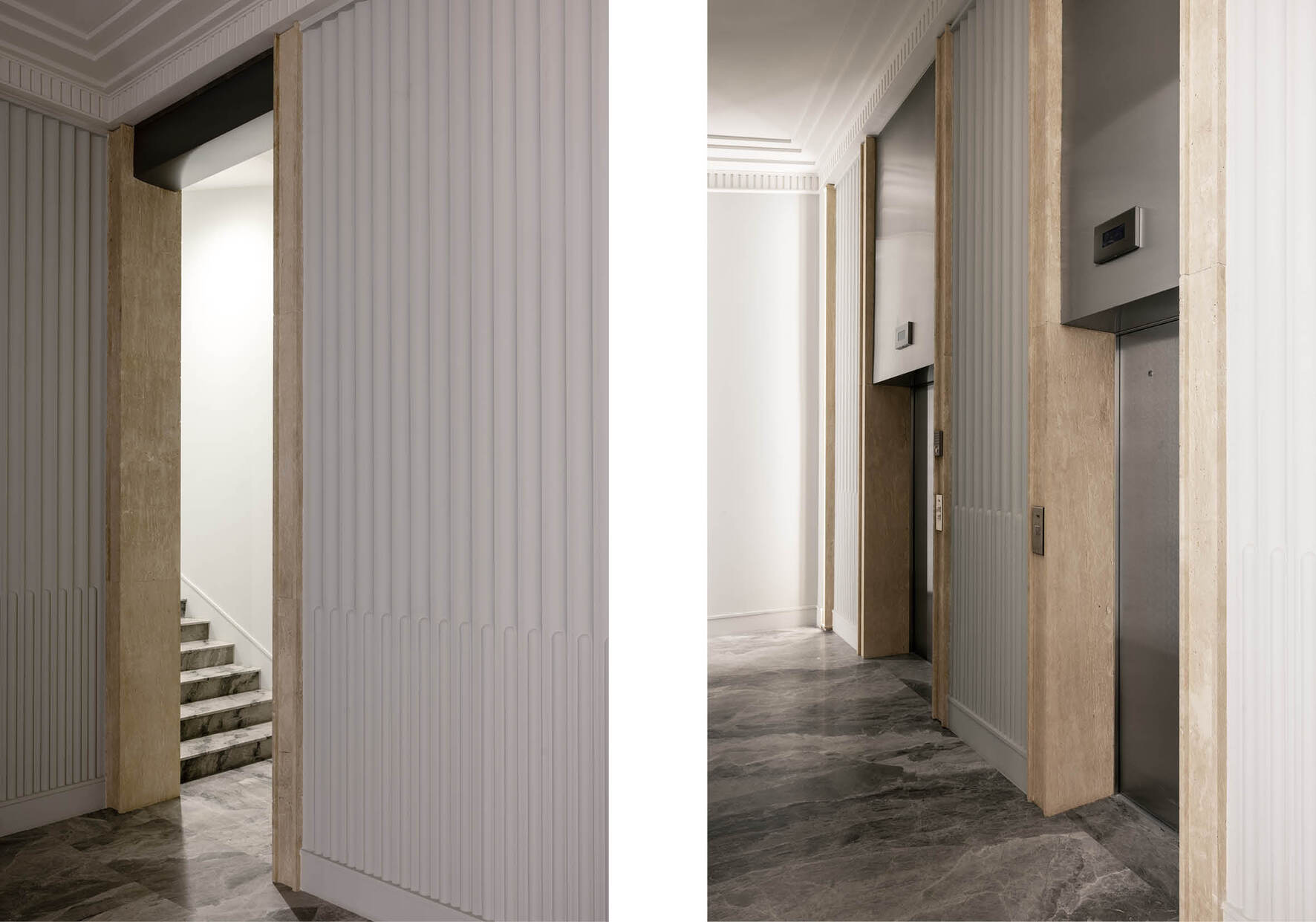 A major highlight are the innovative light installations mounted directly into the walls. The linear light reflects beautifully of the natural marble, creating the illusion of a larger space. Our goal was to create a private and tranquil oasis – a peaceful place, offering sanctuary from the hustle and bustle of city life. Dark inserts set off the light colour palette of the interior on the walls and echo the design of the reception desk in the lobby.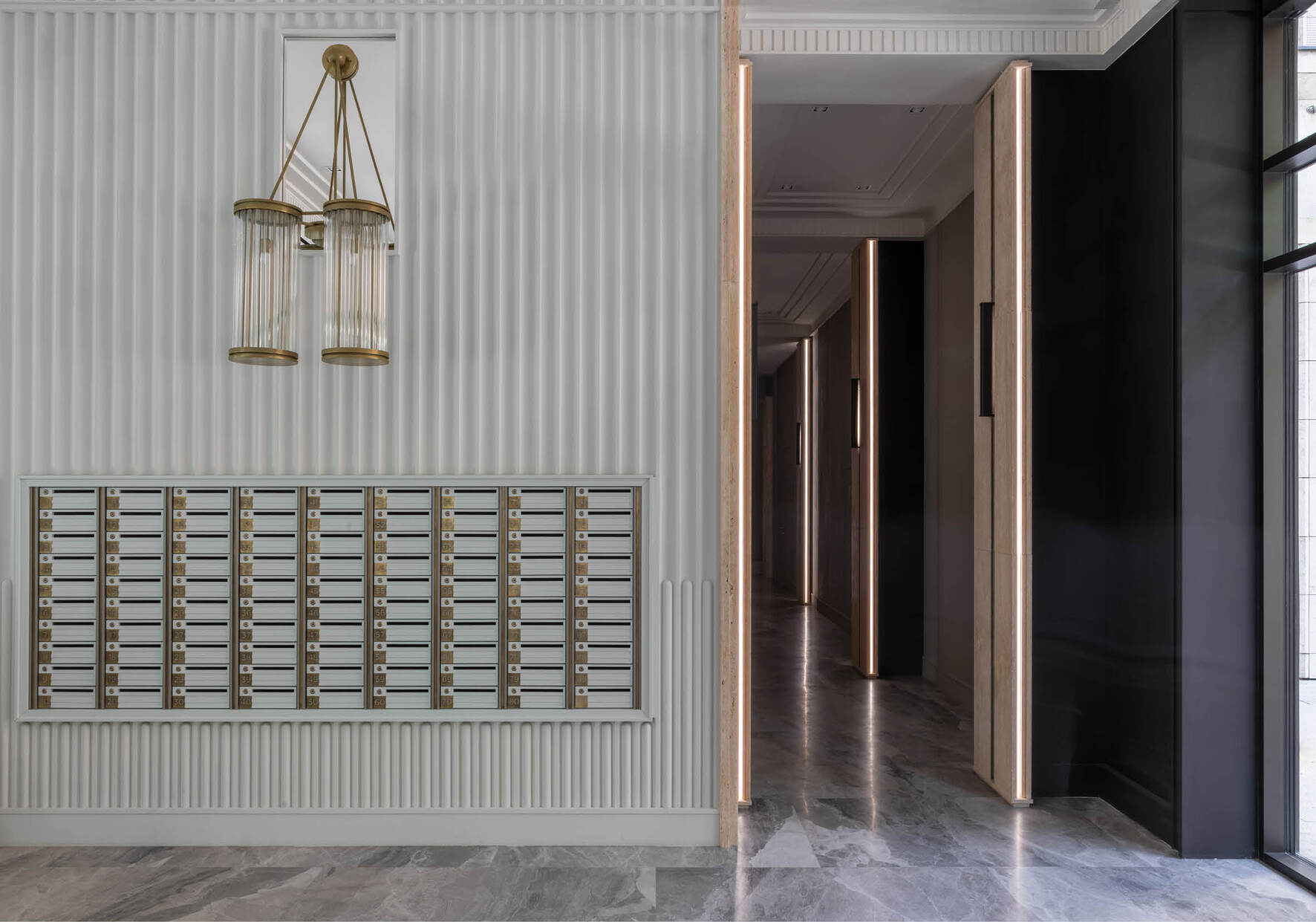 "This design transfers you to an entirely new state of awareness. In this environment you feel a sense of calm; of sanctuary and contentment that not only pleases the eye but also soothes the soul", – says Oleg Klodt, Co-Founder of O&A London.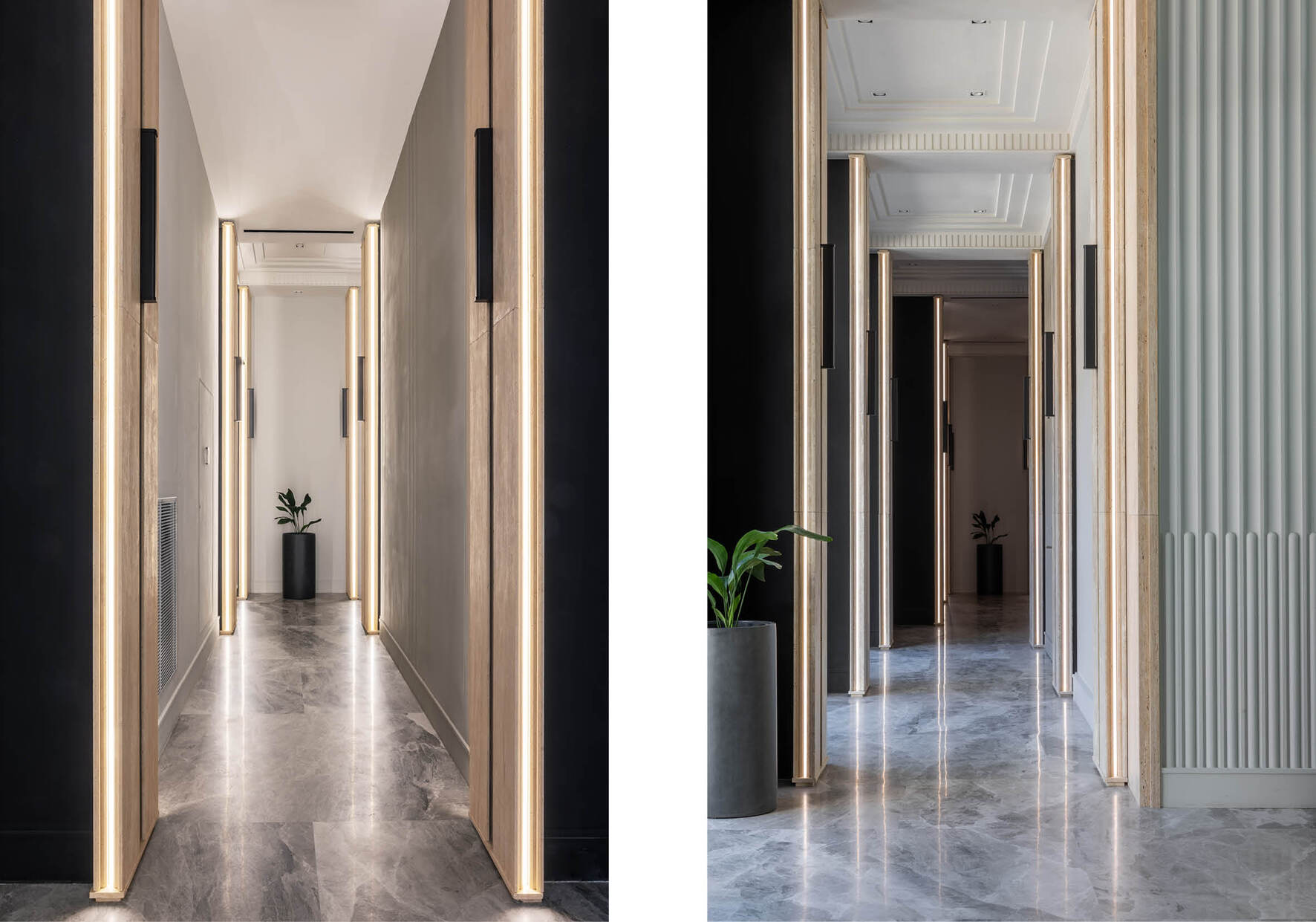 As floor covering natural marble has an enduring aesthetic appeal that transcends trends and also contributes to a sustainable living environment. The steel finish of the elevators creates a sleek, modern and industrial aesthetic. Steel finishes offer durability, a clean look and a sense of sophistication. Pylons and architraves made of natural stone create a visually appealing and cohesive space.
Decorative panels, a reception desk, cornices and wall lights are a few of the many interior pieces, which were taylor-made made for this project in order to emphasise the luxury status of the residential development.