WOWSOME kitchen islands
27 Feb 2023
The kitchen has been elevated from its former existence as a purely utilitarian room, preferrably out of sight, to becoming the heart of many homes. Kitchen islands are now an ubiquitous feature, providing a hub for all sorts of gatherings in the kitchen. Whether it is a family get together, an informal dinner party with guests congregating around the island or the usual morning hustle with kids doing their last minute homework while parents cook breakfast nearby. Crafting an ideal modern-day kitchen island requires careful consideration of how best to make use of this centrepiece. We'll walk you through some popular options, helping you with the key decisions before you can realise your dream design.
FREE ISLAND
Avoiding obstruction is essential for all kitchen designs, but it becomes crucial when a free standing kitchen island is to be incorporated. From the earliest planning phase of a kitchen, all distances necessary to move around the room should be optimised. Bearing in mind that a kitchen island requires much more space than any other piece of kitchen furniture or appliance, the spatial planning should be generous enough to allow for save manoeuvring and heightened convenience when cooking, during meal times or when entertaining guests.
KITCHEN PENINSULAS
Kitchen peninsulas offer almost similar storage and worktop capacity when compared to kitchen islands, but these are not free standing. Instead, one end is attached either to a wall or to existing counters and cabinets. In most cases, the peninsula stylistically matches the appearance of the wall units.
A peninsula brings a lot of potential to your layout, especially if you have a small kitchen. We often propose kitchen peninsulas in our real estate development projects, where space is limited. Unlike an island, which would need to be of a minimum size to be worthwhile, peninsulas can be short or long, and so fit into small kitchens as well as big ones.
ISLAND WITH SINK
Installing kitchen sinks and faucets into kitchen islands, in addition to the utility already fitted into the wall units, has been a popular choice for many of our clients. By incorporating a second sink into the kitchen island, homeowners benefit from added convenience while they cook, clean or simply socialise with friends and family. This kitchen fixture works particularly well for hosts who are also keen home cooks;  it allows them to remain part of the conversation and join the fun even while they are  busy preparing the food.
ISLAND WITH STOVE
A kitchen island with a stove is an ideal setup for cooking enthusiasts. Integrating a downdraft fan above the cooktop will offer extra ventilation and prevent smoke from filling up your kitchen. Alternatively, cooktops and ranges with incorporated exhaust fans can help to keep the area free of cooking fumes.
KITCHEN ISLAND AS AN ARTISTIC CENTREPIECE 
The kitchen island has evolved beyond its utilitarian purpose to become a fashionable centrepiece in the open-plan living space. Not only does it provide convenient kitchen storage, the kitchen island also allows you to entertain your guests and prepare delicious food at the same time. By carefully selecting all materials and fittings, kitchen islands can be aesthetically designed to complement any existing interior design scheme.
ISLAND WITH SHELVES 
Kitchen islands with open shelves present a wonderful opportunity to showcase your favourite things: cookbooks, your collection of beautiful glasses and ceramics or even small art objects. If you are a wine loving connoisseur, another great idea is adding a stylish wine rack to your kitchen island, where you can display a few bottles of your fine wine collection.
ORGANIC SHAPES VS GEOMETRIC SHAPES
Kitchen islands are an integral part of kitchen design and choosing the right one can be quite a challenge. One of the key decisions is choosing between organic shapes based on nature's forms or geometric shapes. Choosing the right shape depends on personal preference and the overall kitchen layout. Naturally curved kitchen islands offer a more homely feel. They are an ideal choice for spaces with asymmetrical floor layout.
Geometric kitchen islands will appeal to those who love the clarity of modern aesthetics. Straight lines, sharp edges and clearly defined shapes enhance the impression of maximum functionality within the kitchen space.
MULTIFUNCTIONAL KITCHEN ISLAND AND BAR 
Combining kitchen island and bar into one stylish unit is an ingenious way to maximize kitchen space and functionality. A kitchen island and bar combination makes for a great centrepiece, inviting family members and friends to gather and chat in the same place where meal preparation and dining are staged. Not only does this design choice provide an ideal space for a meal or just a drink, but it can also be customized with built-in shelves, drawers, ovens and many other features. With countless design possibilities available to enhance a kitchen's overall style, homeowners can easily find a multifunctional kitchen island and bar option that best suits their needs.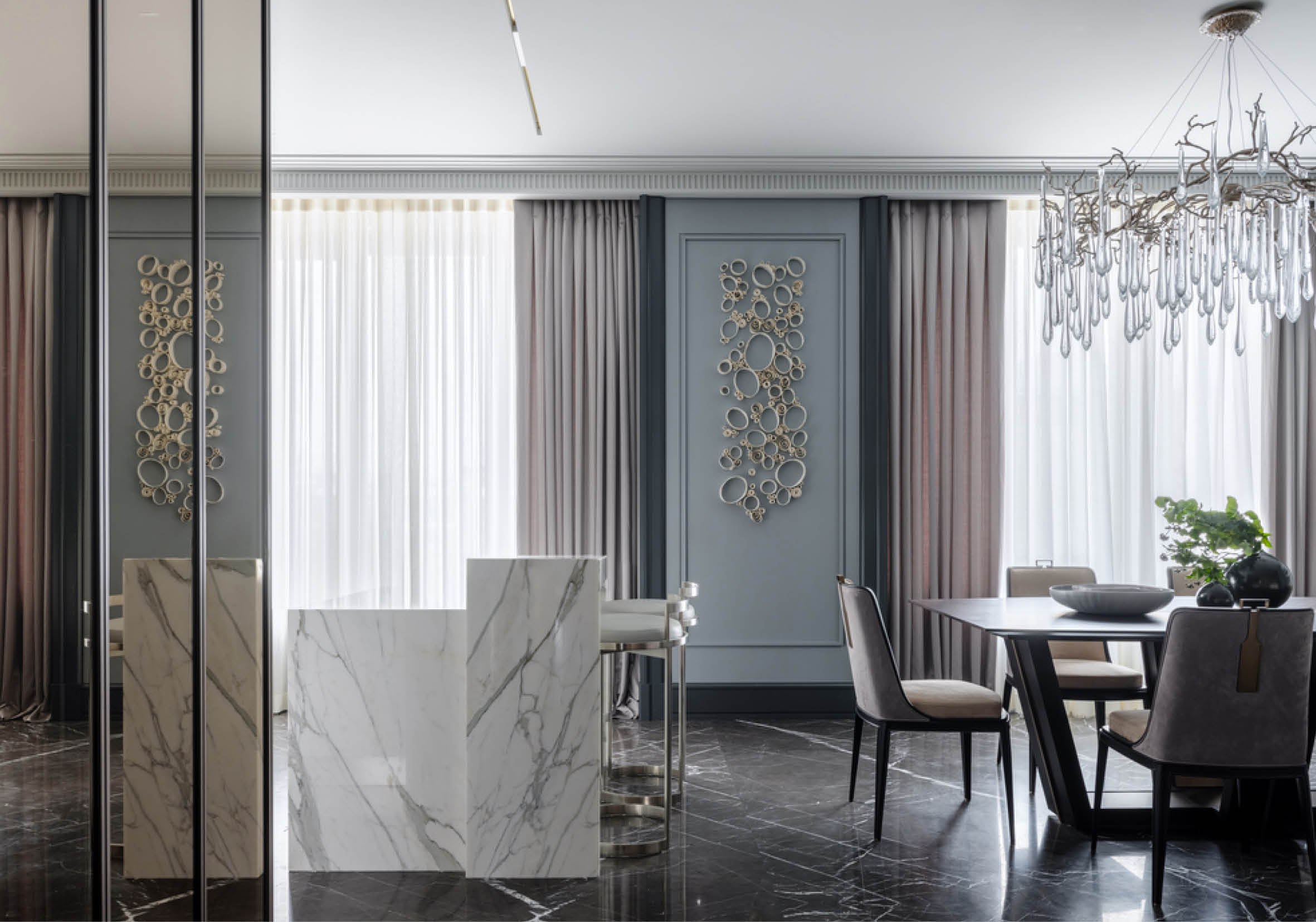 Photos: from O&A London archive.